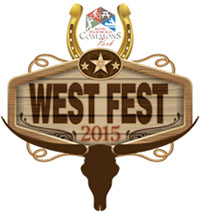 Royal Palm Beach's West Fest is coming up Friday, Saturday and Sunday, March 6-8 at Royal Palm Beach Commons Park as the "wild west" gets ready to take over the village.
With many musical acts, carnival rides, a Food Truck Invasion Round Up, western arts and crafts vendors, a western encampment village, hayrides, horse and carriage rides, a petting zoo and more, there is sure to be something for everyone at the free, family-friendly festival.
"We have four national acts from Nashville," Community & Cultural Events Superintendent Carlos Morales noted. "I think we really have a good lineup. People are going to be surprised."
On Friday evening, Lexi Luca, Adrianna Siena, County Line Road and Radio Romance will play. On Saturday, Burnt Biscuit, the Sweeney Family Band, the Tim Charron Band, Kristen Kelly and Walter McGuire will take to the stage. Sunday's entertainment features Promenade Action, the Jess Taylor Band, Grayson Rogers and the Old Southern Moonshine Revival Band.
In addition to the music, Royal Palm Beach is showing off some of the newer features of the park through hayrides, horse and carriage rides and a disc golf tournament, Morales said.
"We actually have 18 holes of disc golf now at the park," he said. "We have an organizer who will be running the tournament. It will be a great way to introduce disc golf to a lot of people."
In addition to the disc golf tournament, there will also be a cornhole tournament and a demonstration by the Royal Palm Beach Police Athletic League.
There will be a chili cookoff on Saturday and Sunday, with professional and amateur cooks, Morales said, where they will compete for a people's choice award. A $10 tasting kit will be available, while supplies last, for visitors to check out the competition.
Saturday morning there is a 5K charity run — Micayla's Monarch Miracle 5K — to benefit a Royal Palm Beach High School student who is fighting lymphoma.
The always-popular Miss and Mr. West Fest Pageant has returned, and the Royal Palm Beach Green Market & Bazaar will visit during the weekend.
Carnival rides are available with $20 daily access bracelets. In contrast to the rides is the Western Encampment Village, where pioneers are set up. Some nights there will be a fire, or an old-fashioned wheel barrel. It's a western-themed area that adds to the atmosphere, Morales explained.
The everyday things that are normally at the park will also be available, so there is plenty for everyone to experience during West Fest, he said.
Offering parking advice, Morales said, "Come early, when parking is easier."
In addition to parking at the park, there will be offsite parking at Village Hall and Lindsay Ewing Park, with a shuttle bringing people to Commons Park.
West Fest takes place from 5 to 10 p.m. on Friday, March 6; 1 to 10 p.m. on Saturday, March 7; and 1 to 8 p.m. on Sunday, March 8.
To learn more, or sign up for one of the events, visit www.rpbwestfest.com.