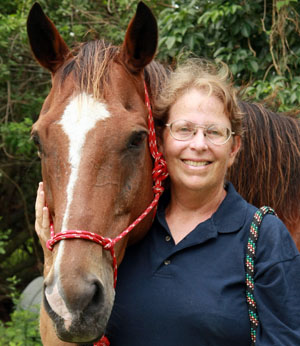 TALES FROM THE TRAILS
Dressage Canada members met frequently at Wellington's Wanderers Club during their second annual Florida Fortnight, which ran from Jan. 25 through Feb. 3. Open to anyone, the symposium provided educational and development opportunities for riders at every level, as well as a wonderful forum to meet and mingle with like-minded dressage enthusiasts from all walks of life.
Presenters included: Dirk Stroda, authority in the field of self-development and mental performance coaching; Dr. Beth Mansfield, a sport nutrition specialist, registered dietitian and certified exercise physiologist; Dr. Geoff Vernon, who has been the official team veterinarian for both the U.S. and Canadian equestrian teams; Jochen Schleese, owner of Schleese Saddlery who, in 1986, was asked to be the official saddler for the World Dressage Championships; Luke Proulx, whose business provides farrier services to many of Canada's top Olympic and Grand Prix jumper and dressage horses; and Tim Dutta of the horse transport firm Dutta Corp.
There were also limited opportunities to spend time with some of the top dressage riders. Participants could sign up for: "Spend an Afternoon with Christilot Boylen," the most experienced Olympic dressage rider Canada has ever had, having competed in seven Olympic Games, on Jan. 26; or "Spend a Morning with Ashley Holzer," Canada's most successful dressage rider, a multiple-Olympian and top trainer, on Jan. 28.
There was also a judges and trainers clinic with Dr. Volker Moritz, Canadian Dressage Team technical advisor and one of the most experienced dressage judges in the world.
I sat in on the Jan. 30 morning session. About two dozen people sat comfortably around the tables enjoying a continental breakfast. Desi Dillingham, senior advisor to Dressage Canada, introduced the day's speakers and the program began.
Wellington resident MerriLynn Griffin, who won USDF bronze and silver medals and is an "R" dressage judge, spoke first about dressage scribing. A scribe sits beside the judge during each ride and writes down the comments and scores.
"You can learn so much while scribing," she said. "It's enlightening. It has helped my riding and judging. You can develop a camaraderie with the judge when he or she trusts you to keep your nose to the grindstone and transcribe every comment. This is no time for idle conversation."
In order to become a scribe, Griffin said you should be familiar with dressage terms and abbreviations, have a background in the sport and be familiar with the tests. A great introduction is to obtain permission to sit with a judge and scribe at a schooling show to observe how it's done. "You must also dress professionally," she advised. "Be neat and appropriate. No jeans and T-shirts or untucked shirttails. Scribes should be dependable, proficient, have good handwriting, listen well, be organized and take the job very seriously. It's a wonderful educational opportunity. The more you do it, the better you get."
A good scribe can make or break a judge, Griffin said. "You have to keep up and put the correct mark and comment in the right box, then get the test back to the rider in a timely fashion," she said. "That's part of what keeps a show running well."
Thomas Baur, FEI dressage committee member from Germany and a world-renowned horse show organizer, spoke briefly about the 2014 World Equestrian Games in Normandy, France. There were a lot of statistics. He mentioned that there were some high points and some problems, especially with transportation, catering, security and toilets. But the stabling was quite good, and the experience had a fantastic overall atmosphere.
"We hope to improve in 2018 when the WEG will be held in Montreal at the Bromont Olympic Equestrian Park, which was the venue for the 1976 Montreal Olympic equestrian events," he said.
Dr. Usha Knabe, one of the veterinarians helping out various Canadian teams, spoke about effective alternative therapies, especially acupuncture. She is certified in animal chiropractic, acupuncture and Chinese herbals. Dillingham introduced her as one of the Canadian Dressage Team's most important "secret weapons" in keeping horses happy and healthy.
"I was frustrated with traditional medicine," Knabe said. "A lot of what was prescribed was muscle relaxers and rest. According to FEI regulations, you can't use any drugs. Acupuncture isn't widely practiced or understood in many Western medical circles. I love being able to use Eastern medicine to help horses and riders. When I became proficient, it opened up a whole new world for me, a new way to look at the body as a complete system, not just pieces and parts."
She explained how acupuncture affects the "chi," or energy flow within the body. "When there's an injury or problem, the chi is blocked and stagnates," Knabe said. "Acupuncture relieves the stagnation and restores the flow. It's an extremely powerful, all-encompassing modality. It's standard practice for many European teams to have acupuncture therapists. I hope North American teams will catch up and draw on all of these options."
Adequan's Allyn Mann, director of global sales for Luitpold Pharmaceuticals' Animal Health Division, gave a motivational talk and shared many slides featuring selfies he'd taken with, apparently, the entire showing world. He said his goal is to hug everyone in the horse world. "If I miss you today, trust me, I'll find you," he said.
Mann recounted how he'd started out in the horse world as a young man cleaning stalls at the Yonkers Racetrack in New York. Five years later, he was training and racing Standardbreds. He stressed how you can learn important life lessons from your mistakes, and use them as opportunities to grow.
"My goal is to fill people with joy and hope, to always make them feel better, lighten their load a little, and show a little kindness," he said. "Really embrace life. Be real and genuine, and generous, especially with your time. Anyone can give money. Take time to listen."
But perhaps the most entertaining speaker of all was Linda Zang, one of the top FEI dressage judges in the world. Her story was fascinating, and will be the subject of a future column.
To find out more about Dressage Canada, visit www.equinecanada.ca/dressage.