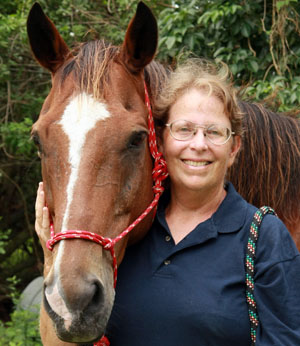 TALES FROM THE TRAILS
Buying a horse isn't like buying a car. Every car feels and runs pretty much like every other car of the same model. Sure, you can order different colors and accessories, but they drive identically.
Finding the right horse is a little like finding the right mate. You've got some pretty definite ideas about what he or she should look like, some plans about what you'll accomplish together and some goals you hope to achieve.
But there's so much more involved. Is the horse comfortable to ride? Is he big (or small) enough to fit your needs? Temperament is also a huge part of it. Is he too pushy? Is she too lazy? Does he enjoy the same discipline you're interested in? Do you feel safe riding her?
Heidi Speaker knows a lot about horses and finding the perfect pony. She and her family live in Jupiter Farms. She grew up riding horses in Davie or, as she puts it, "cowboy country." When the youngest of her four children, Alexandra, came along, Heidi was thrilled to find her a dyed-in-the-wool horse nut.
"Alexandra eats, sleeps and breathes horses," Heidi said, laughing. "If she could bring a horse into her bedroom and teach it to sleep in the bed with her, she'd be thrilled."
Alexandra started out riding a very old, very safe lead-line pony, but she wanted to move up, and so the search was on.
"We spent two years trying to find the right pony for her," Heidi recalled. "There are a lot of naughty ponies out there. I wanted something safe that my 7-year-old daughter could show, and we ended up with some scary ponies. I actually bought four during that time, supposedly safe for a beginning child to do walk/trot classes."
But each of them had hidden issues.
"I got ponies that bucked, bolted and basically took advantage. One had ulcers. I almost gave up looking," Heidi said. "We were both frustrated. Alexandra rode my Quarter Horse. It wasn't the show-quality pony I wanted her to have, but it was safe."
However, eventually the perfect pony came along.
"Everyone knew I was looking for something quiet, and one day a friend called to say she had seen a possible candidate, an amazing small pony at Pure Thoughts Horse Rescue named Angus," Heidi said.
Jennifer Swanson of Pure Thoughts said that Angus was one of several ponies rescued a few years ago.
"There was a woman hoarding horses over on the west coast of Florida north of Naples," Swanson said. "It was about 20 acres of scrub and forest called Golden Estates, and the horses were basically starving to death. They were breeding, and the foals were being eaten by panthers."
It was not a pretty situation.
"It took us two trips to catch these two young pony foals. It was so horrible out there that when I was making my way through the brush, I tripped and fell over a horse carcass," Swanson said. "The ponies were very skittish, basically wild. They'd never been touched or handled. Eventually, the woman died, and we got the rest of her 27 horses."
That was in June 2009, and Heidi and Alexandra went out to see these two half-siblings from the same stallion but different mares. Angus was approximately 3, and Secala was 2.
"Secala was in really rough shape," Heidi said. "He had skin allergies. There was no fur on 75 percent of his body, and puffy, oozy sores. Angus was perfect, a 12-hand chestnut pony with great potential. He was coming along nicely in his training, so we got him, and Alexandra started showing him."
While a great partner, Angus had his issues.
"Although he's perfect in the show ring, he's really frightened of trails and big dogs," Heidi said. "They make him highly agitated. I think they cause him flashbacks. He's super happy in his stall. He and Alexandra showed all over Florida and won many high-point awards. They were Short Stirrup Champions at WEF."
Then, in March 2010, Pure Thoughts called to say that Secala was doing better and needed a home.
"I said no for about a month, then finally gave in, and the brothers were reunited," Heidi said. "It was great for everyone, because he's a medium pony, and Alexandra suddenly shot up a few inches, outgrowing Angus."
Secala turned out to be Alexandra's dream pony.
"We take him to as many shows as we can, and hope to show him at WEF. He's doing two-foot-three courses, and Alexandra loves him," Heidi said. "She takes care of him 100 percent. I believe in children learning to do the full circle of horse ownership. She does everything: all the bathing and grooming, clipping and mucking out. When we go to a show, she gets all her own tack and clothes ready and loaded."
When asked to pick, Alexandra, 12, can't choose one pony over the other.
"I love both ponies equally," Alexandra said. "They're never mean. They're very sweet and have good ground manners. Secala can be a very stubborn pony. Sometimes he grabs the bit and runs, but mostly he listens to me. He's a good pony and keeps his head down when we jump. I'm glad they came to live with us."