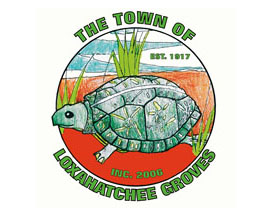 The Loxahatchee Groves Town Council on Tuesday approved a survey of unauthorized RV and trailer parks in town and commended town management for its enforcement on some properties already found to have been in violation, including one that was allegedly dumping raw sewage.
Town Manager Bill Underwood said he is moving ahead with enforcement on a C Road property that was found to have about 30 unauthorized RVs on site.
"We've given them all the notices necessary, and we've sent bills to them for garbage removal for roughly, we estimated, 30 campers, and we've done that with a couple of other locations as well," he said.
Likely related to the equestrian season, Underwood said the town is seeing many visitors living in unauthorized dwelling units and recommended targeted enforcement against blatant violators similar to the method used in manure-disposal enforcement. He also proposed surveying the town for other violators and reporting any findings to the council.
Councilman Tom Goltzené did not favor going through the town looking for violators. "My thought on this is, rather than spend a lot of money investigating every property, I think it's a good idea to have our [uniform land development code] committee review and discuss what we have right now permitted and what we might want to consider changing, if anything," Goltzené said. "Just like the manure problem, this one's probably going to go away in about a month, at least for this year. Rather than spend a lot of code enforcement money and ruffle a lot of feathers… I would suggest we take a reasonable approach with what we're going to do, and next year everybody is going to know what the ground rules are."
However, Goltzené stressed that he did not in any way condone people dumping sewage improperly. "It's against state law to do that," he said. "There's no place in Florida that you can just dump raw sewage on the ground."
Yet he would prefer to warn people first before enforcement. He added that he was concerned that enforcement could force out people who are not in a good economic situation.
Councilman Jim Rockett favored a survey to see where the violators are.
"In this case, it seems like a complete disrespect to the town," Rockett said. "In interest of being fair, we should know where these cases are, especially since if we wait 'til next year… we may have a repeat of the situation. I think the warning should be done now so we can address this."
Rockett added that he was alarmed that in one case raw sewage was being dumped illegally into a canal.
"I don't know why we couldn't close off the access to the canal where raw sewage was being dumped," he said. "This is worse than manure hauling. I can't believe anybody would be doing this."
Councilman Ryan Liang thought the council should move ahead with enforcement on properties already cited, and survey other possible violators. He pointed out that the property owner had been cited by the health department last year.
"He has already been warned twice," Liang said. "The ones we found to be in violation of codes and sanitation, we need to move forward on those so others know they need to follow the proper procedures."
Vice Mayor Ron Jarriel also favored enforcement at the cited properties. "We have two code violations right now that we need to take care of," he said. "That shouldn't have anything to do with sweeping Loxahatchee Groves. I kind of agree with Tom. If we're going to do a sweep of Loxahatchee Groves, let's bring our ULDC committee back on board, and let's strengthen some of our problems that we have with the ULDC, and then do the scan."
Jarriel said one of the property owners was a repeat violator and had been fined. He advocated placing a lien on the property. "They owe us $10,323," he said. "I would hope they do not escape paying that."
Jarriel made a motion to continue with the code enforcement complaint and put a lien on the property, but Town Attorney Michael Cirullo said a motion was not necessary because it is covered in the code.
Goltzené made a motion to refer it to the ULDC committee agenda, which failed 3-2, with Mayor Dave Browning, Liang and Rockett opposed. Rockett then proposed conducting a survey of properties that have nonconforming RVs, and that motion carried 4-1, with Goltzené opposed.
In other business:
• The council approved conducting a LIDAR (Light Detection and Ranging) scan of the town in order to create a map and challenge the revised Federal Emergency Management Agency flood maps, which put 65 percent of town land in a flood plain, affecting at least 219 residential units.
Underwood said the LIDAR study involves an airplane flying over the town to produce an accurate topographic map. The deadline to submit a challenge is April 2, he said, explaining that the company would need 15 days to conduct the survey and get it to FEMA. The total cost is not to exceed $120,000.
"If residents are unsuccessful and they are in the flood plain, [according to] the estimates that I received, their insurance premiums would increase on average somewhere in the neighborhood of $700 per year, which would be roughly $152,000 annually that those 219 residents are going to be contributing to insurance," he said.
Browning pointed out that the maps would probably affect not only the 219 home sites, but a lot of vacant land that could also be in the flood zone.
"I'm willing to pay for this even though my house is out of the flood zone," Browning said. "It's a good way of taking care of each other in the town. We all know well that Wellington's elevations are lower than ours and all of Wellington was taken out. It makes no sense."
Rockett made a motion for staff to pursue a LIDAR study, and notify the 219 property owners, which carried 4-1 with Goltzené opposed.
• The council also approved a donation of $5,000 to the Western Communities Council for continued lobbying toward completion of the State Road 7 extension to Northlake Blvd., which has met with strong opposition from West Palm Beach.
Rockett pointed out that the town has not been asked to contribute as much as other donors. The Indian Trail Improvement District, Royal Palm Beach and Wellington each put up $10,000. Liang made a motion to approve the donation, which carried 4-1 with Goltzené opposed.
• Underwood reported that the town had submitted a $40,000 deposit to the Central Palm Beach Chamber of Commerce toward the purchase of its building at the northwest corner of Southern Blvd. and F Road. Closing is tentatively set for April 16.
Underwood said he has been working on preparing the building as a town hall, including building a dais for council meetings. "We don't know what the cost is going to be of getting a dais," he said. "We've got to get AV equipment, etc., in there. We're working on those items and getting multiple quotes."
He added that County Commissioner Melissa McKinlay had invited legislative input or requests from the town. Underwood said he had asked for about $3 million for guardrails, $500,000 for fencing for trails and $150,000 for chamber building improvements.