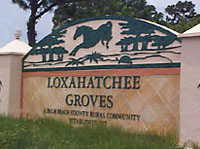 The four candidates seeking seats on the Loxahatchee Groves Town Council on Tuesday, March 10 spoke at a forum conducted by the Loxahatchee Groves Landowners' Association last week.
Incumbent Councilman Ryan Liang is being challenged by Roadways, Equestrian Trails & Greenway Advisory Committee Chair Keith Harris for Seat 3, while incumbent Vice Mayor Ron Jarriel is being challenged by Finance Advisory & Auditing Committee Chair Virginia Standish for Seat 1. They answered questions at the Thursday, Feb. 26 candidates forum.
Asked how they will support equestrians in town, Liang said the town is already working on developing equestrian trails using drainage easements on the west side of the canals on lettered roads.
"We have a loop planned already, and we're looking toward more trails on those easements," he said. "Right now we're working on the surveys, and once those are done, we'll be able to officially open those trails to the public."
Standish said she has been supporting equestrians for 30 years.
"For 30 years, they have been fighting to use the maintenance easements and have safe passage through town," she said. "At any time, these easements could have been purchased from Southern Land & Timber, and [the Loxahatchee Groves Water Control District] said no. Presently, the local bill allows the easement to be taken over by the district. I believe a permit should be issued in advance of the district receiving any funding. I believe it should be on every easement. I do not believe we should be limiting this."
Harris said the easements, when done, will be not just for horses, but joggers and bicyclists as well.
"Recreational trails means you can take a jogging hour and get your exercise," he said. "You can ride your bicycle; you can ride your horses. No ATVs. It's going to be a great thing to have. We've been waiting a long time."
In addition, he suggested that the soccer fields at Loxahatchee Groves Park be converted into an equestrian arena.
"Without taking out a single tree, one could place a full-size regulation dressage arena and a 200-foot by 200-foot show arena," Harris said. "There's enough parking there for 25 or 30 rigs there. You have pavilions, and that would be a great venue and an opportunity for the town to make revenue by holding local shows for our citizens."
Jarriel said he plans to continue on the same track he has been for the past six years.
"When new management came on board, the first thing I did, I went to them and we applied for a $200,000 grant [for the trail system]," he said. "That grant was turned down because we couldn't prove site control, neither the water control district nor the town. We went through the legislature and got that process done. It could be in the next six months — I'd like it to be two months — that we actually start construction on the trails."
Jarriel said he is looking for completion of the easement mapping in order to complete an interlocal agreement with the LGWCD to take partial control of the easements.
Regarding the selection process for a town management firm, Standish said she would favor a request for proposals (RFP) in addition to interviews and research into their backgrounds.
"I think logic and ethics dictate that we have a bid put out for town management," she said. "That's what's required to protect the taxpayers. Of course, we want to know what they've done. I think the most important thing, though, is finding a professional town manager who is able to be unbiased and work with everyone in the community, not just a few select town council members."
Harris thought all avenues should be pursued in the selection process.
"Any time you have a high-priority issue such as hiring a town manager, you want to do due diligence; you want to make sure he is qualified, not only through experience but through his credentials, business licenses and all his requirements are in place," he said. "The best way to do that is through an open bid selection process."
Jarriel said when the current manager's contract was up for renewal, he was the only one on the council who supported seeking a request for proposals.
"We have a procedure that we have to go through when we look for a town manager or management company," he said. "I felt like we pay quite a bit for the town management company, and any time we're paying that much of your tax money or revenue, then we need to go out for bid. If we can find somebody that we think can serve this community better, then we'll get somebody new. They'll be looking I think in June to get their contract extended. I'll be looking to see if they're asking for a raise; I'll be looking to see how long they want that contract to go for; and I'll definitely be recommending that we go out for an RFP."
Liang said he has confidence in the RFP process.
"Having gone through two RFP processes in regard to town management, I understand the need to properly vet the company or individual, the need to be transparent and to make a very important decision for the town with the information provided," he said. "The bid applications are very detailed about the individual corporation, and we try to make the best decisions we can in regard to town management. I feel that the current process that we have is really good. I think the town management that we have right now is a great example of our process working really well."
Asked how long they have lived in Loxahatchee Groves and about their contributions to the town, Harris said he became a resident in 2006. In 2011, he was appointed to the Planning & Zoning Board and later to the RETGAC board.
"In 2013, I discovered that in our town, you could not even rent stalls because it was not compliant; it was against the ULDC," he said. "That's renting four stalls in a town that has a charter that embraces the equestrian community. I proceeded to advocate that issue, and… in November 2013, the council approved commercial equine operations as a permitted use in an agricultural/residential district."
Jarriel said he has lived in town for 54 years and spent nine years on the LGWCD board when they cleaned out all the canals. "I do believe we've got the best drainage in Palm Beach County," he said.
Also, while on the board, he fought to get open-graded emulsified mix (OGEM) resurfacing on many of the roads. "When I make many decisions, it stems from being a firefighter for 31 years driving an engine over these dirt roads in town trying to save lives and property," Jarriel said.
In the past six years, the council has reduced taxes from 1.5 mills to 1.2 mills, he said. "We've managed to keep it there, and we've talked about getting it lower," Jarriel said.
During that time, he continued efforts to get more roads paved, including D Road from Collecting Canal to Southern in preparation for a traffic light on Southern Blvd. Jarriel also said he played a big part in getting a traffic light for D Road and Okeechobee Blvd., which will be installed by the town and reimbursed by the county from Minto West impact fees. He added that he has also fought for equestrian trails and advocated for the creation of advisory committees.
Liang said that his family has lived in Loxahatchee Groves for 18 years. He has been on the council for six years.
"While on the council, I worked with the district and the town to resolve an issue on the North Road easement," he said. "We got a culvert put in there for free, and we resolved with ingress and egress."
Since he has been on the council, Liang said it has moved steadily toward the use of canal easements as equestrian and multiuse trails. He also helped lobby for the passage of the local bill that enabled an interlocal agreement to allow the town to develop the trails.
"I also encouraged community participation, which is evidenced by Keith's participation on the P&Z and the RETGAC board," he said.
Standish said she has lived in Loxahatchee Groves for more than 30 years and is vice president of the LGLA and head of the FAAC, where she has served for more than two years, and was also on the Unified Land Development Code Committee.
"What I would emphasize is for people always to question government and hold it accountable," she said. "I am sincere in that, and I believe that's what we need to do. One of the things that I monitored was when Palm Beach County was putting water lines through our community, they tore up our survey markers. I would call the district and asked them to please come out and check what was going on. It took a while, but we finally saved some survey markers."
Standish has also monitored the trail situation.
"We have insisted that we have trails," she said. "While I, myself, am not an equestrian, I supported it for the entire time that I have been here. I am concerned for the safety of this community. We need places for our children and for our families to go out and be active."
Asked about the proliferation of RVs in the community, particularly at two locations suspected of running commercial operations, Liang said they need to be controlled for health concerns.
"The plain and simple answer would be these RVs are not permitted within their zoning district," Liang said. "If someone wanted to have a trailer park, they need to apply for the proper zoning. As of this moment, those trailer parks are illegal and nonconforming."
Standish agreed that the RVs are not compliant, but said they were doing no harm.
"They would have to go through the P&Z process," she said. "I am for encouraging ag businesses in our community. This is something that is tied to the ag industry, such as seasonal for the equestrian shows, and these RVs are self-contained, meaning they cause no harm."
Harris said trailer and RV parks are not permitted currently and pointed out that in 2013, someone applied for approval of an RV park on 40 acres in the residential/agricultural district, but it did not conform to code.
"In this case of two nonconforming uses, I submitted to the town manager a citizen's assessment on Feb. 5 that considered road trips, it considered garbage pickups, because it does cost the town dollars when someone is not paying," he said.
He said both the equestrian and nursery industries are seasonal in nature, which require housing that the town does not have. "The parks for RVs and trailers need to be considered in the conforming use, and we need to find a way that we can help our equestrians and nurseries get the manpower they need," Harris said.
Jarriel said the RVs at the locations under investigation are not permitted.
"Somebody's making money," he said. "The situation on C Road — the guy's out of New York. He washes blankets and stuff for horses. He comes down here seasonally. He makes a fortune not only off the RVs, but washing blankets, and he leaves our town."
Jarriel said the operator on C Road was cited by the health department last year, but he is back this year doing the same thing. "The health department went over there today and took pictures and stuff," he said. "They're supposed to fine him $500 a day."