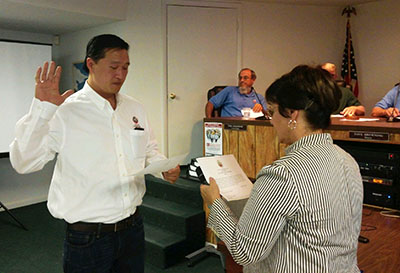 Before a crowd of residents that spilled out to the parking lot, the Loxahatchee Groves Election Canvassing Board validated the re-election of incumbents Ron Jarriel and Ryan Liang on Tuesday in 3-1 votes amid allegations that Liang's mother, Philomena Liu, and Councilman Jim Rockett had collected absentee ballots that had been requested fraudulently.
Members of the canvassing board are Rockett, Councilman Tom Goltzené, Mayor Dave Browning and Town Clerk Janet Whipple.
After the validation, the council swore in the two incumbents for new three-year terms.
Town Attorney Michael Cirullo pointed out that the job of the canvassing board is simply the tabulation of votes.
"The duty of the canvassing board this evening is to determine whether the Supervisor of Elections correctly reflects the number of votes cast," Cirullo said. "By certifying the results, all the board is doing this evening is its duty to tabulate the votes and the numbers and results."
Cirullo said the canvassing board is not responsible for investigating the issue raised regarding absentee ballots. "This board is not the forum for reviewing allegations for administrative action," he said. "This board does not make any findings related to any questions that have been raised. This board does not have the authority to challenge the results of the election. The duty of this board is not passing judgment on any issues that have been raised about this election. It is not condoning any actions that have been alleged or may ultimately be proved."
Cirullo said the court system is the proper remedy for such election complaints.
"The correct forum for determining what occurred, if anything, will be in a court of competent jurisdiction. Florida statutes provide that an election contest must be filed within 10 days of certification," he said. "An election contest cannot be filed until a certification is complete."
During public comment, candidate Keith Harris who lost the election to Liang by nine votes, thanked his supporters for coming out to the meeting.
"I am grateful for everyone's support and encouragement," Harris said. "It was and is our position that this election for me was about truth in government. From what we know right now, that process appears to be in jeopardy. We know from the reports filed thus far, it appears that Mrs. Liang [Liu] committed felonies in the improper procurement of absentee ballots. We also know that Mrs. Liang and Mr. Rockett, a canvassing board member, went around attempting to collect the absentee ballots."
Harris urged the town to do more to insure the integrity of the election.
"We also believe that the town may not have fulfilled its duties in canvassing of the absentee ballots, and we are looking into this as well," he said. "We have asked the state attorney to look into and investigate in correlation between the requesting and return of absentee ballots on the paving of Marcelo and Compton and Bryan roads. In spite of all these issues, the town seems to be determined to ignore the issues and swear in Mr. Liang tonight."
Harris said the charter does not require the swearing-in of election winners within the time limit of that evening. "I will not go away," he said. "I feel I owe it to every citizen to make sure the process is protected."
Former Councilman Dennis Lipp and his wife, Doreen Baxter, urged that the canvassing board postpone certification of the election. Todd McLendon, who ran against Rockett two years ago, said he thought Rockett should not be sitting on the canvassing board due to allegations that he assisted with the collection of absentee ballots.
However, attorney John Whittles, representing Ryan Liang, urged the board to heed Cirullo's admonition that its action was ministerial, to validate the results of the election.
"There are a lot of [allegations] that we are going to deal with through the course of the litigation process," Whittles said. "The whole point that will have to be determined by a judge or jury is whether or not the election outcome would have been any different."
Goltzené, who voted against all the validation questions, said there is evidence that people voted who are not residents.
"That will change the outcome," he said. "Let's not try to snow the people. Let's not try to pretend this didn't happen."
Goltzené added that he had no proof that the paper given to the board by the Supervisor of Elections Office for validation was true.
"I don't even know if this came from [Supervisor of Elections] Susan Bucher's office, that it was put on this table by someone other than Susan Bucher, so I don't know anything about this except what it says on this paper, and I'm not given the opportunity to even look at the ballots."
Whipple said the numbers on the paper were taken from the official results.
All five ballot questions received validation from the board on 3-1 votes, with Goltzené opposed
Jarriel received 307 votes, which included 241 precinct votes, 64 absentee ballots and two provisional ballots. Virginia Standish received 230 votes, which included 201 precinct votes, 26 absentee ballots and three provisional ballots.
Liang received 275 votes, which included 212 precinct votes, 61 absentee ballots and two provisional ballots. Harris received a total of 266 votes, which included 234 precinct votes, 29 absentee ballots and three provisional ballots.
For the referendums, a question asking voters if they wanted to convert some election laws in the charter to ordinance failed, collecting 231 yes votes and 262 no votes.
A second question, a nonbinding referendum asking people if they wanted road improvements in the town, passed, receiving 304 yes votes and 212 no votes.
A third question, a nonbinding referendum asking residents if they would be willing to pay for road surfacing, failed, receiving 168 yes votes and 350 no votes.
Browning said there are still two separate issues.
"Nothing ends tonight," Browning said. "What we are saying tonight is that the Office of the Supervisor of Elections did their job. They worked with what they had. They looked at every signature on every absentee ballot, compared it and made sure they lived at that address and were able to vote."
Browning pointed out that the proper legal channels are investigating the absentee ballot issues.
"The issues up here are different issues," he said. "We do not have the ability to say what has been done is right or wrong."
ABOVE: Ryan Liang takes the oath of office.