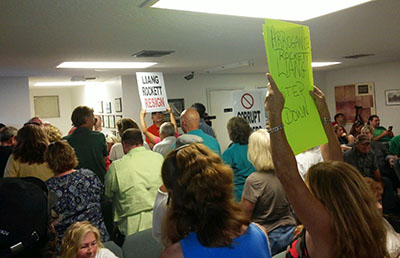 The attorney for candidate Keith Harris, who lost Loxahatchee Groves Town Council Seat 3 to incumbent Ryan Liang by nine votes in a controversial election last week, said Harris has not yet challenged the election but is gathering the information necessary to consider it.
The election was clouded by accusations that Liang's mother, Philomena Liu, and Councilman Jim Rockett were visiting voters door-to-door with absentee ballots that may have been obtained fraudulently. "There's no change in the status regarding Keith's challenge," attorney Richard Jarolem told the Town-Crier on Wednesday. "We're gathering information so that he can make a decision that he deems appropriate."
Jarolem said he sent a public records request to the Supervisor of Elections Office on Wednesday seeking the Internet Protocol addresses used to make requests for absentee ballots, as well as a videotape of the lobby of the Supervisor of Elections Office for March 9 to determine if Rockett was videotaped delivering absentee ballots.
"In addition, I'm in the process of dispatching a letter to Gov. [Rick] Scott outlining what's going on and seeking to enlist any assistance that the Governor's Office may lend in hoping to expedite and get to the bottom of what happened in the election," Jarolem said.
On Tuesday, Liang and fellow incumbent Ron Jarriel were sworn in amid protests that the election was tainted.
Virginia Standish, who lost a challenge to Jarriel, said that she thought Jarriel and Liang ran a well-organized joint campaign that involved elected officials from the council and the Loxahatchee Groves Water Control District.
"I applaud the individuals who came forward in a factual and truthful manner, and I am disappointed that our small-town election has turned into chaos," Standish said. "I ran a simple, low-cost campaign, and it just amazed me at the things people felt… We flushed out a lot of people and their true nature."
Standish pointed out that she, too, never conceded the election.
"I am concerned about the allegations out there, and I will be filing a complaint," she said.
Former Councilman Dennis Lipp, a vocal critic of Liang, said he was seeking people to become members of a recall committee.
"We will get this organized and get this going, and we will have a recall election in this town for two, maybe three council members," Lipp said.
During public comment on Tuesday, Jarolem told the council that he was disappointed they did not allow public comment before the swearing-in, and had hoped his comments would be heard then. He added that he was surprised that the swearing-in was at a special meeting, rather than the next regular meeting following the election, as called for by the charter.
"The completion following the election may very well be deemed to include a contestability period so you don't have to have an officer removed in case of an election contest," he said. "Unfortunately, the action of the council did not allow that public comment, and one more avenue which it could have avoided down the road has been avoided. Now, if something goes on, an election contest has to be filed. Now the town has to be named for the removal of the elected official. It's unfortunate, but now if something happens, it just got a little more complicated."
Liang's attorney John Whittles said between the validation hearing and council meeting, it will come down to what the voters wanted.
"The allegations as I've heard them is that absentee ballot requests were improperly obtained," Whittles said. "I've heard nothing to say that the will of the voters was frustrated, and that's what the analysis will be in any election. [Liang] is now re-elected. If there is an election contest that is filed, which is the only remedy for this kind of situation, we'll deal with that, and the proof will be what it is, but Florida law is pretty clear that if the will of the voters was not frustrated, the election should stand."
ABOVE: Protesters call for the resignations of councilmen Ryan Liang and Jim Rockett at Tuesday's meeting of the canvassing board.