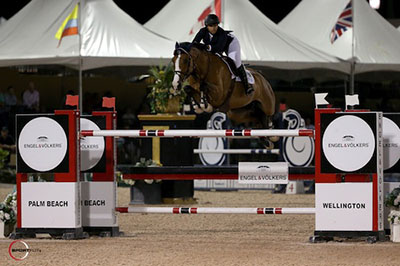 American Paige Johnson and Dakota were the big winners in the $127,000 Engel & Völkers Grand Prix CSI 4* last Saturday night at the 2015 Winter Equestrian Festival. Competing in the International Arena at the Palm Beach International Equestrian Center, Johnson won a four-horse jump-off, defeating her trainer Kent Farrington with Gazelle in second place. Ramiro Quintana and Whitney placed third, while Lisa Goldman and Centurion B were fourth.
Forty-three horse and rider combinations showed over Saturday night's course, set by Olaf Petersen Jr. of Germany. Four made it through to the jump-off, where Johnson and Farrington were the only two to clear the second round course.
Goldman was first to jump-off with Mary Goldman's Centurion B with one rail in 49.06 seconds. Quintana returned next aboard St. Bride's Farm's Whitney and also brought down one rail in a faster time of 45.41 seconds. Johnson and Salamander Farm's Dakota followed with the winning clear round in 47.47 seconds. Last to go, Farrington and Robin Parksy's Gazelle were clear, just shy of Johnson's time in 47.95 seconds.
Johnson and Dakota began their 2015 season with great results, including a win in the $34,000 Ruby et Violette WEF Challenge Cup in week six of the circuit. That win was in a speed class in daylight, but the pair stepped up to the plate showing in a major grand prix under the lights as well.
Competing in a night class with an arena full of cheering fans, Johnson and the 12-year-old Belgian Warmblood mare thrived.
"I came into this circuit hoping to win a WEF [Challenge Cup], and I did that week six. My next goal was to win a grand prix. I had no idea it would happen in the same season," Johnson said. "You can imagine that I am super excited and happy. Kent is my trainer, so it feels like the hard work and the team and everything around us is really paying off, and that is a great feeling."
Johnson did not expect to come out on top.
"I was not as fast as Ramiro. I thought I would go what speed I was comfortable," she said. "For me, it was not all out, but I did not want to be too slow because if I had a late rail, I would be third or fourth. I thought I needed to go fast enough to have Kent try to chase me. No, I did not think I was probably fast enough to beat him, but I knew he had a young horse, so that played in my favor tonight."
Farrington was aboard a young, less experienced horse in his mount Gazelle and was proud of the way the mare performed on the bigger stage as well.
"She is a young horse, so my plan for the circuit was to build her up here. I started in the 1.45m, and I was hoping by the end of the season to have another grand prix horse, and I think I have done that," Farrington said. "I thought she jumped fantastic tonight. I watched Paige go, and I wanted to give the horse a nice experience and try to compete at the same time without taking any huge risk. I knew it would be close, and I was hoping it would be enough, but it was just a little off the mark."
Farrington was also proud to see his student get an exciting win. Johnson has trained with him for almost three years.
"This is a huge moment," Farrington smiled. "I am really excited for her tonight. She and a lot of my students have all had a great season. To see Paige have the biggest win of her career tonight was huge. We started a couple years ago and set out on some goals, and we are slowly checking them off one at a time. This was a big one tonight."
Quintana, the third-place finisher, has ridden his horse for three years and knows the mare well. The pair had consistent results throughout the circuit and earned one of their top placings Saturday night. Despite a case of pneumonia that set the rider back for two weeks, Quintana returned rested, and Whitney was ready to go.
"She is a seasoned mare, and she knows the ring really well," Quintana said. "Unfortunately, I have been sick, but I am really happy to be back in the show ring feeling 100 percent."
Sponsors Amy Carr and Carol Sollak of Engel & Völkers were on hand for the class and were thrilled with the competition and the exciting evening.
"Our main office is here in Wellington. The majority of our clientele are equestrians, and we certainly love the sport," Carr said. "We like to give back to the sport because we enjoy it, and it means a lot. It is a really fun thing to be able to sponsor this."
"We are very excited to be a sponsor of this class and be a part of the whole horse show," Sollak added. "To have this group that won tonight that are our friends is great for us. We look forward to a great season next year, too."
Two special awards were also presented during Saturday night's competition. For her success throughout the week, Johnson was named Leading Lady Grand Prix Rider, an award presented by Martha Jolicoeur in memory of Dale Lawler.
Meanwhile, the Potcreek Meadow Farm Junior Sportsmanship Trophy was presented to Lucy Deslauriers in memory of Candida C. Forsmann.
For more information, and a full schedule of events, visit www.equestriansport.com.
ABOVE: Paige Johnson rides Dakota for the win. Photo by Sportfot