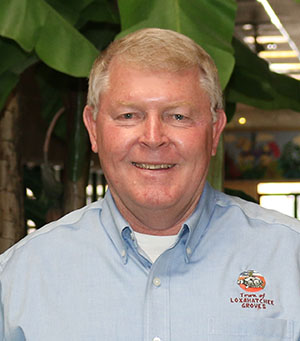 Vice Mayor Ron Jarriel is finishing up his second term on the Loxahatchee Groves Town Council and hopes town voters choose to return him for a third term on Tuesday, March 10.
Finance Advisory & Audit Committee Chair Virginia Standish is challenging Jarriel in the race for Seat 1, one of two seats up for grabs next week.
Jarriel has been a resident of Loxahatchee Groves since he was 10 years old.
"I've lived in the Groves for 54 years. I grew up out there when nothing was there. I spent 31 years with Palm Beach County Fire-Rescue, retired seven years. My life has been serving the public," he told the Town-Crier. "Now I have an opportunity to serve my community. My heart is in Loxahatchee Groves."
Jarriel has watched the area, along with the wants and needs of its residents, evolve over the decades.
"I've seen a lot of changes — some haven't always been for the best — but now I have a chance to make those changes better for the residents," he said. "I'm retired, which makes it easy for me to put a lot of time in. I spend a lot of time riding through Loxahatchee talking to people."
Jarriel's past work experience, paired with his flexible retiree schedule, has allowed him to look at the area's issues through a unique lens.
"I base a lot of my decisions looking at it from a firefighter's aspect. My two top priorities are health and a safe road," he said, explaining that it isn't healthy for students to be breathing in dust from dirt roads while waiting for the school bus."
The safety factor is also crucial, he said.
"I look at response from Fire-Rescue and the PBSO coming to help our residents. Our streets, the dirt roads, are unsafe. When I was driving the largest truck in Palm Beach County… if one vehicle was in front of the other vehicle, you couldn't see the vehicle because of the dust. You had no traction to stop the vehicle if all of a sudden the rescue vehicle stopped because they saw the address and we couldn't. So safety is my priority in Loxahatchee Groves."
Drainage is another top priority, and has become a controversial subject in Palm Beach County due to the recent changes to the Federal Emergency Management Agency's flood maps.
"I didn't like the decision that FEMA made about us being mostly a flood zone," he said. "So now we're going to work on that."
Originally, Jarriel was against incorporation. "I was supporting a lot of my seniors who felt like the taxes would be going up and they couldn't afford it as it was," he said. "I respect seniors. They've done their time, and now they're trying to retire and they're trying to survive."
But when Loxahatchee Groves became a town, money that was flowing to the county, came to the community "It's unbelievable the revenues we've got going into Loxahatchee Groves," he said, adding that his goal is to direct that revenue to improve the health and safety of the community for its residents.
Jarriel feels that his long experience is what makes him the best choice. "I have spent about 54 years as a public servant. Thirty-one years with the fire department, nine years on the water control board, six on the town council," he said.
His extensive history has lent itself to many opportunities for learning and discovery, which Jarriel utilized to help Loxahatchee Groves.
"I've learned, since I've gotten on the council," he said. "I've learned so much about legislatures and public service, and how much we can get for our people if we ask for it."
Jarriel also feels that he is well-known and approachable.
"Why I feel like I'm best qualified is because I interact with everybody in Loxahatchee Groves," he said. "I communicate well with everyone in Loxahatchee, and most people know that my heart is in Loxahatchee. It isn't for power and control."
Jarriel asserted that he would retire immediately if he found someone he would like to replace him.
"I'm not a man out for power and control," he said. "If I could find somebody I trusted, who would willingly take my spot on the council, then I would be willing to give it up to them. So far, I haven't been able to do that. I've approached a lot of people, but they don't want the hassles and the repercussion of being on the council."
Taxes are at $1.20 per $1,000 assessed valuation, which Jarriel noted is the lowest in the county. "Taxes, roads and drainage are probably the top issues as far as I'm concerned," he said.
When asked about the proper relationship between the Loxahatchee Groves Water Control District and the town, Jarriel said that teamwork is the best approach.
"The proper and the best relationship is that we work together as a team," he said. "As a team, we can do things faster and more for the people than ever before. I was on the water control board when we had the water control and the town. A certain group of people in the town, and on the council, they've always wanted to dissolve the water control board… this is back to where town wants control and power. We can't have a good town if that's why we're sitting on that council. It's got to be for the betterment of the residents."
Ideally, Jarriel would prefer a two-lane Okeechobee Blvd. with one lane going each way and turn lanes. One solution for decreasing the traffic impacts on Okeechobee Blvd. by future Minto West residents, he suggested, is to make improvements to Seminole Pratt Whitney Road.
When asked about the town manager's abilities, Jarriel's outlook was positive. "Bill Underwood came on board Oct. 1 and sat down with each council member and laid out his game plan," he said. "So far, I'm impressed with him."
Underwood's job negotiating for the Central Palm Beach County Chamber building impressed Jarriel as a positive change.
"If I can do something positive, if I can be a part of something positive that betters our town every year, then I enjoy my job sitting on the council," he said. "When I become useless and I can't accomplish anything, then I'll resign, and that's the truth of the matter."
Stirring controversy in this year's election is a paving material called open-graded emulsified mix or OGEM. Jarriel's challenger thinks a better quality product should be used for paving projects.
"Before we went with OGEM, we did a lot of research, and I'm not talking about six months, I'm talking about years," he said. "There are two reasons we went with OGEM. First of all, the economic cost. The second was OGEM is considered a stabilizer resurfacing, it's not like pavement of asphalt."
Using asphalt would make paving projects unaffordable, he explained, adding that OGEM allows rainwater to run off of it, which facilitates drainage.
Jarriel's vision for the future is a community that everyone will want to live in.
"When the multipurpose equestrian trails come in, I see people being able to ride horses, ride golf carts, walk and bike, mountain bikes, around the square of Loxahatchee to begin with, and see the diverse type of residents we have," he said.
While his challenger supports term limits, Jarriel is against term limits for local government.
"Washington, D.C., the county, Tallahassee, it's not Loxahatchee Groves. They don't pay me millions, and I don't spend millions to get re-elected," he said. "I came on the council because I knew I had to protect my town and nobody else wanted to do the job. Each year, I look for people who would be willing to take my place, so term limits don't matter to me. If I can find somebody who I can trust, that I know their heart is in Loxahatchee Groves by the decisions they make, and they can improve our town for the benefit of the people, I'm willing to give my seat up."
Jarriel said his top strength is his long history in Loxahatchee Groves.
As for his opponent, he credits Standish for her committee volunteer work but questions her effectiveness as a community leader.
"She has been on the FAAC," he said. "She has nothing positive to say about the council… She has spent 30 years in Loxahatchee Groves, and I don't see anything that she has done that's benefited the residents of Loxahatchee Groves."
When asked why voters should vote for him, Jarriel said that he has proven himself.
"What I've fought for, I can justify. Anytime I have an opportunity to help the residents of Loxahatchee Groves, I help them," he said. "I look at aspects from a firefighter's viewpoint, and a homeowner and a taxpayer in the Groves. My record has been proven, and I want to do more for Loxahatchee Groves."