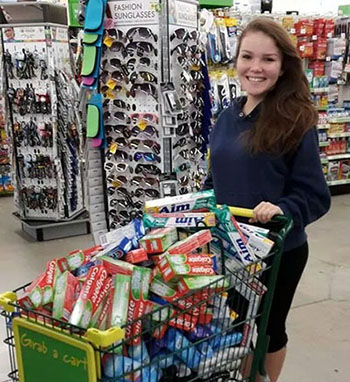 Shampoo, conditioner, a bar of soap, a toothbrush and toothpaste are all things most people take for granted. They're the basics for hygiene, yet there are many in the community who lack these basic necessities. That's something one young Wellington resident is working to change.
"I found a big box of toiletries in my garage, and I asked my parents what I should do with it, and they told me to throw it away," 14-year-old Abbey Woodcock said. "I knew that would be a waste, and I wanted to do something with it."
In Abbey's search for something to do with the unwanted toiletries, she found a local children's center, Place of Hope. "I kind of fell in love with it," she said, "and it escalated to this."
Since Abbey started her charity, Hygiene for the Hopeful, in September 2011, her gathering of toiletries has escalated. Currently, the four charities benefiting from the thousands of donations that Abbey has been able to gather are Place of Hope, Project Success, the Homeless Coalition of Palm Beach County and St. Ann Place.
In the beginning, Abbey's father, Benjamin, said she approached mostly friends and family, but they quickly ran out of items to donate. But the community needed more.
"That's when we said, 'You know what? Let's create a Facebook page and see if we can get people we don't know to start giving us soap.' We had no real funding or anything like that," he recalled.
Word-of-mouth donations came in, and they would collect "soap" — a term the charity uses to mean any and all types of toiletries — at Abbey's school's chorus concert, Publix, roller derby games and anywhere that Abbey has been able to set up a table.
A student at Emerald Cove Middle School in Wellington, Abbey will host an event to promote Global Youth Service Day on Saturday, April 18 from 2 to 5 p.m. at the Wellington library (1951 Royal Fern Blvd.).
"When I heard about it, I knew I wanted to do something," she said. "We're setting up a table. It's just to raise awareness and hope that we can get other kids to start volunteering."
Abbey and her helpers — family and friends — will be collecting new and like-new items, including the aforementioned toiletries, plus cotton swabs, deodorant, razors, sunscreen and any other similar items that people want to give.
So far, Abbey has been able to collect thousands of items, has been honored and recognized for her work and has achieved 501(c)(3) status for Hygiene for the Hopeful.
"We have just now been able to start applying for grants," Benjamin said, explaining that the focus for the past year has been the backbone of the charity.
Abbey's charity recently received a grant from the Karma For Cara Foundation, and they are using it to create dental kits for children. Hygiene for the Hopeful also won grants from biz.net and Youth Service of America, among others.
"There aren't many charities or foundations based upon hygiene, and that's something you really need year-round," Abbey said. "Even if we can just help a small number of people, I feel like it would make a big change."
So many organizations collect items during the holidays, but Hygiene for the Hopeful is targeting an ongoing need.
"We're trying to take pressure off of big organizations like the Homeless Coalition," Benjamin said. "If I can solve their shower kits, if I can take that off the table, then they are able to direct their funds and energy into helping people in another way… That's what we want to do."
Working together is an important concept for the Woodcocks, and Abbey is looking beyond finding a solution by encouraging others to take action. "If we can influence somebody into starting their own organization, that's wonderful, too," she said.
As a teenager, Abbey has accomplished many things, but following her heart is her trait that makes her father most proud. And she has been involved in all of the daunting work necessary to run a nonprofit, which impresses her father even more.
"What people don't see is that Abbey is completely in charge of this charity," he said. "She picked the colors of the web site, she picks the pictures, she picks what we buy, she decides and handles everything 100 percent."
It does, however, take a great deal of hard work and sacrifice, which Abbey takes in stride.
"I don't have a problem with missing out on maybe a birthday party because I have an event, because it's something that I love to do and something that I'm really proud of," she said.
This year, Abbey hopes to expand the charity, getting more grants so she can donate more to more places. "We don't have enough soap. We don't have enough to give. It's a situation where people are always going to need it. Each season calls for different things. Summer is coming up, and we need sunscreen for the homeless. If we got 1,000 bottles of sunscreen, it wouldn't be enough," Benjamin said.
Food stamps, he noted, don't buy feminine hygiene products and razors, which are both expensive items.
Abbey's philosophy is, "When you're clean, you're confident… and when you're confident, you're happy… and happiness is all that matters in life."
In her teen years, Abbey is observing firsthand the judgment that comes with growing up.
"When you're our age, you're constantly getting judged anyway," she said. "Even if you can have your hair done one day, you become a lot more confident, and that's what I'm shooting for."
During the 2013-14 school year, the Homeless Coalition of Palm Beach County discovered that 2,965 children were homeless, with 7 being the average age of a homeless child in the county. Across the nation, almost 2.5 million youth younger than 18 — one in every 30 children — experience homelessness.
"It's a basic human necessity, that you can brush your teeth in the morning and you don't have to wonder where the toothpaste is going to come from," Benjamin said.
Abbey is trying to find new locations for item drop-offs. Any businesses interested in having a collection box, which can be customized, should call (972) 689-6934. Help is always needed for sorting items, and as a certified nonprofit, Hygiene for the Hopeful is able to grant community service hours. Also, all donations in time, services, funding or items are tax-deductible.
To make a donation, or learn more, visit www.hygieneforthehopeful.org or www.facebook.com/hygieneforthehopeful.
ABOVE: Abbey Woodcock, founder of Hygiene for the Hopeful, shops for toiletries.