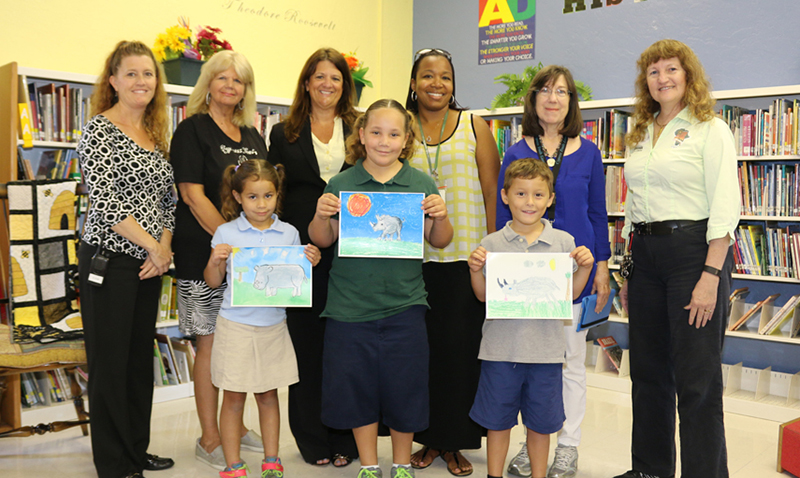 Students at Cypress Trails Elementary School in Royal Palm Beach have been learning about the animals at Lion Country Safari and recently participated in a drawing contest with a winner from each grade.
Cypress Trails, with 34 out of the total 70 entries, came in with three first-place student winners. The awards were presented this week by Lion Country Safari Education Director Rhonda Beitmen.
Beitmen came to the school Wednesday morning to present the students — first-grader Isabella Rodriguez, kindergartner Luke Elvir and third-grader MariJane Worley — with their awards.
"With the School District of Palm Beach County, we had a virtual field trip through Adobe Connect that was open to all schools in Palm Beach County," Beitmen said. "It was called 'The Buck Starts Here.'"
The program featured Lion Country Safari's approximately 45-year-old rhino, Buck, along with the other rhinos. The children learned about their adaptations, their habitats and Buck's personal story.
Cypress Trails Principal Shari Bremekamp was thrilled about the program, which allowed the students to interact with the scientists, view video footage and learn about Buck.
At the end of the program, Lion Country Safari sponsored its "Buck The Rhino Art Contest," which Cypress Trails art teacher Pat Wolek embraced wholeheartedly.
"I knew that they were already studying about rhinos in the classroom, so as an enhancement, I showed them a video of a baby rhino," Wolek said. "We also looked at rhinos that are done by other artists, because I wanted to inspire them to think beyond the realistic interpretation and think of different ways of rendering the rhino."
After that, it was putting together basic shapes such as ovals and circles to make the shape of a rhino.
"It was a tough competition because I submitted a lot," Wolek said. "I love entering contests because I like to show off my students' work."
Beitmen said that they were very excited at Lion Country Safari to receive so many pictures of Buck the rhino.
"He's very near and dear to us," Beitmen said. "He's about 45 years old, we're not even sure, because he came from Africa, and so we didn't know quite how old he was when he came in the early 1970s. He's a real sweetie pie."
Trying to decide which student would win was extremely difficult, Beitmen said, but everyone's drawings are on a scrolling display. The winning artwork is on display with the scrolling pictures.
In addition to a certificate, Beitmen presented the students with a copy of their drawings and a family four-pack of tickets.
"Beyond happy, I am very proud. We have some really talented artists here," Bremekamp said.
The parents were thrilled, Bremekamp said, when she contacted them, and many were able to make it over to the school for the presentation.
"We had a lot of really, really cute art — their interpretations of the rhino — very amazing," Beitmen said.
All of the entries will be available for viewing at the commissary window at Lion Country Safari until the end of May.
To learn more about Lion Country Safari, call (561) 793-1084 or visit www.lioncountrysafari.com.