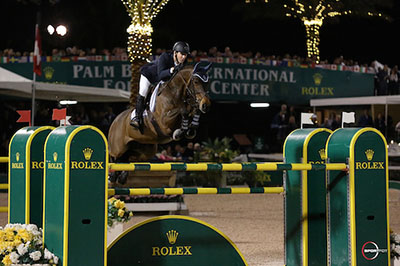 McLain Ward and Double H Farm's HH Carlos Z won the $500,000 Rolex Grand Prix CSI 5* in front of a packed house at the Palm Beach International Equestrian Center last Saturday night to conclude international show jumping at the 2015 Winter Equestrian Festival.
Forty of the circuit's best horses and riders representing 13 different countries jumped for the season's top prize. Daniel Bluman and Conconcreto Sancha LS finished second, while Georgina Bloomberg and Lilli placed third.
The $100,000 Suncast 1.50m Championship Jumper Series Final was also held last Saturday with a win for Kent Farrington and Amalaya Investment's Waomi. Darragh Kenny won the 12-week series overall.
Steve Stephens designed the courses for Saturday's competition. He set a challenging track for the $500,000 Rolex Grand Prix CSI 5*, the biggest class of the circuit, which yielded three entries to advance to the jump-off.
Bloomberg and Gotham Enterprizes LLC's Lilli jumped first with eight faults in 44.39 seconds. Bluman returned next with one rail in 41.64 seconds. Last to go, Ward and HH Carlos Z knocked the top plank off the second fence, and everyone held their breath. The pair cleared the rest of the course, coming home in 41.25 seconds for the win.
Hunter Harrison of Double H Farm purchased HH Carlos Z, a 13-year-old Zangersheide gelding, for Ward to ride last winter, and the horse has continued to impress.
"He is very careful and very competitive, but we did not buy him to jump this level of grand prix," Ward said. "Last year in the summer we had to call on him a few times when Rothchild was resting for the World Equestrian Games and he stepped up beautifully, including the Spruce Meadows Masters in September. We knew we had a little more in the tank than we had planned. I would say coming into WEF, it would not have been the horse I thought I would have ridden tonight, but as I always say to Mr. Harrison, he is one of those horses that is always worth getting dressed for because he is going to fight and try and dig. You really appreciate those kind of athletes."
Along with the winner's share of $165,000, Ward was presented the Dennis D. Dammerman Perpetual Trophy. The trophy was created to honor the contributions to equestrian sport of Dammerman, a longtime owner of horses and founding member of Wellington Equestrian Partners. Ward was also awarded a beautiful timepiece courtesy of Rolex Watch USA.
Saturday marked Ward's third win in the finale grand prix of WEF over the years. His last was in 2011.
"It was very difficult, but it was 40 of the best from the circuit," he said. "There was a very unique, eye opening triple combination. I cannot say I have ever seen three oxers in a row. It was a good test. There was the difficult bicycle jump, which is always tough. There were some careful jumps. You really had three planks on the course. That is what the test should be for this grand prix. It is the premier event of the season and, obviously, I liked the result."
Second place finisher Bluman previously won the finale grand prix in 2012 and was out for a repeat, but the cards did not play in his favor this year. Bluman was still very happy with his mount, Sancha LS, and acknowledged the experience that he has gained since their first win.
"For me, this grand prix means a lot because I won it already once before," Bluman said. "I was a little bit young to win it back then, and lots of things have happened since. I have learned a lot. This year, I was able to understand what I was doing right back then. I knew I was coming back to a jump-off with three riders and I was already very excited. Georgina has had an amazing circuit and would be a hard one to beat, and I knew I had McLain coming after me. McLain is McLain. I opened the door for him to do it. It was great sport, and I am very pleased with Sancha and my whole team."
For Bloomberg, Lilli was a second horse that has stepped up to fulfill the grand prix role this winter and exceeded expectations.
"I have to echo what McLain said, that if you had asked me at the beginning of the circuit who I would be riding in the class, I probably would have picked Juvina," Bloomberg said. "We have had a little bit of bad luck with Juvina for a couple weeks and she is back and healthy now, but we decided to give her one more week before Miami. It is such a nice surprise that Lilli has stepped up to be a horse that I never knew she could be. I am pleased to be ending the circuit with another top ranking horse. She really did save our year."
Joining the riders in the press conference were Peter Nicholson of Rolex Watch USA and Mark Bellissimo, CEO of Equestrian Sport Productions. "It is an honor to be involved. This is our second year and another successful year," Nicholson said. "We look forward to a very bright future with lots of improvements year after year. The level of competition is amazing, and we could not be happier to be down here."
Bellissimo thanked sponsor Rolex for its contributions. "The relationship we have had with Rolex has been inspiring for our organization. It is great to have a partner with such a great commitment to the sport, our venue and the organization," he said. "We are very proud of that relationship. With their help, we have been able to have four 5* competitions here, and I think that is very important for the sport, the venue, our organization and the riders. When we took over, it was $2.6 million in prize money, and I think it was close to $9 million this year."
In addition to the grand prix, several other awards were presented Saturday evening for the final week of competition in Wellington.
Ben Maher accepted the Simba Run Perpetual Trophy on behalf of Tatiana Korsakova as the owner of Diva II, the open jumper who has earned the most prize money in classes held at 1.45m or more during the 2015 WEF. Diva II's groom, Daley Fischer, was presented with the Oliver O'Toole Perpetual Memorial Trophy, which is awarded to the groom of the horse who has earned the most money in the grand prix jumper classes. Artisan Farms was presented with the Harrison Cup Perpetual Trophy, which is awarded to the owner whose horses won the most jumper money in all of the open jumper classes held throughout the circuit.
Other awards included the Overall Leading Lady Grand Prix Rider for the 2015 circuit, which was presented to Meredith Michaels-Beerbaum on behalf of Martha Jolicoeur of Illustrated Properties. Eric Lamaze and Artisan Farm LLC's Fine Lady 5 were presented with the Overall Champion Equine Insurance Jumper Style Award, which is awarded to the jumper whose style best exemplifies a show jumper based on scope, rideability, technique and competitive spirit. Venezuela's Emanuel Andrade earned the Hermès Talented Young Rider Award as the young jumper rider between the ages of 16 and 25 who has earned the most points in all WEF FEI rated jumper competition. Michael Hughes was the recipient of the USET Foundation's 2015 Maxine Beard Award, an honor based on a rider's competitive record and potential to represent the United States in international competition.
For more information, visit www.equestriansport.com.
ABOVE: McLain Ward aboard HH Carlos Z in their victorious ride. Photo by Sportfot