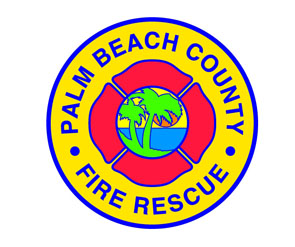 To mark Child Abuse Prevention Month, the Children's Home Society of Florida, along with Palm Beach County Fire-Rescue, hosted a kickoff event Monday, April 6.
"We opened our doors in 1965," CHS Palm Beach Division Charitable Giving Director Gabrielle Turner said. "On Monday, we did a celebration to celebrate our 50 years, to kick off all of the fun and amazing things we're going to have going on throughout the year, and to officially launch our partnership with Palm Beach County Fire-Rescue and our campaign with them called 'Ignite Your Passion For Children.'"
The campaign, initiated between Turner and PBCFR Chief Jeff Collins, will raise awareness about child welfare issues in the county while providing mentorship and guidance from community firefighters to children in foster care.
At Monday's event, children in need of homes and those who have been helped by CHS greeted attendees as the organization celebrated its 50th anniversary and started the campaign, which will run from now until Dec. 31.
This weekend — April 10-12 — PBCFR will be out on the streets collecting donations for the Children's Home Society during its Pass the Helmet drive. Those who donate are encouraged to take selfies with the firefighters and post them to social media with the hashtag #passthehelmet in order to increase awareness and possibly make the partnership's efforts go viral.
"We're trying to raise money as we have in the past," PBCFR Battalion Chief Joey Cooper said. "This is something to benefit the children."
In addition to raising cash, Turner said, PBCFR will be raising awareness. "They're going to be holding up signs and giving out stickers to anyone who donates. The signs include photos of our local kids here at CHS and our local firefighters at PBCFR," she said. "They're using their platform as firefighters with PBCFR, one of the largest fire departments in Florida, to be a voice for our kids and to advocate for our children."
For those who want to donate during Pass the Helmet but can't find a PBCFR representative, donations can be made at www.chs5k.com for the PBCFR team.
Next weekend, the For the Love of Children 5K run/walk will take place, with registration starting at 6:30 a.m. on Saturday, April 18 at Okeeheelee Park. Join in on activities such as face painting, arts and crafts, a selfie booth, music by a live DJ, a live broadcast from 97.9 WRMF, PBCFR truck demonstrations, the PBSO K-9 Unit, the PBSO Child ID Unit and much more as CHS celebrates 50 years of working to break the cycle of child abuse in Palm Beach County.
Online registration at www.chs5k.com closes at noon Thursday, April 16. For more information about the 5K, call (561) 868-4385.
"This will be similar to our Jeff Annas run that we've done in the past," Cooper said, referring to the Jeff Annas Memorial Firefighters 5K that takes place in September in memory of Capt. Jeff Annas, who died in 2008.
The partnership is new, Cooper said, adding that PBCFR is excited about the possibilities.
"We also plan on having a mentoring challenge for the citizens of Palm Beach County. We're going to be asking them to participate in the future," he said.
Having PBCFR supporting the nonprofit is important, Turner said, and makes a vast impact.
"Over the summer, we're going to have the mentoring challenge, and then toward the end of the year, in November, it's National Adoption Month, so we're going to use that and come up with some really cool and creative ideas to bring awareness to the thousands of kids in the State of Florida who are looking for their forever family," she said.
This partnership is exciting, Turner explained, noting that CHS has had a 67 percent increase in children coming to them for care this past year, along with a 7 percent budget cut.
"We're hoping to use this platform to be able to educate the community that it's our kids, right here, in our neighborhoods, in our schools, who are being abused and being neglected, and we need to come together as a community and do something about it," she said.
In the fall, Cooper said, they're planning an awareness program for children who need to be adopted.
"It's so important for these kids to receive this funding," he said. "I visited CHS. Once you visit that facility and you realize the things that these children are lacking, you really kind of get a sense of what they really need."
Cooper said that his goal is to raise public awareness about the plight of the children served by CHS. "I think that'll go farther than us even standing on the street, just to bring awareness to their needs," he said.
Turner agreed that awareness is crucial.
"Last year alone, in Palm Beach County, our organization served over 17,000 children and families, and we are constantly looking for more people in our community to support us," she said. "Anything that will raise awareness and bring in more volunteers or more supporters or financial supporters is always a huge plus for us."
Cooper, whom Collins asked to spearhead the project for PBCFR, can relate to the kids in need. During the kickoff, Cooper told his personal story of sharing a used bicycle with his brothers, having both parents, but not much money.
"I look back and I had a lot more then, by having both my parents," he said. "Especially, once you visit that facility and you see that these kids don't even have one parent, me, having both parents and a used bicycle was far more than what these kids have… I realized I didn't lack anything at all, and these kids are lacking."
Cooper's time visiting the Children's Home Society had a lasting impression on him, and one he hopes to share with others.
"Anyone who loves kids, once you see what they're missing, you can't help but want to help them or adopt all of them," he said. "We know that's not possible, so the best we can do is try to help them find good families and get assistance."
Currently, Turner said, there are almost 2,000 children under their case management services in Palm Beach County. The case managers find the children a safe place to live, be it with a relative, in a group home, a foster home or a shelter.
At the CHS Forest Hill location, they have three facilities, one of which is the only emergency shelter for children.
"Any of the fire stations that you see a Safe Place sign, we are that safe place. We are a safe place shelter. Kids are brought to our location 24 hours a day, seven days a week," Turner said.
They also have two group homes, one for girls age 13 to 18, and one for homeless teenage pregnant girls. Currently, there are 32 children at the three facilities, which puts them at maximum capacity.
Anyone who would like to become involved is invited to contact Turner. To learn more, or donate to the Children's Home Society of Florida, call (561) 868-4300 or visit www.chsfl.org/palmbeach.