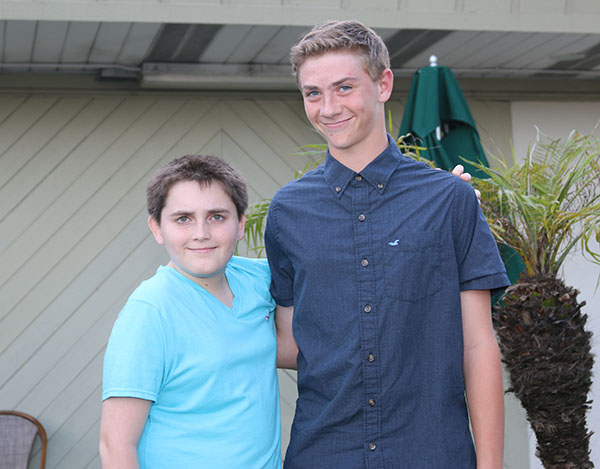 Brothers Andrew and Bryan Riedell share a close relationship. You see, 13-year-old Andrew — and his friends — look out for Bryan, who just turned 12.
Bryan is special, which he views as both a blessing and a curse. He has Asperger syndrome, which is an autism spectrum disorder that affects language and behavioral development.
Andrew's newest quest to look after his brother will take place Sunday, April 19 at 2 p.m. at Village Park on Pierson Road in Wellington. Andrew is on the Wellington Colts 13U Orange Travel Baseball Team, and instead of their normal uniforms, the 13 boys on the team will be wearing Autism Awareness shirts.
During the season, Andrew typically plays in about 60 games between January and May, and Bryan goes to all of his games. In fact, Bryan used to play baseball, too, and has attended thousands of baseball games, so it only seemed fitting to use baseball as a way to raise awareness for autism.
The special event started when Andrew wanted to do something for Autism Awareness Month in honor of his brother and approached his coach, Rob Melchionna. Then, he and their mother, Kris, approached the president and director of operations for the team's board, Pete Bruno and Chad Mills, with the idea.
"It has been a rough ride for us," she said. "My son was diagnosed at a young age, and we've been very lucky because he has been able to get the interventions that he needed."
At 3 years old, she said, Bryan communicated with fewer than 30 words, which classified him as low-functioning.
"With interventions, he is now high-functioning, but he's socially inept. He's 12, and he has the social skills of a 7- to 8-year-old, so it's very hard socially for him," Kris said, adding that making friends is difficult. "He doesn't get invited to the birthday parties."
Though it isn't easy for Bryan, he tries to take his autism in stride. "It's a curse and a blessing," he said. "It's a curse because I can't go make friends, but it's a blessing because there are other people out there like me who I can make friends with."
This article, and the awareness that will come from the baseball game April 19, is important to Bryan, who understands that he is different, but in many ways the same as everyone else. "This is important for me so people can know how I feel and how I am different, but I am still the same person, no matter what," Bryan said. "I'm just like everyone else, but we all have our differences."
Just as any other youngster, he has aspirations in the fields that he is interested in. "I see myself going into the future as a video game creator, a moviemaker, a meteorologist and or also a storm chaser," he said, adding that his grades and behavior scores at school are great.
The social aspect, however, isn't so great. Some kids are mean to him, but he knows that he has the support and friendship of Andrew and his team.
"I feel amazed and happy that I'm going to be able to have that," Bryan said. "My brother, here, he came up with the idea, that people all over Florida, maybe all over the country, will be able to know about us, that we're different, but we're still like everyone else."
Andrew hopes to show the community, and the world, just how similar his brother is to everyone else, while raising awareness that he hopes will help Bryan and other kids in the same position.
"I was captain of the baseball team," Andrew said. "I was on it in sixth, seventh and eighth this year," he said. "With the recent discussions I've made with the board and with my board about what's happening April 19, the only reason I did this was to spread awareness and for Bryan — to show everybody that Bryan is great."
One of the easiest parts for Andrew when it came to organizing April 19 was getting his team on board.
"The team support was really easy as some of the players already do know Bryan's condition as some of them go to his school. I've asked them, if you see him and he's alone, go eat lunch with him," Andrew said.
When Andrew discovered that six of the Colts players attend Emerald Cove with his brother, he thought it was a great opportunity for his teammates to bond with Bryan.
Coach Melchionna was thrilled with the idea and hopes it will teach the other kids that they can create change.
"Baseball becomes a platform for these boys to be able to speak to others, and they all, as 13-year-olds, need to understand that there's more to life than baseball and that there's other things that are happening that they can make better and help," he said. "My sons go to school with Bryan, and it's nothing that we said you have to go in and do, but they went in, and it's just kind of great that brothers look after siblings and they know who they are and can go in there and make someone feel comfortable."
Rob's son Robert goes to school with Bryan and keeps an eye on him.
"I watch him, and he knows that I look after him," Robert said. "He's one of my best friend's siblings, and I need to check in on him and see how good he's doing."
They'll be sharing the field with the 14U Colts, and hope to perform the opening ceremonies and have the coaches introduce both lineups and Bryan to the crowd.
"We want a lot of people coming out to this. That's why we're trying to spread the word," Andrew said.
Andrew takes care of his brother out of desire, not obligation, Kris pointed out.
He thought it would be a great idea for Bryan to throw out the first pitch, just like the major league teams do. "They always grant that wish, and I'm going to be that helper to make Bryan's come true," Andrew said.
Bryan is excited to be in the dugout to help out and encourage the team as the game goes on.
"I am excited for this because this is something big, and I thought that this would never happen to me," he said. "I thought that I was just going to be a normal kid, but instead, I'm not. I'm a special kid with special needs and special abilities that I can bring to this world. I think that I'm going to be super-excited to show everyone attending the game about my abilities and what I can do."
Andrew's friends and teammates have been a huge source of support for Bryan, in and out of school.
"I feel that this team is going to be very popular and they're going to be very supportive. I feel great about what's going on, and I feel amazed," he said. "They help me out. They say hi to me. They ask me how I'm doing, and it's very nice of them. I feel their support."
Bryan hopes to help other kids gain the type of support system full of encouragement that he has. "I hope to accomplish that people know more about autism and how we, autistic kids, feel," he said.
Kris is excited about this event because so many children have autism, and not everyone is aware of the type of resources that are available to help.
"We have an opportunity here to really make this community out here more aware of these children who are on the spectrum," she said. "I've made this baseball game an awareness day."
Kris is extremely proud of Andrew, who has been a huge advocate for his brother.
The event is also emotional for Kris, who is feeling the support of the team, the kids and the community.
"It is overwhelming, it is embracing, it's a great organization and a great time, and I can't thank them enough," she said.
To learn more about the Wellington Colts Travel Baseball team, visit www.wellingtoncolts.sites.teamsnap.com.
ABOVE: Brothers Bryan and Andrew Riedell.