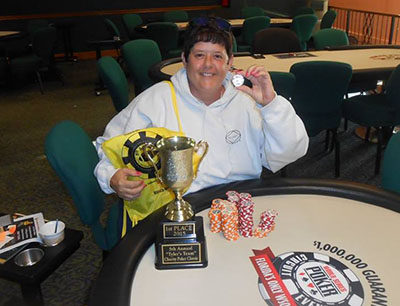 The fifth annual Tyler's Team Charity Poker Classic was held at the Palm Beach Kennel Club on Sunday, March 29 with more than 85 players attending to raise money for charities.
Tyler McLellan Foundation President Kevin McLellan announced a new winner's prize, a one-ounce pure silver commemorative coin designed by master jeweler Vince Izzo and Miracle Jewelry Exchange in Port St. Lucie.
In attendance were former Miami Dolphins Jim "Crash" Jensen, Roy Foster, Bob Brudzinski and Mark Duper, along with last year's winner, Tom Bielecky, 2015 World Series of Poker Champion Jeff Charlton and 2010 Ante Up poker magazine Player of the Year Walt Strakowski. At the end, Jackie Stone of Port St. Lucie took home the winner's cash, WSOP ticket, Tyler's Cup and the silver commemorative coin. The 50/50 raffle was won by Pat Ward.
"This is a charity tournament," McLellan said. "We want people to come in eat, relax and have fun while playing."
Every year, the Tyler McLellan Foundation chooses a community organization to donate a portion of the proceeds to, which went to Bru's Buddie's Community Legacy Program this year.
ABOVE: Winner Jackie Stone.