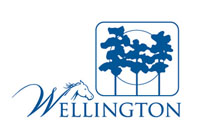 The Wellington Village Council last week gave preliminary approval to an ordinance moving the 2016 municipal election from Tuesday, March 8 to Tuesday, March 15, to be held concurrent with Florida's presidential primary.
Last month, Gov. Rick Scott signed a bill setting a March 15 date for the 2016 Presidential Preference Primary. As such, Palm Beach County Supervisor of Elections Susan Bucher requested that all municipalities move the dates of their elections to March 15, due to the logistical impossibility of her staff to conduct a March 15 countywide election, as well as the usual March 8 municipal election.
The state law also amended the candidate qualifying period, and Bucher advised that the deadline for submitting municipal ballot questions and candidate names to her office will be Friday, Dec. 11.
If a runoff election is needed because no candidate receives at least 35 percent of the vote, that election will take place on March 29, 2016.
With four seats up for grabs and possibly a number of charter amendments on the ballot, 2016 will be a busy election year in Wellington.
The seats currently held by Mayor Bob Margolis, Vice Mayor John Greene (Seat 1) and councilmen John McGovern (Seat 3) and Matt Willhite (Seat 4) will all be on the March 2016 ballot. Willhite cannot run for re-election due to term limits.
McGovern's Seat 3 was not originally scheduled to be up in 2016, but when former Councilman Howard Coates resigned, McGovern's subsequent appointment only lasts until the next regularly scheduled municipal election. The winner will serve the final two years of Coates' term before facing the voters again in 2018.
At the April 14 meeting, Greene asked whether municipalities are obligated to follow the recommendation of the supervisor of elections, and Village Manager Paul Schofield said the change is by state statute, so municipalities are obligated to follow it for this particular election.
Village Attorney Laurie Cohen noted that the village is not required to have the supervisor of elections run the municipal vote, but the village is not equipped at present to hold its own election, which would be very expensive.
Greene asked how the change would affect the charter review process, and Cohen said the Charter Review Committee would be wrapping up its comments within the next two meetings, so it would come to the council in June or early July, which would allow plenty of time to review it and prepare referendum questions to submit to the supervisor of elections.
Willhite said he would like the council to review the referendum questions no later than August, in order to give time for a couple of public meetings for an explanation of what the potential charter revisions are intended to do.
Councilwoman Anne Gerwig said if difficulties arose after public input, there was always the potential to defer the referendum questions to November 2016, which would result in an even greater voter turnout.
However, Gerwig said she thought the Dec. 11 deadline provides plenty of time to submit ballot questions.
"I think we have time, but we could always decide if we wanted greater input and put it on November," she said. "Not only does [the supervisor of elections] have the certified equipment, she has the voter rolls and she verifies the signatures on absentee ballots. I can't fathom what our options are here other than to comply."
During public comment, resident Jody Young said the change to the presidential primary date would result in greater voter turnout.
"The village is probably going to enjoy the opportunity to have the biggest turnout ever for a municipal election due to the availability of early voting, as well as serious absentee ballot work by both the Democratic and Republican parties in light of this upcoming season," Young said. "I think it behooves everyone to push this charter thing as quickly as you can and take advantage of that."
Willhite made a motion to approve the ordinance, which carried 5-0.