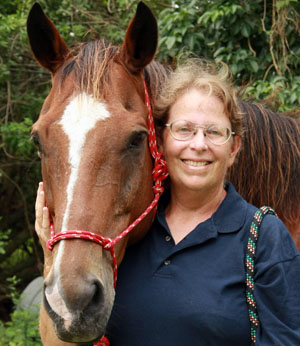 TALES FROM THE TRAILS
Showing at the Winter Equestrian Festival and living on a budget. Some might view that as an oxymoron, but Alissa Kinsey is living proof that it can be done well and successfully.
Originally from Sayville, Long Island in New York, Alissa grew up riding.
"I was practically born on a horse," she said. "I started riding western when I was a baby, and by the time I was two or three, I was riding that pony all by myself. I watched my cousins jumping and knew that was for me. Jumping! I couldn't wait. I started setting up small rails across overturned buckets, and pretty soon, I'd left the western saddle behind for an English one."
Alissa did well with her new passion.
"By my first year of showing, I'd moved up to 3-foot-6 jumps and was winning everything in the Junior Hunters division," she said. "I qualified for the medal finals after my first four horse shows that year, did the regionals and won the warm-up class, then made a mistake and didn't make it to the finals. I kept showing and doing well, and eventually moved to New Hampshire when my boyfriend got a good job there. I started showing at WEF in 1996, and I've managed to come back each year all on my own and without any big bucks."
Alissa is one of those lucky and determined people. She established a trusted contact in Germany and goes over every few years to buy and import her own Warmbloods. Since she cuts out the middleman and trainer fees, she can get a great horse for a great price, Alissa explained.
"Let's say a horse costs $50,000," she explained. "The add-ons could be $10,000 to ship it over, another $10,000 for the trainer's fee, and at least $15,000 or more in commissions. By the time you're done, the price of the horse has doubled. Everyone makes money in this business. I find a few good horses, bring them over and campaign them, then sell them, making enough to go back and find a few more. The benefit for people buying a horse from me is they can watch it go, try it out, and save some money."
Alissa went back to Germany this past fall and bought two horses, bringing her total to four. She's especially bonded with Grisset, a mare she's had for 10 years. "She's a really great mare, and we've won a lot together. I'll never sell her. We're completely synchronized, an amazing horse, one in a million. She's getting older, so I was hoping to find something younger to bring along," Alissa said.
She typically looks for different qualities, depending on what she plans to do with the horse. For herself, she looks for one 5 or 6 years old with less training, reflected in a lower price. For sale horses, she wants one older who's been there and done that, adjustable to any sort of rider. Geldings tend to be more tractable, while mares tend to bond more with their riders. She doesn't deal with stallions at all.
One of the new horses, an 8-year-old gelding aptly named Qualifying, is working out even better than she hoped. She imported him just a few months ago, started him in the lower divisions, then brought him along when that proved to be not too much of a challenge.
"We basically won everything," Alissa recalled. "He was second on Friday, then won the next day. On Sunday, Jan. 25, we entered the International Arena for the Adult Jumper $10,000 Classic and won! That was only our third show. Qualifying is a total diva, drop-dead gorgeous, and lovely to ride. So easy and responsive, just point and shoot. And, he's only 15.2 hands tall, an unbelievable little horse. He was the smallest one in the schooling area, but he showed those bigger horses that he had the heart and ability. I'll be sad when someone comes along to buy him. It's hard to not get attached to a horse with that much personality. I'll just enjoy him while I have him."
Grisset, who was overall circuit champion in the Adult Jumper Division for seven years in a row, will have a home with Alissa for life. One year, she won over $100,000 in prize money, which paid for Alissa's trips to Germany and WEF.
"No one else ever rides her or cares for her," Alissa said. "At home, she lives in my back yard. When we come to WEF, I rent a lovely four-stall barn in someone's back yard, a beautiful and private facility with grassy paddocks. I park my horse trailer next to the barn and stay in the living quarters in it, so I can be with my horses any hour of the day or night. It's better for me and them. They don't have to deal with all the noise, lights and commotion of being on the show grounds. It's perfect. I do have to deal with the 'Wellington price bracket' for feed and hay, which is just insane. Nice hay on Florida's west coast goes for $12 a bale. Here it's $18 to $20. At home in New Hampshire, it's $6."
Alissa's goal is to one day own a Grand Prix horse. But they're hard to come by, unless you have unlimited funds, which she doesn't.
"A Grand Prix horse has to be super-talented to jump those high fences and stay sound in the long term. It takes a lot of raw talent, ability and desire. They go for millions of dollars. That'll never be me."
Still, sometimes one finds oneself in the right place and time, looking at the right horse for the right price. Until then, Alissa keeps buying and showing and selling horses, and hopes to one day get lucky.