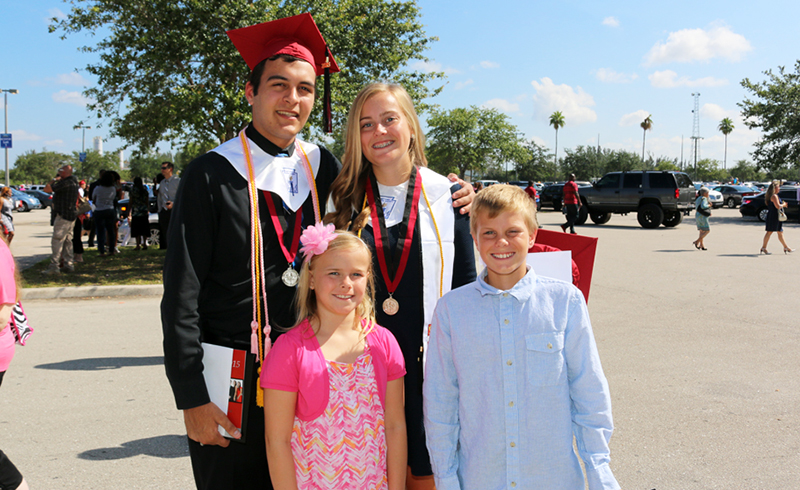 Amid plenty of hoots, hollers and celebration, approximately 650 Palm Beach Central High School students making up the Class of 2015 walked across the stage and became high school graduates Wednesday, May 20 at the South Florida Fairgrounds Expo Center.
Principal Darren Edgecomb greeted the hundreds of friends and family members who came to see the transition. The crowd was treated to a beautiful rendition of the national anthem by the Senior Ensemble prior to Student Government Association President Natalie Marcelo leading the Pledge of Allegiance.
"I am pleased to welcome and thank our honored guests who have joined me on the stage today to join in the celebration of your commencement," Edgecomb said before introducing a wide array of school district and local Wellington officials on hand for the ceremony.
Edgecomb also thanked the teachers and staff at Palm Beach Central for their hard work.
"Finally, and most importantly, we thank the parents, grandparents, guardians, family members and friends who have supported, loved and guided our graduating seniors," he said.
In his 27 years as an educator in Palm Beach County, Edgecomb said that the Class of 2015 is the most impressive that he'd had the pleasure of working with.
"As I reflect back on our first senior class assembly, I shared a vision for our school," he said. "The Class of 2015 has exceeded my expectations in the areas of academics, behavior and climate. In the area of academics, your class has led the way. You have assisted our school in vastly increasing our AICE and AP participation, as well as performance. Our increase has steadily improved over the last three years because of you. This is the first graduating class in the history of Palm Beach Central to receive the prestigious Advanced International Certificate of Education (AICE) Diploma. The list of recipients, is, of course, led by our valedictorian Brooke McFarland and our salutatorian Adriana McCabe."
The Class of 2015, he noted, has represented the school in academic competitions at the district and state level. Jared Greenberg, Edgecomb continued, earned the distinction of being a National Merit Scholarship finalist.
The class also is the first at Palm Beach Central to have a first-place Pathfinder winner. In fact, instead of one, the Class of 2015 brought in two: Julia Carlin for communications and Princess Victome for drama. Meanwhile, Elise Gonzalez was honored with a Henry Morrison Flagler Scholarship from the Florida Atlantic University Honors College.
"Our legacy of high achievement will continue at Palm Beach Central High School because of the standards set by the Class of 2015," he said. "You led the way in welcoming our new Broncos to Palm Beach Central, including me, as principal. I will always be grateful for the way the Student Government Association, led by Natalie Marcelo, welcomed me to Palm Beach Central High School."
The leadership provided by Senior Class President Melissa Cancel created a climate of excellence within the school, he said.
"In other words, you were a joy to educate and be around daily," Edgecomb said, as he encouraged the students to dream big for their futures. "You owe it to yourself to make your days count."
Things worth doing, he reminded them, rarely come easily.
"The highlight of my professional career has been to serve as your principal," Edgecomb said. "You make me smile each and every day. I smile because I am so excited about your future as you transition to the next stage of life's journey."
Superintendent Wayne Gent said he believes the students accomplished this milestone because they set a goal, stayed balanced and kept their focus.
"You will need those same attributes for the rest of your lives," he said, reminding the students not to let one area of life dominate their attention before showing a video of a tightrope walker.
McCabe, the salutatorian, reminisced about their high school careers. "Take these experiences that you have gained over these past four years, or for those overachievers, three years, and use them to your advantage," she said. "Be truthful, gentle and fearless. These concepts are as true today as when Gandhi said them ages ago."
She encouraged her peers to learn what they can from experiences, good and bad, and look for the silver lining when things don't go as expected.
"This is your life, so take it by the reins and leave your own mark on this world," McCabe said.
McFarland, the valedictorian, reminded students that through the ups and downs of the last four years, they've made many memories.
"Memories so wonderful, they should leave you smiling for months to come. But, there's something you need to know. These should not be the best years of your life. That is a fate I do not wish upon my worst enemy," she said. "If 12 years of fire drills and standardized testing have been the best years of your life, then you're doing something wrong."
There's much left to learn, McFarland said, and knowledge comes from experience; failures and setbacks are meant to be learned from.
"Throughout your life, you're going to experience your fair share of accomplishments and setbacks. What you need to remember is you decide what you will take away from these experiences. You have the power to make the setbacks in your life the stepping stones to your success," McFarland said.
Cancel, the senior class president, pointed out that English teachers would interpret their cardinal-red gowns as signifying the blood part of the blood, sweat and tears that went into their countless hours of studying.
The school raised more than $20,000 for Shands Hospital through the Dance Marathon, which is the most out of any school in Florida, she said. The girls varsity soccer team had an undefeated season for the first time in its history, and the science and research classes sent 10 students to the state science fair, the most out of any school in Palm Beach County. The girls varsity basketball team won both district and conference championships, while the varsity football team was district champion for the third year in a row.
"This year has been one of academic and athletic success, raising the bar so high for future graduating classes," Cancel said. "These are achievements that the Palm Beach Central Class of 2015 owns. Do your best today and every day."
After all of the students crossed the stage, Edgecomb asked the seniors to stand and move their tassels. "It is with honor and pride that we salute the graduates of Palm Beach Central High School's Class of 2015," he said.