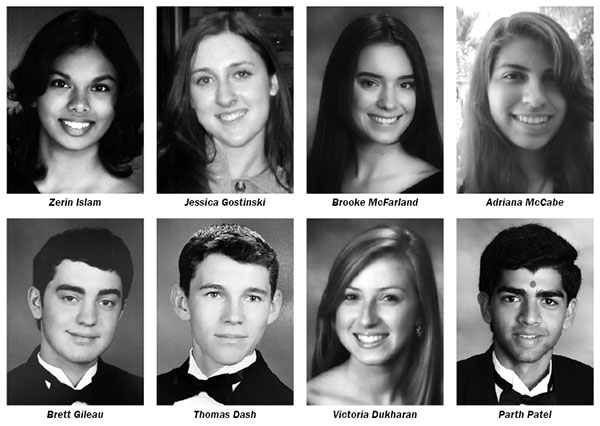 The four public high schools serving the western communities boast impressive students, including eight who will be recognized as valedictorians and salutatorians at next week's graduation ceremonies.
Royal Palm Beach High School will be honoring valedictorian Zerin Islam and salutatorian Jessica Gostinski.
Islam intends to attend Wake Forest University and major in biology with a minor in English. Last time she checked, she had a 4.0 GPA.
This summer, Islam will be preparing to leave for college — and she wants to be ready for the huge transition.
"I had an awesome time at Grad Bash," she said, considering it her most fond high school memory. "I went to Universal with my best friend… it was amazing. I had a great time, and we rode almost all of the rides."
Islam suggested students try to find what motivates them.
"Look inside of yourself, see what you really want out of life and see what you'd be working hard for," she said. "Once you find it, everything becomes much easier and a lot of fun. When you put your heart into something, it becomes much more worth it."
Gostinski will attend Palm Beach State College, majoring in radiography. She liked the closeness of PBSC, and it has the program she is interested in.
"It's something I find fascinating," she said. "I've always been interested in the human body and how it works, and this is one of those things that enables you to get a look at the inner workings of it."
She will graduate with a 3.8 GPA and hopes to work in the medical field this summer with her certifications from the medical sciences academy.
"My last day, which was last Friday," Gostinski said, was her fondest memory from high school. "I got to say goodbye to friends and teachers and get ready to move on with life."
When she found out that she was second in her class, she quickly texted her parents, because she was so excited, and it was unexpected.
For other students, Gostinski has some practical advice. "Put into your education what you want to get out of it, because that's the way to ensure that you get the best education possible, no matter what you're going into," she said.
Palm Beach Central High School will be recognizing valedictorian Brooke McFarland and salutatorian Adriana McCabe.
McFarland will attend Florida State University, whose beautiful campus, she said, seemed like a great place for her.
"Since I'm undecided on my major, they have a great program to help exploratory majors. That was a big thing for me," she said.
Before official grades were calculated, McFarland's GPA was 3.96.
One of her fondest memories from high school stems from her psychology classes. "I really felt at home there and had a lot of fun making memories with many of the same people over three years," McFarland said.
She volunteers for A Second Chance Puppies and Kittens Rescue, plays piano and enjoys being a teenager.
She offers this advice about learning from one's mistakes.
"Don't let your failures define you. Don't let setbacks get to you. Learn from them. I know that I'm really hard on myself — I'm my biggest critic," McFarland said. "Learn from it and be better because of it, because you're going to come across mistakes in life, but you can make them steppingstones to your success rather than something that brings you down."
McCabe will attend the University of Central Florida and major in biomedical engineering. The last time she checked, she had a 3.98 GPA. Over the summer, McCabe will be starting summer classes to get a head start on her degree.
Some of her fondest memories during her high school tenure stem from an EF Educational Tours event that she and some friends attended, where they toured through French-speaking countries. "It's something we'll never forget," she said.
For others, McCabe emphasized the need for scheduling, planning and sleeping.
"Plan a schedule so that you'll have time to sleep," she said. "Start your homework early so you have time to sleep. If there are any chances, or clubs or opportunities that you want to take but you're not sure, take them. Take the chance and make a lot of memories. Take an active part in high school, because it's going to be boring if you just sit around and watch."
Being busy isn't a bad thing, and will actually help ensure a better high school experience, she said. Recently, McCabe worked to complete a marathon, which was a hard endeavor, but a worthwhile one, she said.
Wellington High School will be honoring valedictorian Brett Gileau and salutatorian Thomas Dash.
Gileau will attend the University of Florida to study biochemistry. With a perfect 4.0, he is anxious to start the summer session at UF.
Though it's a cliché, he said attending prom was his fondest high school memory.
"It was a great time. The school put together a good event, and after prom was over, I still had a lot of fun that night," Gileau said. "The whole experience of dressing up and going through all of that was very interesting."
High school leads to college, Gileau said, but it is imperative to create a balance between what one is interested in and taking classes just to take classes. "Do what you're interested in," he said.
Dash will attend the University of Florida, most likely majoring in biomedical engineering. At the last update, Dash had a perfect 4.0 GPA.
He discovered a propensity for math and science, and many of his family members are engineers. He's interested in the entire concept, especially the science aspect and working with prosthetics.
"Maybe something that I might have done might not work for other people," he said. "I think one of the other important things, other than getting good grades, is to do a lot of extracurriculars. Whether it's academic or not academic, I think that's a lot more important and builds more skills that can apply to real-life situations."
Outside of school, Dash has run a marathon and biked a 100-mile bicycle race, and he enjoys various sports.
Seminole Ridge High School will be recognizing valedictorian Victoria Dukharan and salutatorian Parth Patel.
Dukharan will attend the University of South Florida, majoring in the biomedical sciences. She wants to work in medicine and is interested in the honors program's three-year accelerated track.
Final grades weren't in yet, but at last check, she's graduating with a 3.98 GPA.
Over the summer, Dukharan is going to be shadowing an anesthesiologist at St. Mary's Medical Center.
Her fondest high school memories, she said, center on a teacher who has become a mentor, health teacher Victoria Barrameda.
"Be organized, so that you can stay on top of everything. Don't let other people influence you from deviating from your goal," she advised younger students.
Her goal was to work her hardest, do her best, and get to grad school.
"My mom started crying, she was so excited," Dukharan said, when she told her parents her class ranking.
Patel will attend Temple University in Pennsylvania to study bacterial science. At last check, his GPA was 3.9.
His fondest high school memory is the entirety of his senior year. "Try hard all four years," he said.
When not working hard in school, Patel is interested in basketball and cricket.
All four schools will conduct their graduation ceremonies at the South Florida Fairgrounds. Royal Palm Beach High School's graduation will take place Monday, May 18 at 7:30 p.m.; Palm Beach Central High School holds its graduation Wednesday, May 20 at 8 a.m.; Wellington High School's graduation is Thursday, May 21 at noon; and Seminole Ridge High School's ceremony is Friday, May 22 at 8 a.m.