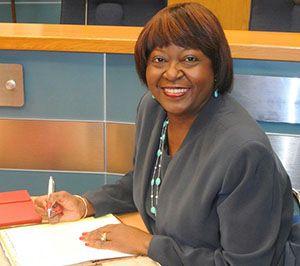 Deputy Palm Beach County Administrator Verdenia Baker was selected Tuesday to succeed her boss, County Administrator Bob Weisman.
Weisman will retire in August after 35 years with the county, 22 as the county administrator.
The Palm Beach County Commission spent the day Tuesday interviewing six finalists for the county's top job. The field had been narrowed from 80 candidates, and included four out-of-town finalists selected from a nationwide search.
Baker has been with the county for 28 years. She started with the Office of Financial Management & Budget in 1986 as a budget analyst and has served as a deputy administrator under Weisman for 14 years, having been involved with virtually every major project during that time. She oversees Planning, Zoning and Building; the Office of Small Business Assistance; and the Tourist Development Council. She is also the liaison to the Treasure Coast Regional Planning Council.
The other in-house finalist was Assistant County Administrator Shannon LaRocque, who joined the county in 2005 as the liaison for the Scripps Florida program. A professional engineer, LaRocque manages the Department of Economic Sustainability, Palm Tran, Palm Beach County Water Utilities, Scripps, Max Planck and the Convention Center Hotel Project. She serves as the liaison to the Housing Finance Authority, the Workforce Development Board, the Business Development Board, Westgate CRA and the Community Land Trust.
The other candidates were Thomas Himler, deputy chief administrative officer for Prince George's County, Md.; John Pulomena, county executive for Middlesex County, N.J.; Michael Rogers, vice president for advancement for the University of the District of Columbia; and Bruce Romer, vice president of Westat Inc. and a former executive of Montgomery County, Md.
Commissioners used a ranking sheet that gave their preferred candidates the lowest scores. The two in-house candidates topped the list. Baker received 12 points, and LaRocque had 15, while Rogers came in third with 27. Baker received three first-place votes, LaRocque had two and Rogers one. Himler also received a first-place vote.
It was generally known that Baker was Weisman's favored candidate.
After the scores were tallied, Palm Beach County Mayor Shelley Vana said she considered the results close and asked Weisman to weigh-in on the results.
"About 20 years ago, I picked Ms. Baker out of the county staff and promoted her, eventually into the administrative ranks," Weisman said. "After being assistant administrator, I promoted her to the deputy administrator position, and I felt she has served this board, the county and myself in an admirable manner for all these years. I've always supported her. I would also say that I was pleased that I could hire a person of Shannon LaRocque's capabilities, and with the outstanding job that she has done for me and this board over all these years."
Weisman said he was proud of the credentials of both local candidates.
"To have two internal candidates is a great pleasure to me," he said. "With Verdenia being number one, that conforms to my personal recommendation to you, and I think she's deserving of the opportunity to serve as a county administrator because of the job that she has done for you for all these years, and that's my recommendation."
Commissioner Priscilla Taylor made a motion to name Baker as the new administrator, and it carried unanimously.
Commissioner Hal Valeche thanked consultant Renee Narloch for assisting in the candidate selection process.
"Any one of these candidates could have done this job in a terrific way, and I hope that we can someday lure some of them back here to some of those vacancies that we're going to have in the future, but it was really a most difficult decision," Valeche said. "This was a very informative day to get perspectives from people from all around the country."
Commissioner Steve Abrams made a motion for County Attorney Denise Neiman to negotiate a contract with Baker. Neiman explained that both she and Weisman had started with one-year contracts, a term that they thought passed too quickly. Baker has agreed to negotiate a two-year contract.