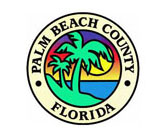 At 8:30 a.m. on Sunday, May 31, Palm Beach County will officially open more than nine miles of equestrian trails in Okeeheelee Park, with a ribbon-cutting ceremony hosted by County Commissioner Paulette Burdick.
Development of the trails included extensive removal of exotic vegetation. The resulting scenic system of equestrian trails, winding through hundreds of acres of natural, picturesque surroundings, offers equestrians a unique opportunity to experience nine distinct local ecosystems: basin marsh, depression marsh, dome swamp, hydric hammock, lakes and ponds, mesic flatwoods, prairie hammock, wet flatwoods and wet prairie.
The ribbon-cutting ceremony will take place south of the entrance to the Water Utilities Department's administrative complex at the intersection of the equestrian trail and the service road adjacent to the cul-de-sac. This area is located southwest of the Jim Brandon Equestrian Center.
Guests should enter the park at 7500 Forest Hill Blvd. and follow the road past the open riding area to the cul-de-sac. Guests with trailers should park at the open riding area and then converge at the trail intersection south of the cul-de-sac.
The trails are open daily from sunrise to one hour before sunset. There is no charge to use the trails. Visitors are advised to adhere to the posted rules. Okeeheelee Park and Jim Brandon Equestrian Center are operated by the Palm Beach County Parks & Recreation Department. For more info., visit www.pbcparks.com.