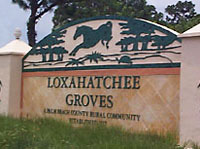 Staff at the Town of Loxahatchee Groves were hard at work last weekend moving into the community's new town hall at the former Central Palm Beach County Chamber of Commerce building at the corner of F Road and Southern Blvd.
The new offices opened to the public Monday, although everyone is not quite settled in.
"We moved a lot of boxes, a lot of information that is still being sorted and placed in its appropriate location," Town Manager Bill Underwood told the Town-Crier on Wednesday. "We've made massive progress. We have the phones up, we've got the network up. I expected hiccups, and we do have hiccups, no question about that, but we've made massive progress relative to getting everybody in, getting all the items here, and we are able to work."
He said town staff, including planning and code enforcement, are functioning. Some amenities, such as chairs for the meeting room, have not yet arrived, although he expected it to be functional for a Planning & Zoning Board meeting scheduled for Thursday.
"We at least have a conference room table there, and it may be a mismatch of chairs, but at least they'll be able to meet there without any problem," Underwood said.
The interior has been painted, and the exterior has been pressure-cleaned. "It looks very nice," he said.
The phone system is more sophisticated than the one they had before, so there aren't as many busy signals anymore, and they still have the same phone number as the old location. "Generally, I would say it has gone relatively smoothly," he said. "It is working."
Underwood said that he will miss the neighbors and interaction at their old location in the Palms West Plaza, because the new location is relatively isolated.
"There was a lot of activity at the shopping center there, and we notice a significant difference in the number of people," he said. "We do miss that ambiance, I guess is what it should be called, of the local people in the area."
Former Town Manager Mark Kutney, who was employed by Underwood, had expressed concerns about security at the old location, including accessibility through the ceiling from adjoining stores.
Underwood said they had a security expert look at the old site and considered it a risk.
"We were having issues with things changing at the old town hall, and we could not control ingress and egress to those offices," Underwood said. "We're fairly sure that on maybe one or more occasions somebody went in there with a ladder to go through the ceiling tiles, over the wall and down. I don't know why anybody would. We do believe it occurred because we saw the tiles misplaced in the morning."
Recently, someone had even tried to access data on the staff computer systems.
"I don't know why because we really have no secrets," Underwood said. "We divulge anything and everything, but someone had been in trying to get into people's different computers, and fortunately we had password protection that kept them out. Not that there was anything to find, but we were more concerned about damage. We were more concerned about documents being eradicated."
Underwood said they hope to be in full operation soon, but it may be June before the building is ready to host public meetings.
"We still have to put in all the electrical, all the microphones, all the speakers," he said, explaining that meetings will be amplified on the porch, as well as a television in the lobby. "If people are outside talking amongst themselves, they can still hear the meeting. If there's overflow, we can probably fit several dozen in the lobby. They can see and hear the meeting."
The new meeting room will be able to seat about 75 people, compared to 67 in the Loxahatchee Groves Water Control District meeting room.
The porch will also protect overflow attendance from rain and mud, which had been the case at recent meetings at the LGWCD office.
"It should be a significant improvement, because you could be on the porch and standing back by one of the windows, and you can see in and hear everything that's going on," Underwood said.
Meanwhile, a meeting room has also been designated for council members or County Commissioner Melissa McKinlay — who was supportive of the town's acquisition of the formerly county-owned land — to meet with residents.
"If she has more of a public meeting, obviously she has the conference room, as well as the meeting hall if necessary, so we're very flexible in that regard," Underwood said.