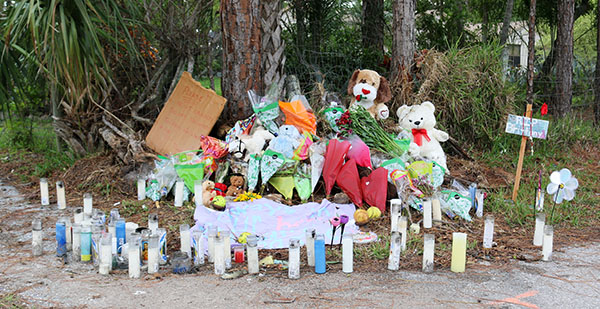 A deadly car accident left the Acreage community reeling last week, tragically cutting short the life of a Seminole Ridge High School senior just weeks before her graduation.
The accident happened at the intersection of Tangerine Blvd. and 120th Avenue North shortly before 2:30 p.m. on Thursday, April 23.
According to a Palm Beach County Sheriff's Office report, 18-year-old Brittany Michelle Baxter of The Acreage was traveling westbound on Tangerine Blvd. when a vehicle driven by 17-year-old Tristyn Dino of Royal Palm Beach failed to stop at a stop sign and collided with Baxter's vehicle. Baxter died at the scene, while Dino and a passenger in his vehicle were taken to the hospital with minor injuries.
Baxter was well-known in the community and played on the Seminole Ridge softball team. According to obituary information listed with Tillman Funeral Home, she is survived by her parents Eric Baxter and Jacqueline Reinoso; her brother, Bryce Baxter; and her grandmother, Sofia Nadal.
In the days since the accident, the community has rallied together to support Baxter's grieving family.
Cindi Walker, who is on Seminole Ridge High School's Project Graduation committee with the Baxters, immediately created a GoFundMe fundraiser to help the family with funeral expenses. Within 19 hours, the requested amount was reached. Donations poured in from all over the area, with heartfelt messages and memories. To help the family with expenses, visit www.gofundme.com/ssmk8zs.
"I know Jacqueline and Eric through Project Graduation," Walker said.
When they called her after the accident, she knew she had to do something. In addition to the GoFundMe account, she also created a Take Them A Meal account. By visiting www.takethemameal.com and logging in using the name "Baxter" and password "13," you can pick a date and meal to bring to the Baxters.
"I don't want Jacqueline to worry about food. You can schedule yourself to do a meal," Walker said. "The worst part could be after today, when people stop coming over to her house, when people stop checking on them."
Walker was concerned that the activity and phone calls will slow, and this is a way to keep the Baxters in the line of focus, and to help make things easier for them later.
Samantha Bickman, a friend of Baxter's who played softball with her, created a GoFundMe page for a Brittany Baxter Scholarship. Bickman's goal is to create a scholarship for young girls who cannot afford to play travel or school softball.
"I know how much she loved softball and how she always wanted to help the little girls play, and I thought, though I can't help much, I can help Eric and Jackie and Bryce remember her by helping girls who can't afford to play a game they love," Bickman said.
To donate toward the scholarship fund, visit www.gofundme.com/stvs6g.
On Facebook, friends have changed their profile picture to a blue butterfly in support. There have been memorials, vigils and special events for people to remember Baxter and express their sorrow.
At Seminole Ridge, flowers, balloons, small gifts and chalk were used to decorate Baxter's parking space.
Seminole Ridge Principal James Campbell is working hard to help the students. On social media, he said, there was a strong push to have everyone come in to school wearing blue, and they have shared activities across their platforms.
The school had a blood drive scheduled for Monday, April 27, and OneBlood created a banner for students to sign after giving blood, and blue ribbons for those who attempted to give blood, Campbell said.
"The kids are really struggling," he said. "They shouldn't have to deal with this kind of a loss at such a young age. The encouraging thing is that they really have come together and supported each other quite a bit."
There were grief counselors in the media center at the school last Friday meeting with students all day long. The school held a moment of silence Friday morning, and many students — approximately 200 — gathered in the parking lot around Baxter's space.
"At this point, the students are trying to deal with the tragic situation," Campbell said.
Last Saturday evening, Barky Pines Animal Rescue & Sanctuary held a 50/50 raffle at the Indian Trial Improvement District's movie night, with winnings going to Baxter's family.
Elizabeth Accomando, who owns and founded Barky Pines with her brother and sister, knew Baxter and said she was a great kid.
"We wanted to just do something, and because it was short notice, and we were going to be at the Hamlin House doing fundraising for our rescue, it was an easy decision to change that over to the Baxter family in their time of need," she said. "We're a small community, so when there's a tragedy, we get together like a family gets together."
There was a butterfly release in Baxter's memory last Sunday at the Acreage Green Market, where the last butterfly to be released hovered around her friends and family, even landing on her father.
Baxter's funeral was held Tuesday, April 28 at Christ Fellowship's South Campus in Palm Beach Gardens.
On Thursday, April 30, Butterfields Southern Café held a fundraiser event with a 50/50 raffle, a bake sale and more, and they asked attendees to wear blue. A portion of proceeds from food, and all of the money from the bake sale and raffle items, went to the family.
Other events are upcoming. On Wednesday, May 6, Golden Grove Elementary School, which Baxter attended, is asking students to wear blue and donate $1 to collect funds to help the family.
On Sunday, May 17, the Acreage Athletic League and TLC Productions will host a softball tournament in Baxter's honor at Acreage Community Park. Stay tuned for additional details. To donate raffle items, contact Heather Ledbetter at tjandhl@gmail.com.
Sandra Love Semande, who runs the Acreage Green Market, was not surprised by the outpouring of support for the Baxter family.
"They're a part of our community," she said. "We don't even have to know them. That's how our community works, we just all jump in and do what's needed, and that's one of the greatest things about being out here."
ABOVE: A roadside memorial to Brittany Baxter can be found near the scene of the accident that claimed her life.