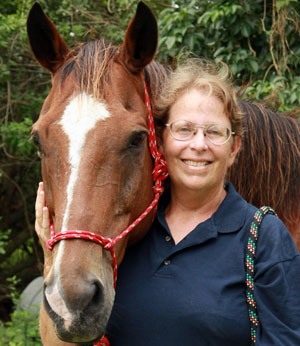 TALES FROM THE TRAILS
Linda Zang is a well-known and highly respected judge who has graced the booth of many shows, large and small. Just being in the same room with such a renowned woman felt like an honor.
Zang is a U.S. Equestrian Federation "S" rated judge, the first U.S.-based judge to reach FEI 5* status, and one of only 25 FEI "O" level dressage judges in the world. She is one of only six FEI "O" judges in the world who conduct educational forums and seminars to educate and test FEI judges for both dressage and eventing. Zang was a member of the technical coaching staff for the U.S. Eventing Team at the 2012 London Olympics.
How she came to be a judge makes a fascinating story, one I heard when she spoke as a guest at Dressage Canada's Fortnight event earlier this year at the Wanderers Club.
"My husband always tells me that no one wants to hear about my past, because they weren't born then," Zang started, and we laughed.
Her husband was wrong. We did want to hear, and the more she told us, the more interesting it became.
"When I was young, living in Maryland, my parents bought me a pony at an auction," Zang began. "We drove it home in the back of our Ford pickup truck. I rode and showed in local hunter and jumper shows, and went through Pony Club. In 1965, I received my 'A' Pony Club status and also a BHSAI certificate. I started eventing and competed in National Pony Club championships as a 'B' and 'A' rated rider, winning both the U.S. and Canadian national rallies as an 'A' in 1966 and 1967."
It was when Zang decided to continue her education by traveling to Ireland to train in eventing for three months in 1967 at Burton Hall that her life changed in dramatic fashion. She was jumping a horse over a double-oxer, when the horse flipped, and she ended up with a concussion. "That was a huge turning point for me," Zang recalled. "I was scared. My heart was gone. I knew I'd never jump again."
However, that didn't mean she'd never ride again. Across the road, she started watching an old gentleman long-lining some horses. It looked intriguing. Zang began working with him. "Within a month, he'd taught me the basics of how to train a horse to the grand prix level in dressage," she recalled. "It was a light bulb moment. I knew I could still be great one day, but in this new discipline of dressage."
Zang returned home to Maryland, then jaunted off to Sweden to visit a friend of her mother's in Denmark. Joining in a horse-buying expedition, she unexpectedly spotted a 3-year-old bay gelding named Fellow Traveler.
"I looked at him and knew he was the horse who was going make me tops," Zang said. "He was $2,000, which was about $2,000 more than I had. I left him there, came home and worked for a year, then went back to buy him."
That was 1968, and Zang stayed in Sweden and enrolled at Stromsholm, the national school for instructors, for two years. "It was basically a Swedish cavalry school, and I learned Swedish. There were 10 of us students, all from Scandinavia, except me," she said.
Sweden still had a cavalry back then. The state trained the horses, then gave them to civilians to keep and use, with the understanding that, if they were needed for the cavalry, they had to give them back in time of war.
"We learned how to do everything, working with the top military dressage riders, and it was a great education," Zang said. "We used to gallop horses across frozen lakes. I received my instructor's certificate in 1970, then was asked to stay on and train in Flyinge, Sweden with Viebka until 1972. When I headed back home, I brought two horses. That was some trip. We traveled in a container ship. It cost $500 to ship each horse, and the voyage took 22 days. I didn't have a pitchfork, so I used to collect the manure in a sheet, take it up the elevator, then throw it overboard."
Back home, Zang looked around for the best dressage instructor in Maryland and found Bengt Ljungquist. "I trained with him until he passed away," she said. "By then, I was competing at the national level."
Zang competed at the 1978 World Championships in Goodwood, England, was a member of the U.S. Dressage Team for the 1979 Pan American Games in Puerto Rico, and a member of the 1980 U.S. Olympic Team, the year the United States boycotted the games hosted by Russia.
"I gradually became more involved in educating riders and judges," Zang said. "I got involved with the USDF, where I became vice president, was on the board of directors of the USEF, and chairman of the Dressage Committee for the U.S. Pony Club. I started the 'L' (for 'learners') program at the USDF as a step for people to become dressage judges."
Linda has judged one Olympics and three World Equestrian Games. She hosted and organized four U.S. national and international dressage judges forums at her Idlewilde Farm in Davidsonville, Md. She organized the 1997 FEI North American Dressage Championships held in Maryland, which also hosted the first Junior Team Championships. In 2013, the USEF awarded her the Pegasus Medal of Honor for lifetime achievement.
"I've had a very good life," Zang concluded.
Not to mention somewhat amazing.
Learn more about Zang by visiting www.lindazang.com.