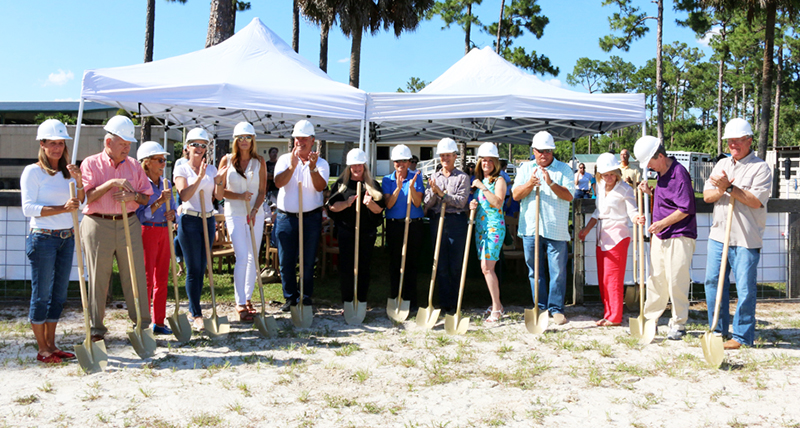 The Vinceremos Therapeutic Riding Center in Loxahatchee Groves broke ground on a new barn amid fanfare Friday, May 8.
"We are so grateful to have everyone here and to have the people who have supported this project with us," said Ruth Menor, Vinceremos founder and executive director.
Menor offered her gratitude to her board of directors, as well as the Davis McCullough Foundation, Victoria McCullough, Mark and Barb Simpson, Mr. and Mrs. Dave Page, Mr. and Mrs. Bruce Miller, Edith Dixon, Mr. and Mrs. Michael Collins, Marcy and Marty Freedman, Matt and Patti Hadden, the Scaife Foundation and 5 Star Builders.
"This project is a vital step for Vinceremos," she said. "When we built the covered arena, our initial concept was to put the stalls underneath the arena like our temporary stalls are. We kept trying to figure out how that was going to work, and we had Tim Williamson [from 5 Star Builders] come out, and he looked at it and said, 'You really need to put a roof over the whole thing.' I just couldn't get beyond that."
The barn's future location is mapped out in the original arena where Vinceremos operated before the covered arena was built. "The foundation of the building is going to be on the actual soil that all of our kids rode on, so that's very special," Menor said.
Horses are the real heroes of the program, she said, noting that all the horses will fit in the new barn, which will make things easier for the staff and volunteers who care for them. Riders will also be able to spend time in the barn with the horses.
One key issue for the barn is making sure that it can be closed up and hunkered down for hurricane season, and Menor is looking forward to the new barn's features.
Fundraising for the barn began more than two years ago.
"Victoria McCullough really gave it its wings," Menor said. "She offered to underwrite a very large portion of the barn, and she had the vision to ask Tim Williamson if he would agree to be our builder."
McCullough explained how a friend first told her about Vinceremos and the special things that occur at the riding center, where the power of horses help students of all ages reach goals such as strengthening postural control and core balance; increasing the ability to concentrate; improving motor function; enhancing communication and social skills; and gaining a sense of accomplishment and a boost in self-esteem.
"It's just such a special, special place here. It's overwhelmingly special to me," McCullough said. "It is a great honor that we participate in the groundbreaking today. And I thank you so much."
Williamson and all of his subcontractors, Menor said, worked hard to keep the barn within budget for the nonprofit.
Taking part in the groundbreaking were Jesse Coppola, Mike Simpson, Barb Simpson, Marcy Freedman, Kimberly Williamson, Tim Williamson, Victoria McCullough, Ruth Menor, Emily Marschok, Barbara Richardson, Matt Hadden, Patti Hadden, Steve Carroll and Loxahatchee Groves Mayor Dave Browning.
As Menor introduced Browning, she explained that he, his wife, Sharyn, and their son Matthew have a special connection with Vinceremos.
Matthew has been a student at Vinceremos for many years. "He started when he was 6; he turns 39 in July," Browning said.
After the group broke ground, with cheers and laughter, Christina Cooney, a Vinceremos rider, did a presentation.
Cooney, who is going to the Special Olympic World Games this summer, took a ceremonial lap in the arena on Tilly.
"Christina has ridden at Vinceremos for 23 years, and we are so excited that she got chosen this year. She is one of eight equestrian athletes in the United States to compete at the World Games, so we're really excited. She is going to Los Angeles at the end of June," Menor said.
Cooney is vision-impaired and hearing-impaired, Menor explained, so directions are communicated through sign language. Cooney will compete in dressage, equitation and an obstacle/trail course.
Menor also thanked Aaron's Catering for providing refreshments and snacks. "And a big thank you to Matt Hadden and Hadden Landscape," she added. "I asked him for a couple little trees, and Matt did a makeover."
Menor encouraged visitors to stop by and learn more about Vinceremos. For more information, visit www.vinceremos.org.