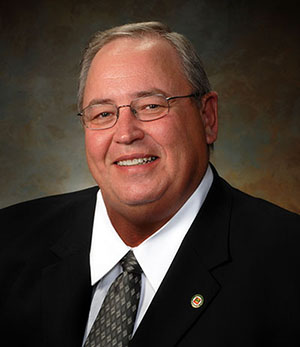 The Wellington Village Council postponed discussion Tuesday of Village Manager Paul Schofield's employment contract until July so that village staff could gather comparative information, although council members did spend time discussing it.
Mayor Bob Margolis, who had asked that the item be put on the agenda, explained that they had a lengthy discussion at their agenda review meeting Monday and decided to postpone it.
A renewal decision must be made on Schofield's contract by September, but it doesn't expire until Feb. 14, 2016.
"We had a lengthy discussion yesterday about this issue, and it's clearly evident that the council needs more time to digest this and get some more information," Margolis said.
Council members want to find out their options by looking at current contracts from other municipalities.
"I understand that while I may have been willing to move forward, that may have been a little bit premature for the other council members," Margolis said. "What I would like to do is get the council's consent not to discuss this tonight, but think about discussing it before the end of August."
He pointed out that the council has only one meeting in July, and that newly appointed Councilman John McGovern wanted as much time as possible to study the question.
"We're coming up with different issues," Margolis said. "We have budget issues coming up, and I don't want to wait to the last second to discuss what potentially is one of the most important issues in the Village of Wellington."
Margolis noted that if not extended or renegotiated, Schofield will be leaving right as the village is in the middle of an election campaign with four council seats on the ballot. He asked the council to agree to discuss it at the July meeting.
"I'm going to ask staff to make that as light a meeting as possible, they typically do, and give us ample opportunity to discuss this issue and take some action on it," he said. "If we don't do something about it by the end of August, Mr. Schofield's contract automatically renews, and it's not fair to Paul to keep him in limbo like that."
Councilman Matt Willhite said the council needed to get backup information in order to make a good decision.
"I understand you not wanting to talk about it to some extent, but I don't think there's a question of limbo," Willhite said. "If nothing's done by the end of August, it automatically carries over for another year."
He felt that the council needs to know its options.
"If we're going to potentially look at something, we need backup, which would be comparisons and cost analysis," Willhite said. "There is a lot of information that needs to be given to us. I've been through it once, and I said yesterday, I don't think it was a good process, because there wasn't input from the council."
He pointed out that there was a lead negotiator, and the council didn't see any information until they were at a council meeting.
Village Attorney Laurie Cohen said village staff is currently gathering information based on the council's discussion Monday.
Schofield suggested that each council member provide the information that they would like to receive to Administrative & Financial Services Director Tanya Quickel. "You will all get exactly the same information," he said. "Whatever you all ask for, you all will get."
Councilwoman Anne Gerwig asked whether what the council had done to this point was sufficient to not renew Schofield's contract if they chose, and Cohen said they would have to give him written notice.
Gerwig said that she thought just discussing the issue could stifle Schofield's work product and creativity.
Margolis said he was confident that Schofield would continue to maintain his professional work standard.
"He comes to work every day and gives 150 percent, so in the next couple of months, he is certainly not going to leave any stone unturned with regard to running this village, especially with the budget coming up," Margolis said.
McGovern said he appreciated Schofield's diligence in bringing him up to speed after he was appointed to the council three months ago.
"We need to discuss and really assess this situation," McGovern said. "I think that none of us want this to be hanging out there, or the manager to be left with a completely new council. We have to do it in a methodical and procedural way. From my perspective, as the new person, having as much time to work with Mr. Schofield, assess that situation, gives me the greatest foundation for making the best decision possible."
He added that he felt comfortable that if the council got the information in June, it could make a decision in July.
Margolis said that the village had just lost a great planning and zoning director in Tim Stillings, who left recently, and did not want to lose a great village manager.
Vice Mayor John Greene said it was no secret that he and Schofield have had their differences, but they have also agreed on many things, and in the past few months have interacted very smoothly.
"I don't want people to feel like there is some sense of urgency that we have to get this thing discussed," Greene said. "I did feel somewhat put on the spot yesterday that we had to give some opinion that we're going to renew. The fact is that we have until Sept. 1. This is business as usual. Mr. Schofield is here to do a job. We're here to do our job."
He also pointed out that if Schofield's contract is not renewed, he would remain in the position until next February.
Cohen recommended that the council allow staff to gather information so they could talk about it in July. "You can decide what you want to do at that point, and postpone it again if you choose," she said, explaining that the current contract would expire if they are unable to negotiate a new contract.
ABOVE: Village Manager Paul Schofield