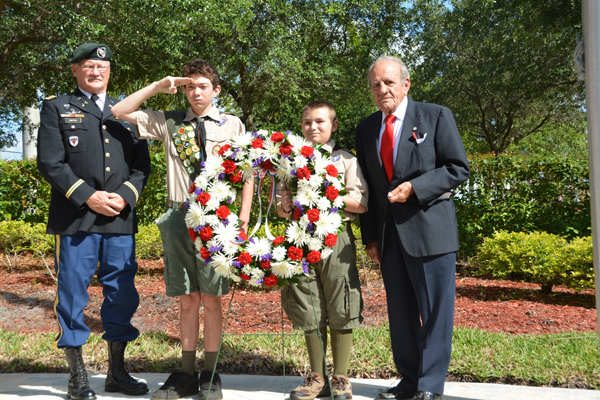 Memorial Day, observed this year on Monday, May 25, is a day of remembrance to honor those who have lost their lives while serving our country.
Wellington and Royal Palm Beach will observe the holiday by hosting ceremonies to honor local veterans — both those who are still with us and those who are gone.
"It's a chance for us to honor our veterans, and we take that very seriously. We're very proud of our veterans," Community Programs Manager Michelle Garvey said.
Wellington's Memorial Day service will include a parade, followed by a remembrance ceremony. "Even though it's a short parade and a short ceremony, it allows us to recognize those in the community and their loved ones," Garvey said.
The village is working with American Legion Chris Reyka Memorial Wellington Post 390 to put together the event. The parade will kick off at 8:15 a.m. at the Wellington Municipal Complex and travel down Forest Hill Blvd. to the Wellington Veterans Memorial, located at the corner of Forest Hill and South Shore boulevards. The ceremony is scheduled to begin at 8:30 a.m.
"Every year, there is a different honored guest who presents the main speech," Garvey said. "This year, it will be Maxwell Nelson, and he is the commander of American Legion Chris Reyka Memorial Wellington Post 390."
Following Nelson's speech, Wellington resident Talia Fradkin will read aloud her award-winning essay.
Also on the agenda, Wellington Mayor Bob Margolis will welcome guests, and Temple Beth Torah's Rabbi Andrew Rosenkranz will give the invocation. The Palm Beach County Sheriff's Office and Palm Beach County Fire-Rescue will present the colors, and an honor guard will be present. This year, the national anthem will be sung by Wellington Idol's 2015 winner, Adriana Siena.
Veterans and active service members will have the opportunity to register Monday morning at the Wellington tent to be recognized during the ceremony. Councilwoman Anne Gerwig will read all the names, and as of the beginning of May, there were more than 1,000 names on the list. Programs, carnations and flags will be given out during the special event.
To become part of the ceremony or walk in the parade, e-mail Garvey at mgarvey@wellingtonfl.gov. To learn more about American Legion Chris Reyka Memorial Wellington Post 390, e-mail wellingtonlegion390@gmail.com.
Royal Palm Beach will hold its observance ceremony at Veterans Park on Royal Palm Beach Blvd. in conjunction with American Legion Post 367.
Royal Palm Beach Mayor Matty Mattioli and Boy Scout Troop 111 will take part in the event. Speakers will include State Rep. Mark Pafford (D-District 86); George Fisher, a decorated World War II veteran from the Battle of the Bulge; and Navy veteran Sr. Vice Commander Tony Harris from the Military Order of Purple Hearts Chapter 717.
The Royal Palm Beach Community Band will play before and after the ceremony. Lexi Luca, who competed on The Voice, will sing the national anthem.
American Legion Post 367 will present the flag-raising ceremony, Boy Scout Troop 111 and Cub Scout Pack 120 will lead the Pledge of Allegiance, and Father Andy Rudnicki from Our Lady Queen of the Apostles Catholic Church will perform the invocation and closing prayers.
There will also be a Battle Cross Presentation with Amazing Grace played on the bagpipes. After a 21-gun salute by American Legion Post 367, refreshments will be available.
There will be military vehicles on site, as well as Project 425's Huey helicopter. "Palm Beach County Fire-Rescue will be there with a ladder truck overhanging a large American flag, which is always one of my favorite things about the event," Community & Cultural Events Superintendent Carlos Morales said. "We have a lot of community organization that comes together for this, which is nice. It's nice to see the kids come together, too."
For more information, call the Royal Palm Beach Cultural Center at (561) 790-5149 or visit www.royalpalmbeach.com.