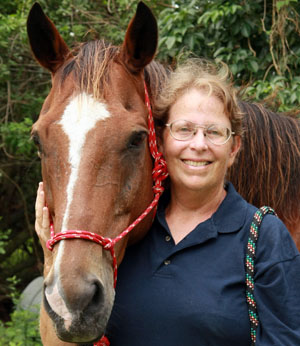 TALES FROM THE TRAILS
Jill Townsend remembers when she moved to Wellington from North Palm Beach in 1985.
"They were building the Saddle Trail development. It was all farmland," she recalled. "We had our pick of the lots. Ours was the fourth house built."
Jill and her family moved in order to be closer to the center of the horse community. She was teaching and training hunters and jumpers, and she worked at Palm Beach Polo. But she was also busy with other ventures.
In 1997, she started the Wellington-WEF web site (www.wellington-wef.com), which has grown into a major resource for the local horse community.
"It came about by accident," she explained. "My friend made a web site for me so I could rent my barn to out-of-state tenants. I thought, 'How cool is that?' So I looked into making something that could work as easily for others in a variety of ways, whether they were looking to buy, sell, rent or exchange whatever, or just to keep in touch with other equestrians."
Some years later, Jill found herself involved in yet another endeavor, and this is how that came to be. In 2004, Danish international Grand Prix show jumper Henrik Gundersen and his wife, Danish dressage rider and trainer Mikala Gundersen, moved into the house right behind Jill's. Their daughter, Claudia, was 7, and just getting started with ponies. Jill's daughter, Renick, was 13, and just getting started in jumpers.
The two families got together. Jill helped Claudia, and Henrik helped Renick. Henrik had a treadmill. Jill began putting her ponies on it and immediately saw the benefits. Luckily, one of her barn rental clients moved in with their own treadmill, so Jill didn't have to walk across the way anymore.
Unfortunately, when the clients left, so did the treadmill. Jill knew she needed one of her own. Happily, Henrik and Mikala founded Horse Gym USA, and Jill went to work for them, traveling to trade shows and earning credits toward her own treadmill, which she later purchased. In 2010, she became sales manager for the company.
"It's easy to be enthusiastic about our products," Jill said. "They help transform horses, making them fitter, sounder and happier, and give competitors a clear edge."
Jill enjoys traveling all over the country, bringing along a demo model that she leaves with clients for a few weeks so they can really understand the benefits. European Grand Prix riders are quite familiar with treadmills, and Jill is interested in opening up markets in other disciplines, such as Quarter Horses and reining.
"Often, when I return to a farm to pick up the demo, their reaction is, 'Don't take it away!' We've gotten a lot of business in Texas. This summer, I'll be traveling to Oklahoma, New York, Virginia, Iowa, Illinois and Nevada."
In 2014, Horse Gym USA expanded its line to include new innovations and diversity.
"We have walking and trotting treadmills, where you can customize programs for each individual horse, including varying the speed and amount of incline," Jill said. "Wet treadmills also allow you to set different programs in water up to shoulder height in order to manage the horse's buoyancy and resistance. This is a great way for a horse to get a good workout if he's injured and not fully weight-bearing. We also have a cold saltwater spa, a unique machine with a vibrating surface, and two solarium infrared models."
Jill noted that all of the models have been well received. Many owners assume their horses will be skeptical, but they quickly learn how comfortable it is. Within minutes of being on it, they're calm and relaxed, licking and chewing, and totally enjoying the experience. "It's mentally relaxing for them, as well," she said.
Each session lasts about 30 minutes, and Jill said it can be used daily. She recommends at least three times a week. The benefits include increasing soundness and stamina, strengthening the core and back, rehabbing an injury and developing a good top line. Since they can be housed indoors, equine treadmills can be used regardless of the weather.
They're also a great means of monitoring the horse during training. With the horse being relatively stationary, you can observe irregularities in gaits, Jill said.
Dr. Patrick Sievers, a local veterinarian, is one of Jill's newest customers. When his Wellington barn was being remodeled, he boarded his three horses at Jill's barn.
"I'd never used a treadmill before, so I thought I'd try it out," he said. "The overall reaction was very good. One horse was mildly apprehensive, but he quickly gained confidence and relaxed. I'd say that using a treadmill is good for a horse's overall fitness. You can program it to develop the different sets of muscles and facilitate changes in the horse's fitness, improving any muscle deficiencies. The horses definitely enjoyed doing something different. I also like that it's a non-traumatic form of exercise."
Jill is proud that Horse Gym USA is based in Wellington. "It's a growing company with fantastic owners who are knowledgeable horsemen themselves," she said. "I'm really excited to be a part of their success."
For more information, visit www.horsegym.com or call (561) 204-2199.