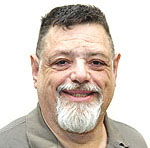 'I' ON CULTURE
When Pixar does a movie right, it is fabulous. That describes Inside Out, a tremendously inventive cartoon that manages to deal with emotional conflict in a way that makes it perfectly understandable to children, but also enchanting and thought-provoking for adults. It is unlike any movie I have seen in recent years, perhaps ever. But it works so extraordinarily well that I will be pondering some elements for weeks. This is a not-to-be missed film.
Using the cartoon format, it deals with the emotions inside the head of 11-year-old Riley (Kaitlyn Dias) as her family movies from Minnesota to San Francisco. She has all the typical angst of a young girl multiplied by the trauma of the move. She gets along well with her parents (Diane Lane and Kyle MacLachlan). It is actually a pleasure to have a movie where parents and kids do get along well.
But the real action is inside Riley's brain, where her emotions, particularly Joy (Amy Poehler), rule. Riley is usually a happy girl, although she is affected also by Sadness (Phyllis Smith), Fear (Bill Hader), Anger (Lewis Black) and Disgust (Mindy Kaling). The different emotional characters take over as a way of ensuring her well-being. Joy, however, runs things. She basically runs Riley's memories and protects different elements of her psyche. She does a good job until…
The move shakes Riley up. She has to make new friends and adjust to life in a new place. Then Joy and Sadness get into a fight that ends up with them being sent to the back of Riley's head, leaving Anger, Fear and Disgust, none of whom is at all balanced, in charge as she heads to her next barrier: the first day in a new school. She messes up trying out for the hockey team and even blows up at her parents. She is a mess.
Joy winds up having to battle back through parts of Riley's mind — abstract thought, imagination, subconscious — dragging Sadness along with her. Though luck they find a guide, Bing Bong (Richard Kind), a sort of mixed animal creature who once was Riley's imaginary friend but has now pretty much been forgotten, to help them get back to the "control room." Along the way, Joy begins to realize that Sadness, who she has often abused and ostracized, is not her enemy but her partner in so many ways.
And, of course, as Joy and Sadness are fighting their way back, the other three emotions are wrecking the basic structure of Riley's life. I know this sounds terribly complicated, but the movie manages to make sense of it all, even while providing laughs. Poehler's Joy deserves a lot of credit for this. She keeps things moving along.
But this is director Peter Docter's movie. He made Wall-E and Up, two of the most innovative and moving animated movies ever, and this one joins the pantheon.
We get a look at family dynamics, human motivation and emotions. It's sort of a weird cartoon view of psychology that somehow makes a lot of sense. Although we like to claim we rule our emotions, our emotions quite often rule us. And they do need to be in balance. What Docter has done, is to somehow lay it out in a wonderful goofy, funny way that makes us think. Much of what we see there is abstract, but it does connect.
The cast is marvelous. Poehler dominates the emotions, and she manages to keep a manic perspective and do it so well that it does not become annoying. Black, of course, is perfect for Anger. He has been, in essence, playing the part for years on television and carries it off well. Kaling is wonderful as Disgust; her part is a bit smaller than the others, but she always seems to be there when it counts. Hader is good as Fear, and Smith is superb as Sadness. I particularly liked Kind. Bing Bong, essentially forgotten, had been an important emotional support for Riley. Now, even though a memory, he is still part of her psyche.
This is easily the best film I have seen this year. It is the best I have seen in a couple of years. Granted, there are no dinosaurs on the rampage for the umpteenth time. Right now, I nominate it for Best Picture of the Year. Go see it.