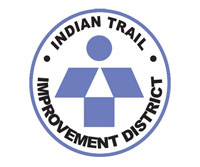 Two weeks into the Atlantic hurricane season, the tropics are quiet. However, the Indian Trail Improvement District remains vigilant, making plans to head off some of the problems caused by Tropical Storm Isaac back in 2012.
"Indian Trail is a unique situation. We got hammered by Isaac, so we never really stand down at all after Dec. 1. When hurricane season ends, we're still on alert," ITID Manager Jim Shallman said. "After Isaac dropped 18 inches of rain in a 24-hour period, our directors and employees are pretty reluctant to let their guards down."
Every year, starting in May, ITID starts the transition to wet season control levels, lowering canal levels to meet South Florida Water Management District requirements for the summer season, Shallman explained.
In the last year, three of ITID's major outfall structures have had backup antennas and towers assembled for use in an emergency.
"We continue our annual maintenance with pump rebuilds at all four of our pump stations," Shallman said.
Based on direction from the ITID Board of Supervisors, the district is continuing to standardize and prioritize canal excavation and cleanup operations, he said. The push to make things more efficient began in the wake of Isaac.
"Every year, we have interdepartmental training in the emergency response to a storm event," Shallman said.
Hurricane manuals are updated beginning in April every year, he explained, noting that the manuals contain contact information and various employee information.
"We coordinate with the Palm Beach County Emergency Operations Center and the South Florida Water Management District to ensure that we have open communication lines every year," he added.
ITID's best asset, Shallman said, is its engineer.
"The luckiest thing of all, in my opinion, is our district engineer," he said. "Jay Foy has many years of dealing with South Florida drainage issues. He's, in my view, among the best. He keeps us on our toes."
ITID has also upgraded its drainage technology.
"I'm really proud of the progress we've made in the telemetry part of things," Shallman said. "The canal excavation is going to help drainage. Water is really our business — our main business — and so, I hope we're current. I'm certain that we are at this point on what we need to be doing."
Shallman recommended that residents visit the ITID web site at www.indiantrail.com.
"It's filled with updates. We automatically go to the web site first. Any notice that residents need to see will be posted to the web site," he said, adding that keeping swales clean is also a priority.
In the case of an emergency, residents can call the district at (561) 793-0874.
"In the event that there is a major storm, we will be here around the clock," Shallman said.
The web site hosts many of the emergency numbers that might be vital in case of a storm, including the Palm Beach County Sheriff's Office, Palm Beach County Emergency Management, the Federal Emergency Management Agency and Florida's State of Emergency Hotline.
On the left side of the site is a series of tabs, and hovering over the "My Community" tab can lead visitors to "Storm Preparation." The storm preparation page provides information on evacuation zones in Palm Beach County, area storm history, the FEMA web site and the Solid Waste Authority's web site. It also provides advice for before, during and after a storm, to help residents ride out the storm in the safest manner possible. Additionally, residents can sign up for e-mail, text and phone alerts.
Facebook and e-mail (info@indiantrail.com) are also great ways for residents to communicate with ITID. The web site and Facebook are the first two places where local updates will be available, Shallman said.
ITID now broadcasts its meetings through live streaming, he explained, and that streaming can be utilized in times of emergencies.
"We have the ability to go on the air anytime from our office and live stream," he said. "We're still experimenting with it, but there are all kinds of options that are available with that that might really work out well in an emergency. We're still testing it out."
Even with the predictions of a slow year, ITID strives to stay prepared.
"Our radios are always charged," Shallman said. "Throughout the year, we keep everything going."
Technology has drastically changed emergency response for the better and how communities deal with emergency weather situations.
"Fifteen years ago, people just sat in their closets and waited," Shallman said. "I hope it will be a quiet season this year, but I feel that we are prepared."