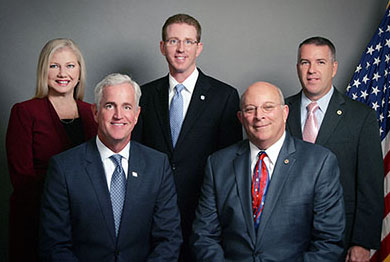 The Wellington Village Council agreed Tuesday to schedule a review of construction plans for the new Wellington Community Center after Councilman Matt Willhite said the final plans did not look like what the council had approved.
"I would like to bring to the council's attention something that is very alarming to me," Willhite said. "We were all so happy to go out after years of discussion about the community center, what's going to happen, and it came to us. We deliberated for months about what to do, and we got dimensions and drawings and plans and scales and replicas. The plans that I got look nothing like what I was told it was going to be."
Willhite said he had reviewed the plans with Director of Operations Jim Barnes before the meeting and thought they should be reviewed by the entire council.
"I am actually potentially thinking about asking this to come back to the council and revisit the entire community center project," he said. "I'm not putting it on hold. It's still in demolition, it's going forward; [but] this is not a Wellington standard building. It is an institutional-looking building that has no dimension, nothing to it. It looks terrible to me."
Willhite said the entire veranda on the back appeared to have been removed from the plan and that the square footage on one side had been reduced.
"I asked Mr. Barnes to tell me today how much property was there and how much we're utilizing," he said. "I think a lot of this is being done in cost measures because we speculated and had an idea of how much we could afford to build at the time, and because of construction costs, we've had to scale back."
He added that senior citizens had asked for a room that could hold 300 people and a stage, but the stage had not been included in the plan.
"Now, instead of having three elevators and two staircases, there's a third staircase on the outside that looks like a commercial staircase from the view of the lake," Willhite said. "I don't like the way any of this looks. We've set a standard here. I think what we've done is not what I envisioned. It's totally not Wellington, and I think what we're doing is being penny-wise and pound-foolish."
Willhite added that he thought it would not be beneficial to the village or meet the standards that people expect of Wellington.
He noted that the new community center would probably be the last building in a long line of projects the council has undertaken, and he did not want it to fall short.
"I just don't think it's very attractive. I don't think it's going to bring us the long-term return that we were looking for in the rentals," Willhite said.
Willhite said he had seen similar processes where the village started planning a project and the final product looked nothing like what council members originally envisioned.
He pointed out that he had to make a request to staff to see the final plans because they were not required to come back to the council. He asked that other council members review the final plans and possibly push it onto the agenda for their next meeting.
"If this is what you want, this is what you're getting right now, but this isn't what I asked for," he said. "This is not what I voted for."
Mayor Bob Margolis said he shared Willhite's opinion.
"I agree with you 100 percent, because I had talked with staff, I looked at the changes and I remember what was being presented. I think this even went before the Architectural Review Board and they made changes to what we have here today," Margolis said.
Margolis favored a council presentation on what was originally approved versus what is currently planned. "I would like to see this put on the council agenda as soon as possible," he said.
Margolis added that he did not want to hold up the project, but was taken aback by some of the modifications.
Vice Mayor John Greene said he would agree to a council review, adding that he did not understand why, if something was approved by the council, significant changes would be made afterward. "I have a problem with that," he said.
Councilwoman Anne Gerwig said a patio on the back of the building appeared to have been removed from the original 2014 plan, and Barnes replied that the patio size had been reduced to accommodate required seating space for the second-floor ballroom.
Greene said the balcony on the second floor appeared to have been removed. "That was the beauty of that balcony on the second floor," he said. "That whole patio was to overlook the lake. Now you've got basically a platform."
Willhite said the intent of building a new center was to maximize the beauty of the site. "We've basically cut that out, and I think with this color rendering, if that's anything like it, it's an institutional building on a lake," he said.
ABOVE: The Wellington Village Council.