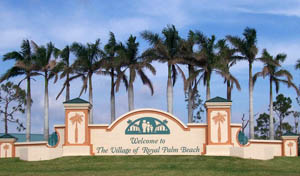 By Paul L. Gaba
Young families looking for a place to live in Florida should seriously look at Royal Palm Beach. So says NerdWallet, a consumer-focused web site dedicated to saving people money every day by helping them make better, more informed financial decisions.
"NerdWallet crunched the numbers to find the best towns in Florida for young families," said Sara Collins, a senior communications analyst with the San Francisco-based company. "Royal Palm Beach ranked 10th out of 180 [communities with more than 10,000 residents]."
Where you decide to make a home is a huge financial decision, Collins explained.
"We crunch data from government sources," she said. "One major change to our study this year was that we added the entire 'family-friendly' component. Looking at the percentage of households with school-aged children, Royal Palm Beach had very good numbers."
The "family-friendly" component helped boost Royal Palm Beach from 17th in 2013 to 10th in the current review.
According to the statistics, nearly 27 percent of Royal Palm Beach households are families with children, many of whom were drawn by the village's affordability. Median home values in Royal Palm Beach are $189,300, which is 15 percent below the top 10 average of $223,930. Among the draws: young families love the community's annual events, including the Star Spangled Spectacular celebration for the Fourth of July and the community band summer concert series.
"The monument sign on Okeechobee Blvd., the symbol when you enter Royal Palm Beach, is that of a family," Councilman Jeff Hmara said. "I was speaking to residents at the Citizens Summit a few days before this came out, and it was a recurring theme from the people I spoke to, that Royal Palm Beach is family-oriented, and that many of the activities and events we offer make it what it is today."
Royal Palm Beach Mayor Matty Mattioli was not surprised by the high marks.
"About five to 10 years ago, [Family Circle magazine] came out with a similar story. Nothing has changed, except we've gotten stronger financially," Mattioli said. "What we offer for younger people is a nice place to live."
Mattioli said the various amenities in Royal Palm Beach — including the many attractions at the new Royal Palm Beach Commons Park, and a long list of recreational facilities for children — helps with the favorable viewpoint. "Those things have a lot to do with it," he said.
"We're very proud of this, extremely proud," Royal Palm Beach Councilman Fred Pinto added.
Data was taken from the U.S. Census Bureau's 2013 American Community Survey. The methodology focused on four factors: home affordability (30 percent), calculated by averaging index scores for median home value and median selected monthly owner costs; growth and prosperity (20 percent), which looked at both the growth in family income from 1999 to 2013 and median family income in 2013; family-friendliness (30 percent), which looked at the percentage of married couples with at least one child under age 18, and the percentage of families in poverty with at least one child under age 5; and educational quality (20 percent), which used data from GreatSchools to calculate the quality of schools.
"GreatSchools has some pretty widely regarded standards nationally," Collins said. "They've been doing this for a long time, and they have a pretty comprehensive data set."
Hmara was impressed with how the survey was done, and, of course, approved of the outcome.
"The sources and data are viable, independent and solid," Hmara said. "The methodology they used to compile their results is pretty legitimate."
To view the study, visit www.nerdwallet.com/blog/cities/best-cities-young-families-florida-2015/