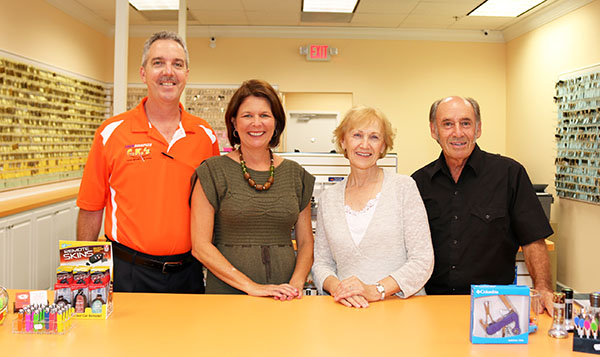 C.K.'s Lockshop & Security Center has been in business in Palm Beach County for more than 50 years. The company opened a Wellington location in May.
The new location in the Courtyard Shops will host a grand opening celebration on Thursday, Aug. 13 from 6 to 8 p.m. with a ribbon cutting, raffle, giveaways, food, cake and more.
Dating back to 1960, the current owners took over the business in 1992. With a 6,000-square-foot facility in Boynton Beach and a location in Delray Beach, owners Robert and Tina Stephens and Chris and Bruce Volpe recently added Wellington as a third location.
"I started out part-time working for a locksmith in Deerfield Beach while I was going to college," Robert recalled. "I enjoyed the trade so much that I went full-time. I worked there for eight years before we decided that we wanted to go out on our own."
Robert was working with Bruce at the time, and their partnership has continued.
From there, they went on to become the owners of C.K.'s Lockshop & Security Center.
"We sell, service and install all aspects of keys, locks and safes, also access control, surveillance cameras and alarm systems," Robert said. "We also sell a lot of decorative door hardware."
Though the smallest of the three locations, the Wellington store packs a mighty punch. As with the others, someone is available 24 hours a day, seven days a week, for problems big and small. Throughout the company, there are 20 employees and eight trucks providing service anytime, including off-site, and employees always wear the company's trademark orange logo.
"Our company colors are orange," Tina said. "There are people out there who copy storefront names, so we try to get that out to our customers. If guys come out, and they're not in an orange shirt, then you have the wrong company."
Everyone goes through background checks, Tina said, noting that many employees have been with the company for a long time, many more than a decade.
Robert said that the storefront locations and years in business differentiate C.K.'s Lockshop from its competitors.
"You're dealing with the security of your home or your business, so it is nice to know that the company is established," he said. "It also is great to know that you can come to the store and meet the people face-to-face… And if you do have a problem, you can come back to one of our three stores and get it resolved."
C.K.'s Lockshop works with many commercial accounts, including the Boynton Beach and Delray Beach police departments, and many hospitals.
Wellington's store has more than 2,500 keys in stock at any given time, ranging from car keys, house keys, skeleton keys and motorcycle keys to safe keys, boat keys, high-security auto keys, chip keys and more. "That's important, because if someone's looking for a hard-to-find key, and they can come here, they'll remember to come back," Robert said. "We have all of the common ones and a lot of the oddballs."
Additionally, the store sells alarm systems, video surveillance systems and more.
"In today's market, it's standard to have the ability to watch your cameras from your phone or your laptop, or wherever you have Internet access," Robert explained. "Every system that we install, you can view those cameras from your phone, iPad, smartphone, laptop or whatever it may be. Also, a lot of the alarm systems that we install, you can control with your smartphone."
Large safes line the walls of the Wellington store, ranging from small in-ground safes and closet safes to much larger varieties. They feature many different means of locking, including the three standard ways: dials, push buttons and biometrics.
"Probably 75 percent of the safes we sell have push-button locks on them," Robert said. "We sell a lot of safes — everything from $300 up to $9,000."
The internal configurations of the safes, Robert said, is customizable.
"We do the delivery, and we do the installation, with our people," Bruce added.
Safe usage, Robert explained, varies from basic safes for papers with fire protection to other varieties. The best type of safe for fire protection, Robert said, is an in-ground safe.
Always looking to increase safety and security, Robert pointed around the store, showing various safety features, including locks to increase the security of a sliding-glass door.
"Service is what we pride ourselves on," he said. "We take pride in our work. Our technicians take pride in their work and do quality work. We stand behind everything that we do."
Store hours are 8 a.m. to 5 p.m., Monday through Friday, but emergency service is always available.
C.K.'s Lockshop & Security Center is located at 13860 Wellington Trace, Suite 6, in the Wellington Courtyard Shops. For more information, call (561) 732-9418 or visit www.cksecurity.com.
ABOVE: Robert and Tina Stephens with Chris and Bruce Volpe at the new Wellington store.