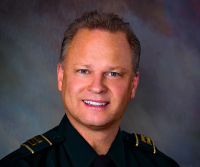 Juvenile crime, property crime, traffic crashes, golf cart thefts and illegal golf cart use on roadways continue to be issues for Palm Beach County Sheriff's Office deputies in Wellington, according to District 8 Commander Capt. Jay Hart.
A total of 189 property crimes were reported between October 2014 and March 2015, Hart told the Wellington Village Council in his semi-annual report June 23. The department made 17 burglary arrests and 138 retail theft arrests in that time period, and there was a 16.7 percent overall decline in burglaries.
One construction theft and six business burglaries were reported during that time frame. "We're holding our own as far as burglaries are concerned," Hart said.
There were no robberies in the first part of the fiscal year. "We're very happy about that," Hart said. "We realize we're having an impact out there as long as we stay high-profile."
There were only 57 residential burglaries, compared with 112 in the first part of 2014. "We're right around 50 percent lower," he said.
Vehicle burglaries, however, are up.
Traffic crashes were down slightly to 862 from a spike of 892 in the first half of fiscal year 2014, but the drop fell short of the department's goal to achieve a crash rate of 2.2 crashes per 100 village residents. The crash rate is projected to be 3 per 100 residents for fiscal year 2015. There were 665 crashes in the first half of 2013.
The number of crashes for the first half of fiscal year 2015 was 32 percent above average.
"We've talked about this ad nauseam," Hart said. "Why there are so many traffic accidents, and why do the number of traffic accidents continue to go up even though we continue to write [more tickets] and stop more people?"
The department issued 1,938 traffic citations and conducted 5,789 traffic stops in the first six months of the fiscal year, compared with 2,731 tickets and 5,160 traffic stops in the first half of fiscal year 2014.
"We discussed that the first six months was going to be about education, so we're down on citations for the first six months because our approach was not to go out and start hammering these people, but educate them," Hart said. "That's what a traffic stop is all about — to educate the residents."
However, he issued a muted warning.
"We may have to take a tougher stance since traffic crashes are up, and that's just a subtle hint that you'll see more traffic stops out there and more people will be getting tickets," Hart said. "We don't like to be that place that's just writing everybody tickets. I don't think we are at that point, but it looks like we'll have to get a little tougher on that."
The district has also addressed golf cart issues, including people operating them on the streets without proper equipment, and thefts.
"I know a lot of communities would love to have a golf cart problem," Hart said. "It's not a huge topic, but in Wellington, there are a couple of issues; they're driving on the roadways. We seem to have handled that fairly well. The other was because we are an equestrian community, we have a lot of golf cart theft, especially in the middle of the season… They go to the next horse show, and they're never heard from again."
Hart said several deputies were dedicated to go out and patrol, educating the public about golf cart operation and protections against theft. "It would help these residents protect their property," he said.
The effort resulted in only one golf cart being stolen in the first half of 2015, against 10 in the first half of 2014.
"It looks like our efforts are paying off, and we hope to continue that when the season starts again," Hart said. "Golf carts are very vulnerable to theft because they are so simple."
Juvenile crime is an ongoing problem, he said, pointing out that the he has a deputy dedicated to nothing but juvenile crime and juveniles on probation.
District 8 made 126 arrests the first six months of the year, 50 truancy arrests and 87 referrals, which are the equivalent of adult notices to appear in court.
"You've heard me say we're tough on juveniles, and there's a reason for that," he said. "The juveniles that we arrest — we arrest them for drugs, vandalism, for burglaries — we stay on top of them, and we try to do our best to stay in contact with their parents."
Probation curfews are strictly enforced, he said.
While there are issues, Wellington is an overall stable community, Hart said. "It's not like a transient community where people are moving in and moving out," he said.
ABOVE: PBSO Capt. Jay Hart.