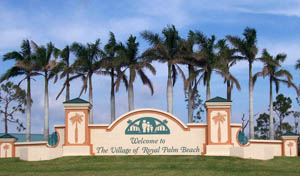 By Paul L. Gaba
Royal Palm Beach's proposed sale of its former wastewater treatment plant property to home builder Lennar could be in jeopardy, but questions about the sale will not prevent the village from going forward with planned road resurfacing in 2016.
The Royal Palm Beach Village Council rejected a request to extend the sale's finalization deadline at its Monday, July 6 budget workshop by a 3-2 vote.
The request was made by Lennar Vice President Bruce Grundt in relation to its ongoing cleanup of bullets and shell casings from an old shooting range on the property. He said that as a publicly traded company, Lennar needs to have stricter standards than what state environmental standards require, because of potential liability issues down the road.
The $35 million sale of the 154-acre property was approved by the council in February, but finalization was held up last month by a delay in Lennar receiving a traffic study approval. In June, the council approved an extension through July 13, but were less than enamored with a second extension request.
According to the village's proposed annual budget, $5.5 million of the capital improvement fund — of which nearly half was dedicated to major road resurfacing projects in 2016 — was to come from the property's sale. Village Manager Ray Liggins said that if the sale falls through, the village would need to amend the budget during the 2015-16 fiscal year to balance things out.
"We are going to sell that piece of property," Liggins said. "Even if we have to put it back on the market, we will sell it. We wouldn't be able to close on it by the end of the year, but we would have it in place for the next fiscal year."
Mayor Matty Mattioli and Councilman Jeff Hmara proposed a compromise to grant a four-day extension request so Lennar could attend the council's July 16 meeting with a more detailed study on the property cleanup, with the stipulation that if an additional 30-day extension was approved at that meeting, and Lennar later reneged on the sale, Lennar would forfeit all of its $97,935 refundable deposit.
Without the four-day extension, Grundt told the council he "would try to convince our investment committee before July 13 that this is a risk worth taking," but could not promise what decision would result.
The property sale was the only real issue that came up during the council's 90-minute initial public review of Royal Palm Beach's proposed 2015-16 budget. According to Finance Director Stan Hochman, the 197-page, $41.16 million proposed budget was prepared with the intent of not increasing the current tax rate of $1.92 per $1,000 of taxable property, while maintaining the level of service Royal Palm Beach residents have come to enjoy.
Hochman said village property values are up 11.4 percent from last year, which is higher than the initial 10.6 percent increase estimate. He noted that there are no current plans to take any money from the village's rate stabilization fund to balance the budget. However, money is available in that fund if the property sale is delayed.
Village Engineer Chris Marsh said $2.35 million is slated for road resurfacing programs, including Saratoga Blvd., Kings Way, La Mancha Avenue, Ponce De Leon Street and Queens Lane. Some of these are carryovers from the current year. It is also possible other projects could get bumped up, based on available money or emergencies that occur.
Marsh said that there are plans to post resurfacing project information on the village's web site to keep residents apprised of upcoming road work.
Other capital improvement projects on the horizon include bringing areas of the village — including its kayak launch — up to the federal Americans with Disabilities Act (ADA) standards, replacing the play space at Pippin Park, and proceeding with bidding on, and construction of, an amphitheater at Royal Palm Beach Commons Park.
Councilman Dave Swift expressed concern over the location of the kayak launch in general, noting that "we need to make it easier to get kayaks to the launch from the parking lot in the first place." Marsh said the village will evaluate the area to see what, if any, options exist to address Swift's concerns.
Royal Palm Beach has been awarded a $25,000 grant toward the kayak launch work, as well as two grants totaling $381,500 toward the amphitheater. Marsh said the amphitheater will "be fully funded in the next fiscal year."
The village is looking at a 4.04 percent ($875,792) increase in departmental operation costs. The largest increase is in Parks & Recreation, which will see a 10.63 percent boost ($457,868).
Most of the increase is connected to cost of living and merit pay increases, which totaled $476,808, or a 5.68 percent increase over the previous year. COLA accounted for 1.2 percent of this total. Increased costs of health insurance have also been factored into the estimate for Royal Palm Beach's 151-employee staff.
There is only one notable change in personnel numbers: a part-time Parks & Recreation program supervisor position is being upgraded to full-time. Parks & Recreation Director Lou Recchio told the council that the upgrade is based on the increased involvement of senior citizens in village-sponsored programs.
"It requires us providing a full-time position, because [seniors] want the attention — and they deserve it," Recchio said. "They want more bus trips, and they want them year-round, including the summer. That's the reason for the increase."
Recchio said the village also hopes to increase its fitness and aerobics contract services because demand for them has increased.
"These are programs that are driven by participants," Recchio said. "As we get revenues, they offset the expenses."
July 6 was the first public review on the proposed budget. There will be two public hearings for input from residents in September, and while the dates are not currently set, Hochman said they traditionally take place at council meetings that month. Those meetings are scheduled for Thursday, Sept. 3 and Thursday, Sept. 17.