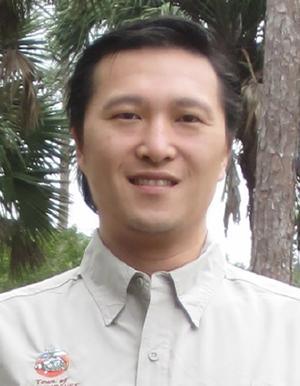 The Loxahatchee Groves Town Council voted 3-1 on Tuesday to keep Councilman Ryan Liang in his seat despite a challenge that his record of pleading no contest to a felony charge of molesting spiny lobster traps in the Florida Keys in 2001 should require his forfeiture of office.
Liang was required to recuse himself from the discussion and did not vote.
Attorneys Rick Jarolem, representing resident Keith Harris, who narrowly lost a council election to Liang in March, and John Whittles, representing Liang, both made presentations on the interpretation of the town charter's provision for the forfeiture of office if a council member has been convicted of a felony.
Town Attorney Michael Cirullo pointed out that the charter requires the council to consider the question, although no specific procedure is required. However, both attorneys agreed to make 15-minute presentations, followed by comments from the public, then council discussion.
Jarolem began by saying that he thought Councilman Jim Rockett should also recuse himself due to an appearance of impropriety, since Rockett allegedly participated in the collection of absentee ballots obtained illegally, collecting them with Liang's mother and subsequently delivering them to the Supervisor of Elections Office. Rockett, however, chose to remain on the dais.
Jarolem said that there is no dispute that Liang had pleaded no contest to a felony charge of molesting the traps in 2001, but the issue was the interpretation of the town charter.
"The charter is, in my view, very clear that there is no time frame set for it in the charter when it comes to forfeiture of the office for a councilperson for entering a plea of no contest or guilty to a felony, regardless of adjudication," he said. "Essentially, Mr. Whittles and I disagree as to this interpretation. Mr. Whittles' interpretation is that the charter is at least ambiguous, or it's implied that the offense must occur during the term of office."
Jarolem said the town charter leaves no room for interpretation in that it does not mention a time frame.
"The legislature presumes to know what it is doing when it enacts these laws, and unless there is evidence to the contrary, you have to take it at the face value," he said.
Whittles said case law in Florida and other states is interpreted as saying that elected or appointed officials cannot be removed for infractions that occurred before their term of office. He added that the charter is ambiguous in that it does not state a time frame for the infraction.
"The idea of an elected official of Loxahatchee Groves being subject to forfeiture for catching an undersized lobster five years before this charter even existed, years before he was elected and re-elected and re-elected, when you think about the qualification issues, it doesn't make sense," he said.
Whittles added that other issues surrounding the election were not relevant to the issue at hand.
"This is not an election contest," he said. "There is a court that is going to determine what's going to happen there. The justice of it is not tonight. Tonight is about if the charter allows the council to deal with what's being requested."
Loxahatchee Groves Planning & Zoning Board Chair Dennis Lipp said other municipalities, including Wellington and Boca Raton, have similar forfeiture clauses, and pointed out that anyone with a felony record cannot join the armed forces, and that many municipalities do not allow anyone with a felony record to become a firefighter or a police officer.
"This is a case of anyone in public service, no matter when they did it," Lipp said. "What if we had a sex offender here who never registered?"
Resident Phillis Maniglia agreed that Rockett should recuse himself, and added that catching spiny lobsters is not a small issue to fishermen.
"We need to follow the law," Maniglia said. "We are all very emotional about this, but this is your opportunity to start mopping up what is becoming an embarrassment to the town."
Loxahatchee Groves Water Control District Supervisor Frank Schiola asked if the question could be deferred to a judge or someone with no personal interest in the decision.
"I don't think there's anybody in this room who can be impartial," Schiola said. "I feel for all four of you sitting up here. This needs to be deferred to someone outside who has no interest in the town."
Cirullo said that the charter requires that the decision be made by the council.
Councilman Ron Jarriel said that he would follow the law of the charter.
"We have one lawyer who says one thing and the other the opposite," Jarriel said. "Somebody said that when you're a convicted felon, you lose all your rights. I happen to know that in the last three elections, Ryan has been a registered voter. He has not lost any of his civil rights."
Rockett said that he takes his responsibility very seriously. "The participation and decision that I render is going to be based on what I think is right… and ultimately what the charter says, which is very clear to me," he said.
Mayor Dave Browning said he did not want the decision at hand to be clouded with other issues regarding the election.
"This is a very emotional issue, and there are two separate things going on," Browning said. "Number one, there are challenges going on about the election itself. Tonight has nothing to do with that."
He said that the charter appears to be very clear that forfeiture of office should be for a felony committed while in office.
"Maybe we need to change our charter, but right now I've got to follow our charter," Browning said.
The council then voted 3-1 to keep Liang on the council, with Councilman Tom Goltzené dissenting.
ABOVE: Councilman Ryan Liang.