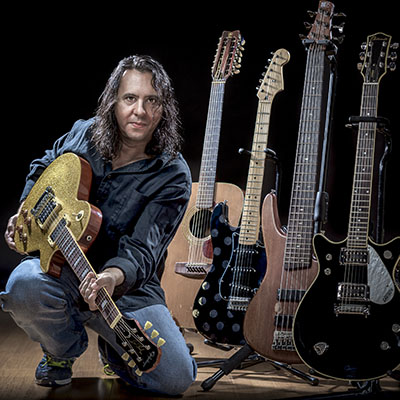 Local musician Bobby Gugliuzza's life changed one day back while he was living in upstate New York. Gugliuzza, a teenager in Lockport, N.Y., at the time, asked for a guitar, and he has never looked back.
"I was inspired by it," said Gugliuzza, who can be seen locally performing with the band Odyssey Road. "I was inspired by watching TV and seeing people play."
His musical talent didn't come as a complete surprise to Gugliuzza, whose whole family is musically and artistically inclined.
"I started playing in bands," he said. "My first band was in Lockport, and I was 16… We ended up getting really good, and we opened up for a national act."
By the time Gugliuzza was 19, he had moved to Florida, and he has been here ever since, writing and singing in the Florida sunshine.
At 51, he continues to follow his dreams and his musical passion. "I just write songs. I pretty much write anything," he said.
Gugliuzza has worked his way through multiple genres, including pop, acoustic, acoustic rock and acoustic variety.
In the 1980s, he played in a band that opened for national acts. Later, Gugliuzza joined Hi-Fi-Sister, Chris Alvy's band, where they played festivals, live TV shows and clubs. He was seen on Univision and also played SunFest.
Then, Gugliuzza joined City of David, a Christian rock band, where he played lead guitar, sang backup vocals and helped produce the band's self-titled album. City of David won many accolades, and one of their songs reached the top 100 on ReachFM Christian Radio.
Over the course of his career, Gugliuzza has been part of bands that have opened for Night Ranger, Jimmy Needham, Flyleaf, Newsboys, Roger Waters, America, Foghat, Boston, Bad Company and more.
Gugliuzza is working on many projects, including a feature film to be produced by Wellington-based Cinema Island Productions. The Tenth Symphony Rock & Roll Musical Adventure, a major motion picture, is in the works and expected to be completed in the next few years.
"It started out as a concept record," he said. "I wanted to write my own concept album — and it ended up being a really cool story, so it's going to be a movie instead."
Gugliuzza has been focusing on writing his own music, and created Visual Volume Studios, which has become a recording studio not only for Gugliuzza, but also for up-and-coming young artists.
In 2011, he released Ordinary Life, a pop acoustic CD featuring 16 songs that can be found online at www.reverbnation.com/wehumanz.
Gugliuzza is currently performing with the Tribute to Journey Odyssey Road band.
"We really are the best Journey tribute band out there," he said. "We're the only Journey tribute to have… [been] granted permission to release a CD with Journey hits on it… It's on iTunes."
The band is made up of Gugliuzza, Brian Lutz, Mike Soper, Paulie Granato and James "Bubba" Sanderford. "We're international. We went to Canada last year," he said.
Odyssey Road's next show will be as one of the headliners for Royal Palm Beach's Star Spangled Spectacular celebration this Saturday at Royal Palm Beach Commons Park. They'll hit the stage at 7:30 p.m. ready to entertain what is expected to be a huge holiday crowd.
Journey was one of Gugliuzza's favorite bands growing up, but he couldn't name one specific inspiration. "I can't say anybody specific because I love all music," he said. "There's so many people out there who write beautiful music, and it wouldn't be fair for me to say one name. I like the songwriting of James Taylor. For today's style, I like Train… I like Jason Mraz; I love Queen."
For now, when he isn't traveling with Odyssey Road or working on The Tenth Symphony, Gugliuzza is working on new songs and participating in charity events, where he is able to use music to make an impact in the community.
"I mostly write songs about life, about things around me," he said. "My newest song is called 'Worker in the Shop.' It's about people who work late at night. While half the world is sleeping, the other half is working to make ends meet. I write songs about everyday things."
Some of Gugliuzza's musical goals include playing SunFest with an original band playing his music. "That would be a bucket list kind of thing," he said.
More outrageous, he also dreams of playing an acoustic show aboard the International Space Station. "I think it would be awesome," he said. "I'd love to do it."
For now, check out www.reverbnation.com/wehumanz and www.bobbygugliuzza.com for upcoming shows and to hear Gugliuzza's music. There are also many paintings featured on the site, which Gugliuzza created.
Tribute to Journey Odyssey Road will be playing Saturday, July 4 at Royal Palm Beach's Fourth of July celebration, then it's on to Virginia on July 11 at a winery summer concert series, followed by another show Aug. 14 at Guanabanas in Jupiter.
ABOVE: Local musician Bobby Gugliuzza's has been an avid guitar player most of his life. PHOTO BY JEFFREY A. MCDONALD