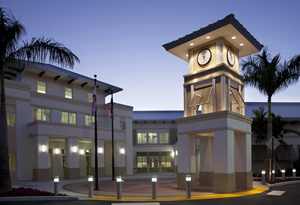 The Wellington Village Council agreed last week to consider a resolution supporting the labeling of food products containing genetically modified organisms (GMOs).
At its meeting Tuesday, June 23, the council heard a presentation pointing out that such labeling is not required in the United States.
Wellington resident Monica Kallas of Sharpshooter Marketing, a key organizer in the recent March Against Monsanto in Wellington, said that Hallandale Beach, Miami Beach, Fort Lauderdale and Margate have passed supporting resolutions regarding GMO labeling laws, and requested that the Village of Wellington pass a similar resolution.
Kallas was joined by Johnny Meier of My Community Pharmacy in Wellington and his wife, pharmacist Meroe Rabieifar, as well as more than a dozen people who participated in the March Against Monsanto.
"They are very supportive of educating the community about GMOs," Kallas said. "We are here to talk to you about transparency and this community's right to know what's in our food and in our consumer products."
She explained that GMO products have been modified using genetic engineering techniques. "It's like injecting a fish gene into a tomato," Kallas asserted. "It doesn't happen naturally. It's an experiment, and that's what they're doing with us."
Kallas said about 80 percent of the processed food products in the United States contain GMOs.
Kallas said that the agrichemical company Monsanto, which makes and sells Roundup weed killer, is splicing crops, including corn, soybeans, beets and canola, with Roundup, which makes the crops Roundup resistant, so that when the crops are sprayed with Roundup, the weeds die but the crops do not.
"The problem is that the active ingredient in Roundup is called glyphosate, and that has been scientifically linked to cancer and all sorts of chronic diseases," she said. "GMOs have been in food products since 1996, basically without the public's knowledge or consent."
Meier said no independent studies have been conducted for glyphosate for the past 20 years and explained that agricultural companies have been providing their own short-term safety studies to federal agencies.
"These are not accurate, and they're biased," he said, adding that the Food & Drug Administration recently authorized Monsanto to conduct its own environmental impact studies."
Meier added that independent GMO studies conducted on animals showed significant toxicity, including allergies and inflammation, accelerated aging, infertility, glandular complications, stillbirths, birth defects and more.
The World Health Organization recently listed glyphosate as a probable carcinogen, he said, pointing out that the cancer rate in the U.S. is the seventh-highest in the world. Presently, at least 62 countries, including Russia, China and the European Union, have banned or restricted the use of GMOs. "However, in the U.S., we don't," Meier said.
Kallas said that as of 2013, after the FDA denied the more than 1 million signatures in a national petition to label GMOs, more than two dozen states began working on statewide labeling measures.
Maine and Connecticut passed statewide labeling bills, and Vermont passed a law requiring GMO labeling and is being sued by Monsanto, she said.
Legislation to require GMO labeling has also been introduced in Tallahassee.
Kallas pointed out that 93 percent of consumers in a recent national poll believe food containing GMOs should be labeled.
"Powerful agrichemical lobbyists and the big food industry, with ties to the federal government, have succeeded in keeping this information from the public," Kallas said, adding that she thought most Wellington residents would feel they have a right to know what is in their food. "Since the federal government does not appear to be listening to us or serving our best interests, we're looking at our local governments to step up to the plate and help us out with GMO labeling."
Vice Mayor John Greene asked how efforts by municipalities could be effective if the federal government and states will not get involved.
"Passing a resolution doesn't prohibit those products from being sold in Wellington," he said.
Kallas said that Trish Sheldon, who runs GMO Free Florida and has been leading the effort for GMO legislation in Florida, told her that getting local resolutions would help in the effort.
"I said the same thing, 'What's the big deal about getting a resolution?" she recalled. "It is super-important because when it comes to where the state is voting, it shows that Wellington is in the door."
Greene said his family tries to consume organic food as much as possible.
"If I have a choice between organic and non-organic, yeah you pay a little bit more, but at least I feel a little bit better about what's going in my body and in my kid's body," he said.
Greene asked whether it would be effective to target farmers who use Roundup ready products, pointing out that some companies have taken steps to remove certain food colors and preservatives from their products. "That pressure came from someplace," Greene said.
Rabieifar said she believes that pressure comes from the consumer.
"That's what we're trying to do here. If the products are labeled with GMO, the consumer is going to make the choice not to purchase the GMO," she said. "The reason people are making their products without the artificial ingredients is because they have it on the label and the consumer is able to see that. We don't have that with GMOs."
Rabieifar also pointed out that Europe does not ban products containing GMOs, but has a labeling law, which has stifled the sale of those products.
Mayor Bob Margolis said he was trying to figure out what the council can do as a government, adding that he would talk to state elected officials about it, including State Sen. Joseph Abruzzo, about the status of the bills.
"This is very important to me, trying to figure out what you are asking us to do," he said.
Village Attorney Laurie Cohen said her staff could prepare a resolution for passage at a subsequent meeting, but the village would not have the authority to prohibit the sale of GMO-containing products.