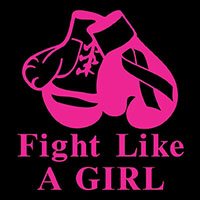 Many people in The Acreage and beyond love Michele Meredith, a longtime resident who has supported the Acreage Athletic League for many years. Meredith now needs the support of her friends in her battle with cancer.
Those friends have teamed up to coordinate the "Fight Like a Girl" kickball tournament and 5k run at Acreage Community Park on Sunday, Aug. 23 to benefit Meredith. The event is hosted by Indian Trail Improvement District Supervisor Michelle Damone, Chris Matthews, Keith Shivers, Rob Herron and Sandra Love Semande.
Meredith is the wife of ALA President John Meredith.
"Michele and John have been an integral part of the Acreage Athletic League for more than a decade," Damone said. "John is the president, and Michele has always assisted and done the concession stands, and so a lot of people out in the community know them both very well."
Meredith is battling colon cancer, which has spread to her liver. "She has quite a fight on her hands," Damone said.
The idea of "Fight Like a Girl" came from Damone's friend, Nick Massimo.
"While everyone else was bringing flowers and cookies and things that are very nice, he and I wanted to be different, and we brought Michele a pair of hot pink boxing gloves," Damone recalled. "He signed the glove 'Fight Like a Girl.' It stuck, so for the next three weeks, while Michele was in the hospital, the boxing gloves hung over her IV stand, and that has been the inspiration behind the entire event."
Supporters also designed a "Fight Like a Girl" logo in hot pink and black.
"Since then, John has even gone and gotten himself a tattoo with hot pink boxing gloves," Damone said.
Meredith is currently back in the hospital for treatment. "I'm not sure if she'll be out for the event," Damone said. "John will be there with the kids. John, her son Jordan and her daughter Kayla will each have a kickball team, so the kids will be out there for their mom."
Damone is working hard to make it a fun event.
"We decided to coordinate this event, and it's a family fun day. It's an active day. It was most appropriate for it to be at the park, because that's where John and Michele volunteer a lot of their time. I contacted some folks at the Acreage Athletic League, like Chris Matthews and Ron Herron, and they are coordinating the kickball tournament."
Dave Markle with Shoot-da-Gator will host a cornhole tournament, and Chris Harris is coordinating the 5k run.
"I have also worked with Sandy Semande to coordinate food trucks and bands," Damone said. "We're going to have a fun zone, and there will be professional photographers. It truly is a family fun day."
The 5k begins at 8 a.m., while the kickball tournament begins at 10 a.m.
"The kickball will be going on all day, and the bands will be going on all day," Damone said, explaining that numerous bands have volunteered their time.
"Michele and John grew up in Broward, and they have an entourage of friends from high school, and they are coming up," Damone said. "There's a lot of people coming from all over to show Michele their love and support."
For more information, or to get involved, search for "Fight Like A Girl benefit for Michele Meredith" on Facebook or e-mail mdamone70@aol.com.