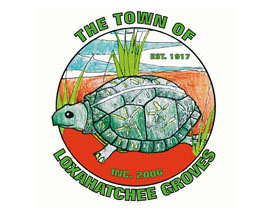 In a 3-2 vote, the Loxahatchee Groves Town Council agreed Tuesday to enter contract negotiations with Severn Trent Services as its new management company, although the contract will cost more than the current agreement with Underwood Management Services Group.
If negotiations are successful, the council is expected to award the contract on Tuesday, Sept. 1.
Vice Mayor Ron Jarriel and councilmen Ryan Liang and Jim Rockett voted July 7 to issue a request for proposals (RFP) for a new management firm. Underwood Management's contract expires Sept. 30, but contains provisions for an extension. The current management firm chose not to participate in the RFP process.
At Tuesday's meeting, about a dozen residents protested against hiring a new management firm, asking to retain Underwood Management for at least another year. Loxahatchee Groves Water Control District Supervisor John Ryan was the only resident who spoke in favor of hiring a new firm.
The town had two responses to its RFP, from Severn Trent Services and area resident Larry Tibbs.
Severn Trent is a large multinational company with a local office in Coral Springs. It manages several municipalities and numerous community development districts, including the Seminole Improvement District, which is the special district created by Callery-Judge Grove and now controlled by Minto West/Westlake.
Tibbs, the other applicant, is a resident of Royal Ascot Estates, just west of the town. He is currently working with various fire and police districts in the area.
Council members were concerned about Tibbs' past involvement as finance director with the City of Lauderdale Lakes in Broward County. In that position, he became embroiled in an inspector general investigation involving mismanagement of city funds. Tibbs said, however, that the situation revolved around council members and not himself directly.
Council members were also concerned that Tibbs is not a certified manager, which is required by the town's charter.
Town Attorney Michael Cirullo reminded council members they had the option to reject all bids and reconsider an extension with Underwood Management. Cirullo added that state statute provides that the bids are exempt from publication until the time that there is an award.
However, the proposers later consented to having the amount of their bids made public that evening in response to requests by residents. Although the services offered by the bidders were not consistent, and arguably less than what Underwood provides, Severn Trent's bid was $30,875 per month, while Tibbs' was $26,250 per month, compared with Underwood's current rate of $27,083 per month.
Councilman Tom Goltzené made a motion to reject the bids and let Underwood stay, but it died for lack of a second.
"I personally would like to hear their presentations," said Mayor Dave Browning, who had voted with Goltzené against putting out the RFP. "That's the professional thing to do."
Bob Koncar, general manager for Severn Trent's Coral Springs office, said his company pioneered the public/private concept of municipal management in 1978 with the Indian Trace Community Development District.
"We provided service for many years, and then we were asked to incorporate them as a city, and it became the City of Weston," Koncar said. "We provided services for them for many years, and then they changed the contract model and took some of the services back in-house."
The company also provides management services for the cities of Williston and Hillsboro Beach, Fla., and some municipalities in Georgia.
"We have four managers on our staff who come from local governments here in Florida, so we have a wide range of municipal experience that we can bring, especially in a public/private partnership," he said.
In addition, the company has provided services to 85 community development districts in Florida since 1982, including the Seminole Improvement District.
"That was the original purpose for the company, and that is what we have continued to do throughout the years," Koncar said, adding that the company has the largest staff in the state for community development districts and municipal governments.
"We have nine accountants on staff; we have five individuals in our accounts payable/accounts receivable division; we have 10 in our recording and records-keeping program in Coral Springs," he said. "We also have district managers in five different offices throughout the State of Florida. We have the experience and background in not only municipal service, but in special units of local government as well."
Jarriel asked who they had in mind to serve as town manager, and Koncar said the company had several candidates to consider. Although he did not name them, he said he could supply the town with résumés if they were selected as the management company.
"Our proposal is to bring several candidates to you and let you pick one for town manager, since it is such a critical position," Koncar said.
Cirullo pointed out that the manager would need to be certified, and a specific name of the manager would need to be provided by the time of the contract approval on Sept. 1.
Jarriel asked whether there would be a provision in the contract to replace the manager if it turned out that the council was dissatisfied after a certain amount of time, and Koncar said that there would be.
Jarriel also asked if they would provide an experienced town clerk. "I'm interested in who's going to be serving this community," he said.
Koncar said that his firm had not selected a specific town clerk. "One of the things we are looking for is someone certified as a town clerk," he said.
Browning said he wanted to be sure Severn Trent would provide adequate staff to run the town.
"It takes a lot of manpower to run this town," he said. "We're very hands-on. I don't see how one person, one clerk and one secretary can do the residents of this town justice. For more money, you get 35 hours in this office, which to me is kind of an insult for our community."
Browning added that he believed retaining the same company that provides services to the Seminole Improvement District could be a conflict.
"We are neighbors, but to represent both entities with one management team bothers me a little bit," he said.
Severn Trent representatives said that the management team for the town would be separate from the Minto West entity, although some back-office staff might be the same.
Goltzené asked how the company would handle community services, such as public records requests and building permits, and representatives said that would be managed out of the Coral Springs office.
He also asked where records would be stored, and firm representatives said they would be at the town hall and backed up at the Coral Springs office.
Goltzené asked about financial software purchased recently by the town, and Severn Trent representatives said they could use that or their own financial software as well, and could adapt to new software in 30 to 90 days.
Rockett said that he thought Severn Trent was being held to a higher standard, because past management applicants had put together limited liability companies specifically for the town, and specific positions had been filled after they had been hired.
"[The applicants] should also know that only three council members authorized going out for RFPs, so expect that that's part of what your reception is tonight," Rockett said.
Rockett made a motion to accept Severn Trent Services as the applicant for management services, which was seconded by Jarriel. It carried 3-2 with Goltzené and Browning opposed.