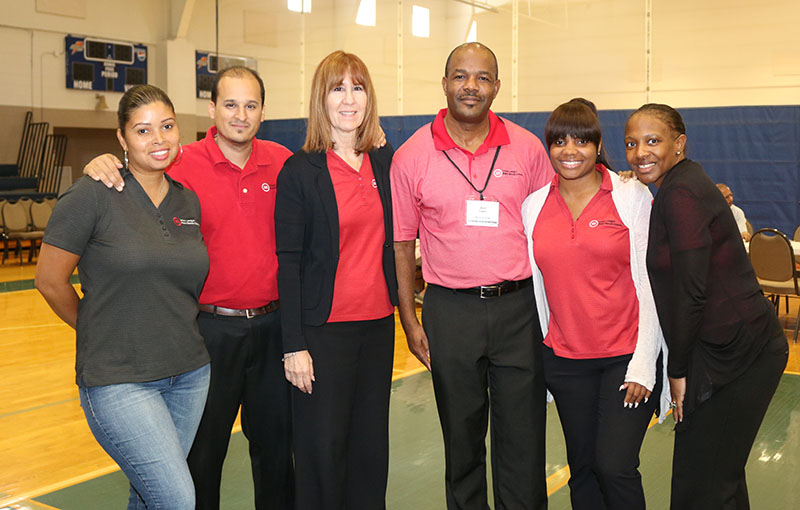 The Urban League of Palm Beach County and the Village of Wellington conducted a Preserving Homeownership Clinic on Saturday, Aug. 22 at Village Park on Pierson Road to provide residents with the opportunity to speak one-on-one with lenders, certified housing counselors and legal assistants from the Florida Legal Aid Society.
Jean Louis, director of housing for the Urban League, explained that the purpose of the clinic was to reach out to the community.
"People who are facing foreclosure, having financial difficulty paying their mortgage," he said, "can come and meet with a certified housing counselor, as well as servicers and investors, to see how they can get a solution to help them through their financial crisis."
Representatives from Fannie Mae, the Bank of America, Legal Aid and Ocwen Financial were available to meet with residents who needed guidance and assistance.
Residents pre-register either through their lenders, loan servicers or through calling, or by just walking in. Some are able to speak with their lender directly. Some will need assistance from the Urban League.
"As a HUD-certified counseling agency, our job is to make sure that the people who come to our events follow through," Louis said, explaining that those who can work with the lender themselves come to events such as last weekend's as a follow-up.
If someone is in need of assistance and cannot attend events such as the Preserving Homeownership Clinic, they can go to the Urban League of Palm Beach County's office in West Palm Beach. "That's what we're here for," Louis said.
There is a false misconception about Wellington, he explained, that there is not a need for the Urban League's services and support.
"Wellington has several different phases. You may go in one phase in Wellington where everything is well, but if you go in another phase, things aren't doing well, and people need help," Louis said.
The critical moment, he said, is when that first mortgage payment is missed. That is the crucial point when someone needs help. "The need is everywhere," he said. "There's always a need."
Wellington's most recent event was intended to serve as a reminder to the community that even though the housing market has improved, there is still help available.
Louis said that often, homeowners will call their lender, only to be told that the lender did not receive a document, and the homeowner keeps receiving a denial letter.
"Maybe the reason you keep getting denied is that there is something that you didn't do properly. It may be your financials. You need to sit down with someone who can redo the budget with you," he said. "When we redo the budget, there may be a way to show the lender that there is sufficient income in the household. If a modification is offered, it will be affordable for them."
Last year, the Urban League of Palm Beach County was able to help more than 500 people with the service.
"Our goal is always to serve as many people as possible," Louis said. "We don't have a cap. There isn't a cap at the Urban League. You come in, and we are open from 9 a.m. to 5 p.m., Monday through Friday. If you are coming in for mortgage assistance, yes, we will always be glad to help you… We will never close the door on someone."
Louis pointed out that even if someone made a loan modification last year, there may be something the league can assist them with this year. There may be other issues that can be addressed by the league that can be caught before an individual has a foreclosure issue.
"For instance, you have people coming in and you look at a mortgage statement," he said. "The interest is low and the payment is low from principal and interest, but you notice that there is an issue with the escrow. It isn't that the mortgage is not affordable, it may be that the lender sent them out with a letter telling them that they need to renew their insurance. For some reason, you don't respond in time. So the lender would then purchase what we call a forced-base insurance. Now your insurance was supposed to be $2,500, but whatever the lender purchased, if it is $6,000. That would increase your mortgage payment."
In such a case, Urban League counselors can help solve that problem and, perhaps, make the payments more affordable.
The Urban League, Louis said, has been around for almost 43 years and serves the community in many capacities. The league has its housing department, youth empowerment programs, after-school programs and more, all of which are free.
Bringing events to Wellington is important to Louis, who strives to help anyone and everyone who could use the assistance of the Urban League.
"It is our pleasure to work with the Village of Wellington and the entire team," he said. "They have been very helpful in putting this event together, and we want to thank them very much, and the entire community to allow us to come in here, not only one day and one time, but we want to work with the Village of Wellington in any capacity that we can."
For more information, call (561) 833-1461, visit www.ulpbc.org, or stop by the office at 1700 N. Australian Ave. in West Palm Beach.
ABOVE: Lydia Callender, Radhame Nunez, Karen Lanthier, Jean Louis, Drekyra Collins and Kindery Latson of the Urban League at last Saturday's event.