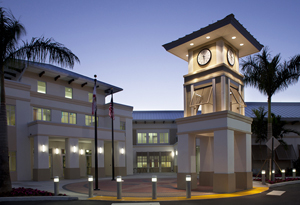 The Wellington Village Council on Tuesday approved a larger budget for the Acme Improvement District next year, keeping the same per-unit assessment as the current year.
Acme is a special taxing district controlled by the Village of Wellington focused primarily on drainage and park maintenance services.
Finance Director Tanya Quickel said that the Acme budget is part of the village's overall budget of $79 million. The total Acme budget is $7.3 million, an increase of slightly more than $1 million from last year.
The operating budget is $5.41 million, which is up $1.4 million, or 37.5 percent, and the capital projects budget is $1.2 million, down $430,000, or 26.4 percent.
"These changes are because of the transfer of funds from capital into the major maintenance fund part of the operating budget," Quickel said. "We have discussed that in all of our budget presentations this year."
The assessment rate will remain the same at $230 per unit, she said, explaining that a $30 increase approved last year increases the annual Acme budget by about $800,000, which is dedicated to capital projects.
The overall budget generates more than $5.5 million from approximately 26,000 units. The largest portion of the Acme budget is from the non-ad valorem assessment. The total revenue is just over $6 million, which does not include the allocation of reserves at just over $1.6 million.
There are five primary areas of expenditures within Acme: environmental services, equestrian trails, neighborhood parks, preserve maintenance and surface water management, whose total cost comes to $3.4 million, which includes salaries for a total of 22 employees, Quickel said.
Environmental services costs include the replacement of two mosquito sprayers and one vehicle, along with salaries for four employees.
For equestrian trails, materials and supplies have been added for upkeep and repairs and major maintenance of $100,000 for fencing, footing and crossing replacement, as well as two full-time staff members.
Neighborhood parks include major maintenance of $200,000 for equipment and grounds maintenance, with four full-time positions and 3,120 part-time hours.
Wellington Environmental Preserve maintenance has been increased with the addition of a boardwalk and pergola, as well as one position, plus 1,560 part-time hours.
Surface water management has an increased operating budget for aquatic weed control and major maintenance of $1.25 million for surface water rehabilitation, canal bank reclamation and swale maintenance, with 11 dedicated full-time positions.
"The operating budget of $5.41 million is up almost $1.5 million, and that's from the transfer of maintenance from capital to the operating budget," Quickel said.
Maintenance includes 24 neighborhood parks, 67 miles of equestrian trails and surface water management of 89 miles of canals and eight pump stations.
Capital projects from the $30 assessment increase with a carry-forward total $1.1 million.
The Acme parks master plan has a carry-forward of $176,000, and the Acme portion of technical improvements, plus the neighborhood parks, neighborhood trails and surface water management programs, have an additional $100,000 each.
"The total additional capital funding this year is $1.2 million, and with the carry-forwards, you're looking at almost $2.4 million," Quickel said, explaining that carry-forward money is funds that have been budgeted in previous years for projects that may be unfinished. "It is carried forward because it has been approved in a budget period, so the funds move forward."
Councilwoman Anne Gerwig made a motion to approve the budget and assessment, which carried 5-0.
Acme has a new web site, now mandated by law, accessible through a link on the village web site, as well as at acme.wellingtonfl.gov. The web site shows the services that Acme provides, as well as financial information, history of the district and links to services and maps, as well as the water control plan.