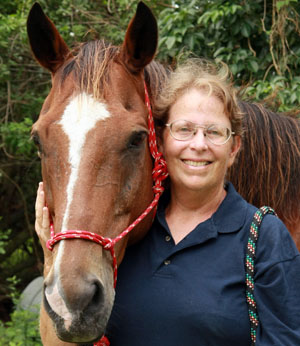 TALES FROM THE TRAILS
No one wanted it to get out of hand, but sometimes the best of intentions go awry.
It started in France in 2002. Michelle's parents owned a vineyard and became involved in saving local farm animals. Over time, they accumulated 25 draft horses, 60 goats, and a number of sheep, pigs and fowl. When they decided to move to Florida in 2010, they picked Ocala's horse country. They placed most of their animals, but brought along nine dogs, 20 cats and six horses. They bought 100 acres, then acquired additional parcels until the property totaled 240 acres, and started the Animis Foundation, a nonprofit sanctuary dedicated to the rescue and rehabilitation of domestic and wild animals. The name came from a Latin root meaning soul or life.
Michelle's mother asked her to come down and help out. At the time, Michelle was working as a licensed wildlife rehabilitator on Long Island. Her fiancée, Mark Quadrozzi, was also involved with animals, which was how they had met. He was a wild animal keeper and caregiver for the Wildlife Conservation Society's Queens Zoo. "I loved the idea of working at a sanctuary," Mark said.
Things gradually got out of hand. Most of the residents of the sanctuary had been abused, starved or neglected. Several came from seizures by other rescue groups, including the Humane Society and the Marion County animal shelter. Eventually, more than 600 animals called Animis home, including water buffalo, cows, llamas, goats, sheep, pigs, chickens, ducks, geese, parrots, emu, rabbits, ferrets, cats, dogs, deer, donkeys, two camels and 125 horses. "They took in too many animals and got in over their heads," Mark said.
He and Michelle stepped forward to help out, and set about finding good, permanent homes for adoptable creatures. Right now, they're concentrating on finding homes for some horses that they believe could be successfully adopted. The others will remain at the sanctuary as permanent residents.
Bandit is a 7-year-old paint Shetland gelding. He was rescued from a Miami-area illegal slaughterhouse. Currently unbacked, he's a friendly, trainable pony looking for a job.
Miranda is a creamy-palomino Quarter Horse mare, 8 years old and rideable, but would do best with an experienced rider.
Sham, a 9-year-old bay gelding, and Mystery, a bay mare, must stay together. These two Quarter Horses are a bonded pair. Both are sweet, calm and rideable. Mystery used to be a barrel racer and she has heaves, but is mostly fine for light work.
Tessa and Sefana are two Arab-cross mares who are also bonded and must stay together. Tessa is a bay, and Sefana is a flea-bitten gray who has had some small cancerous spots removed. Both are very sweet, and it's unknown if they've been backed.
Lenore is a good-natured Belgian mare, healthy and kind. Mark is not sure if she has been ridden or driven.
Susan and Sy are another pair who can't be broken up. Susan is a gray Quarter Horse mare whose mother was rescued when she was pregnant. Susan was born on the farm four years ago and is ready for training. Sy is a 2-year-old bay Arab-mix gelding, also unbroken but ready to learn. The two are like brother and sister.
Another beautiful pair who must stay together are Christian and Tiny. Christian is a black Percheron who looks more like a Friesian. He is 4 years old, unbroken, and a little pushy. He will go through a fence if it isn't hot-wired. Tiny is a red chestnut, 8-year-old oversized Thoroughbred-cross who has been ridden.
"All of these horses are healthy and sound," Mark said. "They're all up-to-date on shots and have current Coggins."
Because the sanctuary is in such dire straits, these horses are free to a good home. There's no adoption fee, but new owners are required to sign adoption agreements, promising to care for them and return them to the sanctuary if they're unable to keep them.
"We'd like to do a site check, but that's not always physically possible right now," Mark said. "People can send us photos or videos of their facilities, and also contact numbers for their vets and farriers. We're looking for private homes and barns, not boarding or lesson facilities. We'd love it if people could drive up to get the horses, but we will deliver them if necessary, especially the pairs."
The sanctuary is also in need of other help.
"In addition to adopting a horse or two, people can help us out by donating feed, shavings, money — almost anything. They can contact us for more specifics. Our goal is to salvage the sanctuary and make it the best it can be. We owe it to the animals," Mark said.
If you can help, call Mark at (516) 690-5693 or Michelle at (352) 426-4072, or e-mail animisfoundation@rocketmail.com. You can also visit www.facebook.com/AnimisFoundation and donate through PayPal.