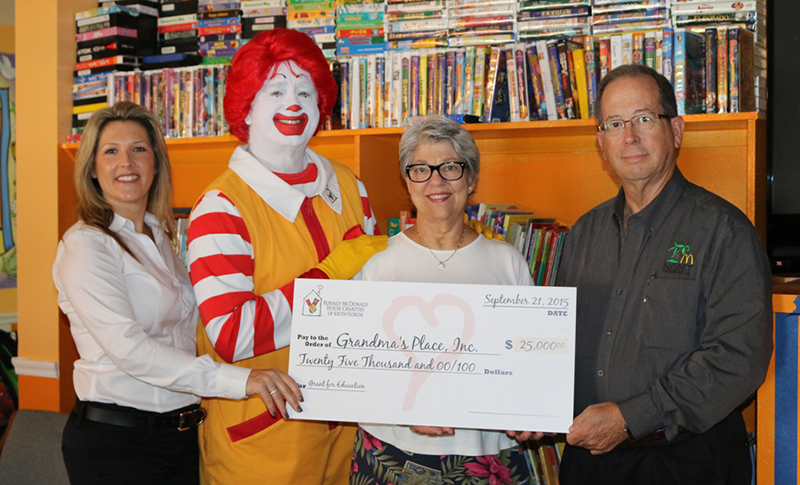 The children at Grandma's Place in Royal Palm Beach had a special treat Monday, Sept. 21. Armed with jokes, stickers and laughter, Ronald McDonald came to hand-deliver a $25,000 Ronald McDonald House Charities check to the nonprofit emergency shelter.
Grandma's Place provides a safe place for children up to 12 years old who have been removed from their homes by the Department of Children & Families.
Executive Director Roxanne Jacobs was visibly touched during Ronald McDonald's visit.
"It is heartwarming that they have supported this program," she said. "A lot of these kids come to us with trauma and behavioral issues. We realized that the kids were having a lot of behavioral problems."
Just one year ago, Jacobs explained, 6 percent of the kids had their own personal staff person, but now, 20 percent of the children need a one-on-one staff person.
"We realized that we had to do something to try to save these kids," Jacobs said.
They have utilized a special program with various forms of therapy to help the youngsters overcome the trauma that they've gone through. "We try to teach them to be survivors and not victims," she said.
Ronald McDonald House Charities gave Grandma's Place a $25,000 grant, which will be used to help teach the children effective communication, anger management and coping mechanisms that will help them in the future, explained Sally Chester, a registered nurse and Grandma's Place board member.
Local franchise owner Michelle Heisner, who owns 14 McDonald's restaurants in the area, was excited to meet the kids and support Grandma's Place. "Ronald McDonald House is near and dear to our hearts," she said.
Ronald McDonald himself came in with smiles and jokes to cheer up the kids.
"How can I not love it when we go in and do things to help kids. That's all I do. That's what's so great about McDonald's — my whole job is to go in and make kids happy," he said.
It was Ronald McDonald's first trip to Grandma's Place, and he was amazed at what the organization does for children. "I don't know how it could be any nicer," he said. "It's a great concept."
Chief Operating Officer Jackie Alvarez was glad that Ronald McDonald visited. "It was the first time that the kids had the opportunity to have him at the house," she said. "It was nice."
The grant, Alvarez said, will go a long way in helping Grandma's Place.
"We're so grateful, and we're so blessed with the donations," she said. "The necessity is there. There are a lot of kids who need shelter."
It is heartbreaking, Alvarez explained, when she has to say "no" to children in need because Grandma's Place is at capacity.
Chester explained that the organization is special because it provides a warm and nurturing environment for children in need.
"We open up our hearts and our arms to them; help them realize, as soon as possible, that they're in a safe place; and then we tried to add some normalcy and structure to their lives, in addition to just loving on them, because that's what they need at this time," Chester said.
On average, Jacobs said, Grandma's Place helps 130 children a year, and the average length of stay is 61 days. It currently has a maximum capacity of 16 children, with 15 children in house as of Monday.
When kids come to Grandma's Place, Jacobs said, they often come with nothing. Everyone at the organization works diligently to provide a sense of normalcy for the kids, keeping them in their schools, if possible, so they don't lose their homes and their friends in one fell swoop.
Grandma's Place opened in 1997 and has been in its current location since 2004. For more info., call (561) 408-3060 or visit www.grandmasplacepb.org or www.facebook.com/GrandmasPlacePB. Donations can be made online.