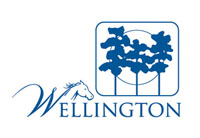 Wellington's Parks & Recreation Advisory Board elected Board Member Liz Stockton as vice chair on Monday to replace Tom Wenham, who resigned his seat on the board to serve on the village's recently reorganized Wellington Community Foundation.
Members of the Wellington Village Council, who previously also served as foundation board members, recently disbanded and re-created the foundation as a nonprofit with board members appointed by council members or the village manager.
Wenham was named to the Wellington Community Foundation board by Mayor Bob Margolis.
"It's somewhat with a sad heart that we have to announce that Mr. Wenham has resigned," Board Chair Dr. Samuel Falzone said. "The good news is that he is going on to do some other good things for the village and for our parks and rec system."
Board Member Anthony Forgione said he will miss Wenham.
"After having the position as the mayor of Wellington, that's when Tom came on the parks and rec board," Forgione said. "I was actually on the board when he came on, so I've been with him a couple of years. To find a more dedicated individual and resident of Wellington would be very difficult. He's a great man. His service to the community has been phenomenal. Whether you agree with his politics or not, his heart is in the right place."
"Our loss is the next board's gain," Stockton added. "I think we all feel that if we can help in any way in his endeavor, we will."
"I want to congratulate Mr. Wenham as well," Board Member Dr. Jeffrey Zipp said. "I'm sure he's going to do great."
In other business, Project Manager Daryl Boyd announced that Wellington's Wiffle Ball Tournament for Kids benefiting Noelle Cares for Kids will be held Sunday, Sept. 27 at 10 a.m. at Village Park on Pierson Road.
"It should be a great event," Boyd said, adding that the event will benefit children with hearing problems. "This is [being done with] Curtis Pride, who has done the tournament many times. Noelle is Curtis' daughter, and she wears a cochlear implant. This tournament will raise money for kids to help them get the implants. Noelle came and gave a presentation, and it was amazing."
Boyd also announced that discounted bracelets are on sale for the Halloween-themed Wellington Fall Festival set for Saturday, Oct. 17 from 6 to 10 p.m. at Village Park.
"You are welcome to come out and dress accordingly and participate in maybe a costume contest or some of the other fun and games," he said.
During board discussion, Stockton asked how the lightning detection equipment at the Wellington Tennis Center and athletic fields works, and about the village's liability if people ignore the sirens.
"I have been asked this question a lot, and it's probably true of all the fields. What is it calibrated to?" Stockton asked. "What is the distance, and what is our exposure if someone doesn't come off when it goes off?"
Boyd explained that it is not so much a detector as it is a predictor. "It reads the conditions and electricity in the air… and it predicts that lightning could happen," he said. "It's not reading that lightning is happening a certain distance away."
Boyd said that he has heard the siren go off and seen people remain on the courts and fields, where he has to go out and tell them that the siren means that they should seek cover in their vehicle or a building. "We can only do the best we can do," he said. "We go and tell them they have to get off, and everybody gets in a safe place. I don't know what our exposure is, but as a provider or as staff, we have to do the best we can."
Boyd said users do not have the option of remaining on the courts or fields if the siren goes off.
"The policy is they have to get off," Boyd said. "It's not up to them. It's our facility, and our policy says when that thing goes off, until it gives you the three 'all clear' horns… they have to get off."
Falzone pointed out that sports providers could lose their agreement if they do not uphold village policy, and Boyd said all the providers do well in adhering to that.