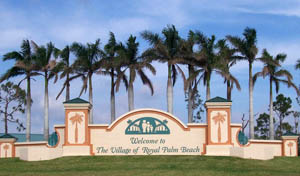 The Royal Palm Beach Village Council reviewed a total 2015-16 budget of $41.2 million at the first of two public hearings on Thursday, Sept. 3.
The budget is funded by a property tax rate unchanged at 1.92 mills. Finance Director Stan Hochman said that the tax rate is the same as last year, but will bring in more revenue due to increasing property values.
The proposed tax rate is 7.76 percent above the rollback rate of 1.7818 mills, which is the rate that would bring in the same amount of actual tax dollars next year as in the current year.
General operating expenses will account for 54 percent of the budget, with 32 percent for capital projects, 7 percent for reserves, 4 percent for debt service and 3 percent for the stormwater utility.
The economy is on the upswing, with property values projected to rise by 11.4 percent and revenue growth expected to increase in most major areas.
"Our total operating revenue increased 4.14 percent, and the stabilization fund remains intact," Hochman said, adding that the budget plans to use $5.5 million from the sale of the village's former wastewater treatment plant site toward the Strategic Capital Improvements Plan.
Total taxable property values increased to $2.285 billion, compared with $2.0521 billion in the current year — an increase of $234 million.
Property taxes will generate about 17 percent of the general fund revenue, with 24 percent coming from other taxes and fees, 13 percent from licenses and permits, 16 percent from intergovernmental revenue, 2 percent from charges for services, 1 percent from fines, 5 percent from miscellaneous revenues, 9 percent from fund balance carryover and 13 percent from transfers in.
Personal services will account for 37 percent of the expenditures; contractual services, 36 percent; other charges for services, 13 percent; commodities, 3 percent; debt services, 7 percent; and transfers out, 4 percent.
"Ninety percent of the contractual services is the police department contract," Hochman said, referring to the village's contract with the Palm Beach County Sheriff's Office.
Merit raises are planned at an average of 3.5 percent, as well as a cost-of-living adjustment.
Anticipated revenue from the stormwater utility fee is expected to be slightly over $1 million. Of that, 73 percent will be used for operations and 27 percent will be held in reserves.
The final public hearing on the budget will be held Thursday, Sept. 17 at 7 p.m. The new fiscal year begins Oct. 1.