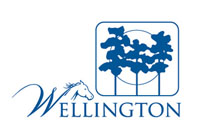 Wellington's Equestrian Preserve Committee this week suggested making equestrian activities more accessible and affordable to a larger number of people.
The suggestion came during a discussion Wednesday on how the proposed Equestrian Master Plan should be developed.
Wellington Projects Manager Mike O'Dell said that village staff had come up with recommendations based on several town hall forums and three surveys on the future of the Equestrian Preserve Area (EPA).
Based on input from those meetings and surveys, O'Dell and his staff came up with five suggested options for the committee to consider:
• Focus solely on improving the events and venues currently within Wellington. Under this option, the primary goal of the Equestrian Master Plan would be to improve infrastructure such as roadways, bridle paths, utilities and the community's signage, and improve land development regulations to support the events and venues.
• Promote solely the expansion of equestrian competitions within the EPA. Under this option, the primary goal of the Equestrian Master Plan would be to focus the village's efforts on promoting the equestrian venues. The village would look to modify the special use permitting process and establish policies that support a variety of equestrian events village-wide.
• Provide for a specific equestrian events area within the EPA. The primary goal of this Equestrian Master Plan would be to focus on creating a specific equestrian events area within the village. This land use designation would allow for equestrian events to be held without restrictions within a specified geographic area.
• Adopt a comprehensive, long-term strategy, to support the events and venues that exist, and support expanding the equestrian competitions within the EPA. The primary goal of such an Equestrian Master Plan would be to build upon specific improvements which, through phased implementation, would support and expand the competitive events throughout Wellington. This option would focus on improving the infrastructure, such as roadways, bridle paths, utilities and the community's appearance. It would develop a marketing effort that brands Wellington as a great hometown and a world-class equestrian community, and promote equestrian venues and events.
• React to conditions and change only as required to evolve. This Equestrian Master Plan would be primarily reactionary in nature, doing only what becomes necessary.
O'Dell said the last option is what the village currently does, and the fourth option was more of a combination of all the options and recommendations.
"We hope that you can discuss for us tonight, if not picking one of these options, tell us maybe how you look at the options that we have provided to you and any ones that you may have," he said
Committee Member Mary Jo Shockley said that she felt the first three options are very specific and limiting, and asked O'Dell to compare the fourth and fifth options.
O'Dell said Option 4 would create milestones, where they would look at things that the village wants to see happen in the EPA.
"Certain items fall into the capital improvement program, the roadway and trail improvements, infrastructure improvements — those are things we can do on a capital basis," he said. "We've also heard about the idea that some of the land development regulations should be looked at, so we can look at improving and enhancing those kind of things."
O'Dell suggested a tiered approach where the village might step through three or four different goals over a period of time.
"The master plan is a living, breathing document that would need to be reviewed on a regular basis," he said. "Typically, a time frame of 10 years is not unreasonable for a plan like this to be executed, at least in phases. Option 5 is really what we've been doing, taking on the changes in the equestrian industry that we see as they come forward."
Committee Chair Linda Elie asked if Option 4 could include the village becoming a stakeholder in the Equestrian Overlay Zoning District (EOZD) by purchasing land or having restrictive covenants on private purchases.
"At the moment, the village really has no stake in what's going on in the EOZD," Elie said. "That's something I've heard expressed in the last three years that I've been involved."
She suggested that if a polo farm or a large tract of property in the EOZD comes up for sale, the village could look at taking it on.
O'Dell said that could be part of the program, but the question would be how to go about it.
Committee Member Houston Meigs said that if the village had some easement access to property, it might require that the land be used for a particular purpose.
"I'm suggesting that you might own the property, but you don't have the right to put a gazillion houses on it," Meigs said. "The village can control use without having to own it."
Committee Member Linda Smith-Faver said that the Nicole Hornstein Equestrian Park in The Acreage, owned by the Indian Trail Improvement District, is an example of what Wellington might do.
"People get along just fine in The Acreage," she said, pointing out that equestrians ride to and from the park, where there are numerous activities and riding amenities for the average rider.
Elie said that there is nothing for the beginner riders in Wellington, and Smith-Faver agreed that the village needs a facility that is more community driven.
"We should start to think about that while there is still land out there," she said.
Smith-Faver suggested that the equestrian overlay be allowed to expand, and asked about the unused golf course property at the Wanderers Club, where she said she saw people riding recently.
"What if the village or someone acquired that and made it into an equestrian facility?" she asked. "I would rather see large tracts of land for riding, and expand the preserve rather than narrow it."
O'Dell said that he would add acquiring some type of public riding facility to Option 4. "I have some ideas on how to incorporate that," he said.