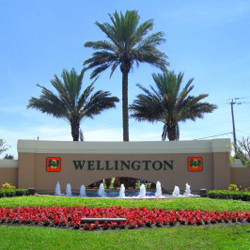 The Wellington Village Council conducted its final charter amendment workshop on Tuesday, further tweaking changes proposed by its Charter Review Task Force.
The task force met for about a year and came up with wording for six proposed amendments. Council members removed two of them during Tuesday's workshop in order to simplify the amendment process.
Proposed amendments dropped Tuesday include an idea to scrap language in the charter allowing for a referendum if the tax rate exceeds 5 mills, and a housekeeping item designed to remove an outdated section of the charter detailing the process of the village's incorporation.
Village Attorney Laurie Cohen said that village staff had taken comments from a recent joint meeting of the council and the task force, and created red-line versions of the proposed ballot questions for the council to discuss.
Cohen suggested that they go through them one by one and consider possible revisions.
"You may have additions; you may instruct us to remove certain questions," she said. "What we need is direction so that we can bring it forward at a council meeting for you to vote on."
Mayor Bob Margolis asked whether that meeting would be the final one before a public hearing.
"That is the plan, because now you're dealing with a pretty short time frame," Cohen said. "If you want to hold a public hearing, we need to get that scheduled during September."
Cohen said interest had been expressed in holding a town hall-type of meeting, and pointed out that the task force had hosted one that was attended by about 40 people. Fifteen to 20 spoke out, and staff summarized their comments.
"When we had the joint meeting, you had directed us to schedule not only a workshop for you to discuss, but then to have another public hearing or public meeting to gather input," she said.
The first reading of the amendments is scheduled for the second meeting in October, with the final reading and approval at the first meeting in November. That will place the questions on the March 15, 2016 ballot.
Vice Mayor John Greene favored a special meeting this month to invite public comment.
The first question, regarding council compensation, would change the requirement for modifying council pay from a 4-1 supermajority vote to a simple majority. Any changes in compensation would not take effect until after the next election.
Cohen pointed out that some members of the task force thought that there should be a regularly scheduled review of council compensation to remove the politicization of the issue.
Councilman Matt Willhite said that council members are not in it for the money, currently set at $800 a month, including compensation for expenses, and slightly more for the mayor.
Greene agreed, adding that there is a lot of anger and cynicism by voters who see elected officials as being able to vote raises for themselves.
"I don't do this for the money," he said. "We all do it because we know it's important work. I get personal satisfaction, and we're making a difference in the community."
Margolis pointed out that Wellington's council compensation is generally far less than that in other municipalities.
Cohen said that there has been little discussion about the next proposed amendment, regarding filling vacancies for council members. The question asks whether council vacancies should be filled the same way as mayoral ones, providing that vacancies will not be filled if the unexpired term is less than 180 days, and would require a special election if 180 days or more remain in the term.
Another question would change the requirement for the mayor, or vice mayor in his absence, to call special meetings. Currently, a 72-hour notice is required. That would be changed to "reasonable notice," which is the requirement by state law. Greene provided alternative language.
"I did not want to appear as if we were not in compliance with state law, which it could be interpreted in the current language," he said, pointing out that the council had been put in some difficult spots during emergencies being constrained by the 72-hour notice requirement.
Willhite said he was concerned that "reasonable notice" could be loosely interpreted, and Cohen said that language could be added to require as much notice as possible.
Another question contemplated removing language in the charter allowing for a referendum if the tax rate exceeds 5 mills. The task force had determined that the requirement is unenforceable, and the charter and Florida Statutes already have provisions to challenge the tax rate.
Margolis said there might be other charter questions that the council wants to include, and he said he didn't want an excessive number of questions on the ballot.
"Although this would be nice to have, if we have to delete a few of them, this is one that I would delete," he said.
Councilwoman Anne Gerwig said she thought the amendment would protect the council and the village from being forced to have a referendum, even if it is unenforceable.
Councilman John McGovern agreed that the question raised several concerns for him, including a presumption in the question that it is unenforceable. He felt that it should be reworded or not asked at all.
Cohen said that the question was worded in order to clarify to voters that it is not taking away a right that they have, rather than simply deleting a provision that is impossible to enforce.
After discussion, council members agreed not to include that question on the ballot.
They also agreed to discard a question regarding deletion of the transition schedule for changing the village to a municipality because it was simply a cleanup question to streamline the document.
Also approved for the ballot was a question regarding protection of the Equestrian Preserve Area that would permit landowners to apply to be voluntarily annexed into the preserve by majority vote of the council, but would prohibit removal of properties from the preserve without four affirmative votes by council members.