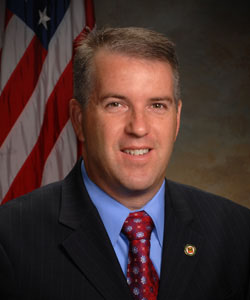 The Wellington Village Council selected Councilman Matt Willhite on Thursday, Sept. 10 to negotiate Village Manager Paul Schofield's new employment contract, although Mayor Bob Margolis had volunteered for the job.
Willhite, who will leave office in March 2016 due to term limits, said he thought that he should be the one to negotiate with Schofield because he would not have to work with him but would still be a resident raising a family in the village.
Willhite has, at times, had a stormy relationship with Schofield. In June 2013, he advocated removing Schofield as manager, saying at the time that he believed the council and the manager couldn't work together for the betterment of the village.
At last week's meeting, Schofield passed out copies of his contract with suggestions for changes, supplied at the request of Margolis. It included a modified severance provision that complied with recently enacted state statutes, and a pay grade classification that set the upper limit at $220,000, which is slightly less than Schofield makes now. He said that it would save the village about $75,000 over a period of five years.
Margolis said the focus of the conversation that evening would be who would negotiate the contract, pointing out that he had asked Village Attorney Laurie Cohen to complete research on how other municipalities conduct their manager negotiations. He said that the mayor and village attorney typically lead the negotiations.
"I'll certainly volunteer for that position, but that's up to the council what they would like to do as far as negotiations are concerned," Margolis said. "I would ask for Ms. Cohen's help."
Willhite said that he was glad that the council was going to make a decision, but did not appreciate that Schofield already appeared to be in the negotiation process.
"I really have a concern that Mr. Schofield has already openly and blatantly negotiated a contract as a request, before the council has made a decision on what we will do," he said. "He has already put into public record what he's looking for in a contract."
Willhite pointed out that it was at the mayor's request that they compare negotiation processes of other municipalities. "Since then, we have gotten Mr. Schofield's language and what he's looking for," he said.
Willhite added that he didn't think that they should negotiate anything until the council members had submitted their evaluations.
"I don't know that everybody has turned those in yet, but those certainly should be turned in," he said. "At the last meeting, you [Margolis] didn't want to negotiate. You wanted to find other options, and now you're willing to do it. So, again, this is the first discussion we've had in talking about it, but, frankly, I just can't keep up with where we're going with it myself."
Willhite said that he would be willing to work on the contract, pointing out that he had voted on the last contract and had harbored concerns about the language.
"I thought it was great that Ms. Cohen got us this information, but I thought we would start fresh from here," he said.
However, since Schofield presented the council with modifications, they aren't starting from a blank slate, he said.
"I already know what Mr. Schofield wants, so I don't really know if there's any negotiating there," Willhite said.
Margolis said that he did not think asking Schofield to provide them with contract suggestions was overstepping his bounds.
"The reason that you mentioned, that you will not be here," the mayor said, addressing Willhite, "is the exact reason why my vote will not be to appoint you to negotiate his contract, because I don't believe that you have a vested interest because you are leaving. The other four of us, hopefully, will be here after the election, so that wouldn't be my recommendation for you to do this."
Margolis said that he would have suggested that they negotiate Schofield's contract right then, but he did not think everyone had seen the proposal.
"We can't continue putting this off because of several reasons," Margolis said. "One, he doesn't deserve it, he absolutely doesn't deserve it, and if you look at it, most of it is the same as last time, Mr. Willhite, that you approved, and, basically, things haven't changed."
Councilwoman Anne Gerwig said that she did not consider Schofield's proposal as anything more than his first volley, and added that the council had decided to do the manager and attorney's evaluations once a year.
"I will support the mayor as the negotiator, but I want to know how good a job you can do," Gerwig said. "I'd like to see you go to work on it and see what you can get for us, but I think we should all turn in our evaluations. I didn't do it, but I can before the next meeting."
Gerwig made a motion to appoint Margolis as the negotiator, which Margolis seconded.
Vice Mayor John Greene said he thought the understanding was that the evaluation should be turned in before negotiations began, and Cohen agreed.
Greene added that he believed that it was inappropriate that council members had received copies of Schofield's contract with his suggested changes before council members' evaluations were turned in.
"I think it's a little bit out of order, but not a big deal," Greene said. "We're going to deal with it."
Greene said that he did not want to be a part of the negotiations because he thought it would put politics into play due to the upcoming election.
"I don't want politics to be a part of this, and people may see things one way or the other," he said, explaining that having Willhite negotiate might take the politics out of it. "I think you are both equally qualified."
Greene added that he thought Willhite still has an interest in the outcome because he is a member of the community. Margolis noted that the final decision would come back to the council anyway.
Gerwig said she still favored the mayor. "I feel that he has a more amenable personality toward negotiations," she said. "I think his mannerisms and the way he has conducted himself show that he's the best qualified for this."
Willhite said that he has the community's best interests in mind.
"I have two young children," he said. "They go to school here, I work here, and I'm not going anywhere. I do have a vested interest in what happens in this community, and the manager has a great deal of impact on that."
Willhite added that a process should be decided on but that he did not think the evaluations should be rushed.
Councilman John McGovern said that he thought Margolis and Willhite were equally qualified, and dismissed the idea that Willhite did not have a vested interest. He also suggested that each council member might meet with Schofield individually, and then hammer out the final document at a public meeting.
Margolis called the question, and Gerwig's motion failed 3-2, with Greene, McGovern and Willhite opposed.
Greene then made a motion to appoint Willhite, which carried 4-1, with Margolis opposed.
ABOVE: Councilman Matt Willhite