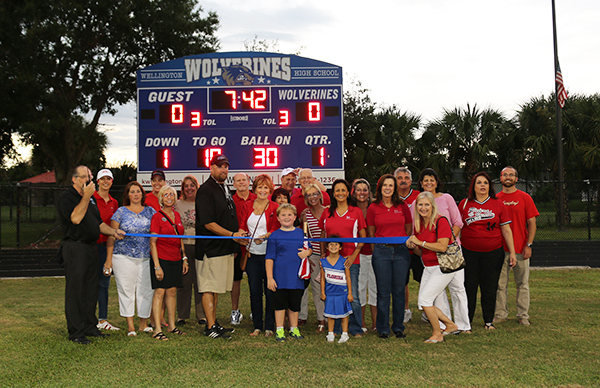 Officials from Wellington High School and Keller Williams Realty of Wellington held a ribbon-cutting ceremony last week to celebrate the arrival of a new scoreboard for the school's football field. The new scoreboard was made possible through a donation from Keller Williams Realty and its agents.
Shortly after the ribbon cutting on Friday, Sept. 11, the scoreboard was put into use during Wellington's first home football game of the season. In that game, the Wellington High School Wolverines defeated the John I. Leonard High School Lancers by a score of 30-14.
WHS Football Booster President Stacy Somers, a Realtor with the Somers Group at Keller Williams, worked with broker Nancy Jennings to spearhead the campaign to acquire a new scoreboard.
"They deserved it," Somers said. "Especially this current team. They've been working so hard."
The students who are seniors now, she said, have been working diligently since they were freshmen. After the best record and best season in the school's history, they deserved a new scoreboard, Somers said.
The previous scoreboard was old, covered with mildew and didn't work consistently, Somers added.
WHS Principal Mario Crocetti described the field's scoreboard as "one of those things that you don't appreciate until you don't have one, or don't have a good one."
With the new scoreboard, he said, it improves the presentation of the field.
"It's just another piece of the whole thing," Crocetti said. "It's not just for football. We play soccer out here, we play lacrosse out here, we play flag football out here. There are hundreds and hundreds of kids who will benefit from this, not to mention the people in the stands."
Head football coach Tom Abel is also thankful for the scoreboard donation.
"It means everything has fallen into place like we want," he said. "We have a brand new championship program that we have helped build, and that's just another piece to help out. We had an old, raggedy scoreboard. It was time to get a new one up there."
Somers approached Jennings last fall with the idea of utilizing the Keller Williams culture of helping within the community to assist the school in getting its new scoreboard.
Jennings and Somers brought the proposal to the owners, and the office agreed to match the donations of the 183 agents. It took less than three weeks to reach the goal. Keller Williams was able to donate $20,000 for a new scoreboard, along with $4,000 for updates and upgrades to the press box. The roof was redone, new drywall was added and new counters were put in, Jennings said.
The support of the community, through Keller Williams and its agents, means a great deal to the school.
"We just can't thank Keller Williams enough," Abel said. "We're very blessed to have them as a partner here in Wellington. Keller Williams is very generous. They did a great job by raising the money and getting us a new [scoreboard]. It was very much needed, not only for football, but all sports can benefit from it."
Now, rather than feeling as though the scoreboard sticks out like a sore thumb, Crocetti is proud of the new feature, and the meaning behind it.
"It means that we've got a lot of community support. We really appreciate their generosity," he said. "This is just amazing. We go to all of the games throughout the county, and ours is definitely one of the best scoreboards around."
ABOVE: Officials gather for the ribbon-cutting ceremony welcoming the new scoreboard, funded by a donation from Keller Williams Realty of Wellington.